Building a community
"Everyone starts somewhere"
With a peanut butter CLIF Bar in her right hand and the bench press in front of her, sophomore Chloe Thepsouvanh takes a breath.
She steadies her hands and begins to lift 135 pounds on the bench press. As she lifts, her mind clears. Her worries vanish.
At first the gym daunted her, but now it's home.
"Lifting takes a lot off my plate at the gym," Thepsouvanh said. "I feel like I'm free from things for a little bit."
Thepsouvanh discovered her love for weightlifting last spring during track practice in the weight room. She expanded her passion on her own at Texans Fit every day after school with lifting partner and sophomore Greg Burleigh.
"I met her by chance through a mutual friend," Burleigh said. "She asked me if I work out, and we have just been working out since then."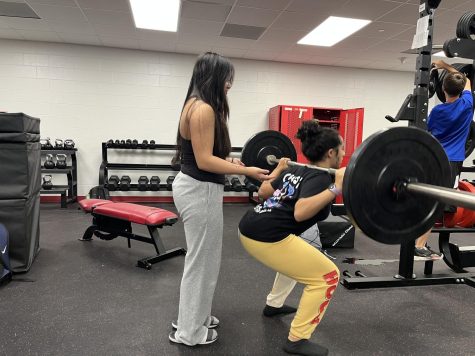 When she is lifting, Thepsouvanh is transported away from her school worries and home responsibilities, the issues that normally consume her. Thepsouvanh said this positive experience inspired her to start the Bodybuilding Club, which aims to inspire students to achieve their dream bodies and mindsets.
Body image is a sensitive topic for Thepsouvanh. When she was younger her weight frequently troubled her. However, after weightlifting, she is more comfortable with her body and weight; lifting helped her lose weight and achieve her ideal body type.
"I mean I like weightlifting. It helps me lose weight," said Thepsouvanh. "I feel much more confident about myself now because of it."
Thepsouvanh said she has already formed ideas and recruited members, including Burleigh, who will be one of three trainers to help motivate and coach upcoming club members.
"I want to help people," Thepsouvanh said. "When we go to the weight room, I want to help them feel happier about themselves."
Freshman Delia Reynolds said she looks forward to receiving help and expertise from Thepsouvanh's club.
"I love how strong bodybuilding makes you," Reynolds said. "I want to get stronger to become a better athlete and I'm hoping that this will help me get a scholarship for track and soccer."
But Thepsouvanh wasn't always exclusively passionate about weightlifting. The bodybuilder said she struggled with balancing this hobby with her extensive commitment to the track team.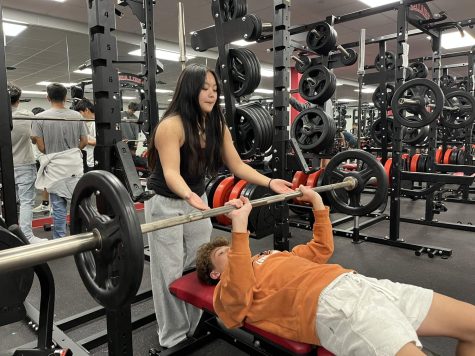 "I learned that I like lifting, and it has been there for me for so long,'' Thepsouvanh said. "I just put so much effort into lifting, and I know that I wouldn't be able to do that plus track."
Even though she isn't on the team anymore, running will always remain as a priority for Thepsouvanh.
"I will always run," Thepsouvanh said. "I still run daily, but I just found something new to do."
As she shifts her focus primarily toward lifting, Thepsouvanh maintains her dedication to her former track team members by joining their runs during 7th period.
"I wanted to stay with my team because track is just fun, so I became their trainer," Thepsouvanh said.
Thepsouvanh said her athletic journey has been made possible by constant self-encouragement to stay consistent and not to get easily disheartened.
"Even if it's hard and even if you feel like you don't know what you're doing, you can always get out of that mentality," Thepsouvanh said. "I know because I used to think that way and sometimes still do. But most importantly, you always have to keep trying."
View Comments (1)