Bright and unreactive: New chemistry teacher 'neons' his way through the school year
New HADV Chemistry teacher Kevin Goosherst's attitude toward his first year of full-time teaching is to embody neon. Not literally, but more of adopting the noble gas' vigorous characteristics.
"Noble gasses are pretty unreactive," Goosherst said. "And I try to keep a calm, cool demeanor, especially in the classroom. I'll joke around and laugh around, but then I'm also serious when I need to be. Neon's also what we think of when we have bright colors, so I try to be fun and bubbly and not dour the whole time."
Goosherst said he has always had an "inquisitive" mind, one that is constantly seeking challenges to find answers for. After majoring in chemistry and getting his master's in chemical engineering, he worked at Regis Technologies, a pharmaceutical company in Illinois, where he worked for a little over two years before leaving.
Goosherst said he made his decision because he didn't feel like he was using his degree. During his time there, Goosherst used huge, bulk reactors and followed the same procedures every day to make large-scale reactions.
"I didn't really have to think; I could just follow the directions," Goosherst said. "And I like to work through problems, so I felt like I just wasn't being challenged enough at that job."
Goosherst moved to Houston in August of 2021 and started substituting at Bellaire because of its close proximity to where he lived. After substituting for various subjects, from economics to English, Goosherst acclimated to the teaching environment. In the summer of 2022, he was welcomed into the Science Department as an official chemistry teacher.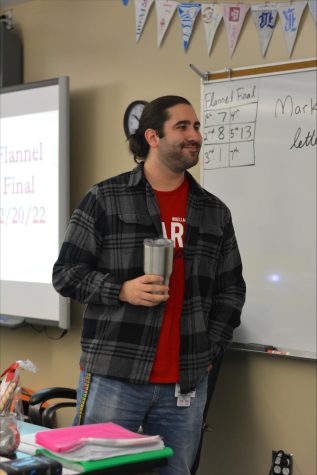 When the school year started, Goosherst was excited to meet his students. But what he was more looking forward to was witnessing the "lightbulb moment," the reason he decided to pursue an educational path.
"It's when you know something finally clicks and you understand it," Goosherst said. "I love seeing that moment with my students."
Sophomore Alexander Lin, one of Goosherst's students, said he remembers experiencing the moment when learning about significant figures.
"[Goosherst] drew out a model for it and explained it in a way that totally made sense," Lin said. "[Lightbulb moments] actually happen a lot."
Besides the satisfaction of teaching, Goosherst also faced new responsibilities as an official teacher. Previously, as a substitute teacher, he was only assigned the job of an overseer. Now, Goosherst said he reigns "a lot more creative control."
"The expectations that I put in my syllabus were figured out as trial and error from what I enjoyed about substitute teaching," Goosherst said. "Seeing how [teachers] manage their classes and kind of picking and choosing what I liked and what I didn't like."
For Goosherst, time management presented the biggest challenge. At the beginning of the school year, most of his time was spent at school.
"For the first three or four weeks, I would usually get here at about 6:30 in the morning or so," Goosherst said. "And for the first couple of weeks, I wasn't leaving until close to 7 p.m. Just finishing stuff off, and I go home and do more work."
Despite the challenges, Goosherst's luminescent mindset has prevailed. His enthusiasm and dedication toward teaching chemistry produced a notable effect on students like sophomore Rachel Carrillo.
"Previously, I was under the impression that chemistry would be difficult, and that I would get lost easily," Carrillo said. "Now, I feel like I'm able to follow along and actually learn the material because Mr. G seems genuinely interested in teaching and helping his students."
Goosherst, a chemist by trade, said he doesn't find it hard to teach students a subject like chemistry. In fact, from his experience as a student, chemistry can be "cathartic" at times.
"Chemistry is just fun," Goosherst said. "You know, it was good stress relief to do some dimensional analysis."
Leave a Comment