WHAP Warrior
Junior's journey to bridging the gap for World History students
Three months ago, junior Michael Sheth had the idea to tutor just a few sophomore friends.
Now, he's teaching lessons and has become an integral part of preparing students from the entire AP World History (WHAP) department for the AP exam in May.
When Sheth was in 10th grade, he stumbled upon a natural inclination for deciphering the intricacies of WHAP. He flourished on the AP exam, achieved the coveted 5 and developed a fervent passion for the subject.
As the fall semester of his junior year rolled around, Sheth noticed that many sophomores were grappling with the demanding memorization and essays that come along with World History.
"I noticed the current 10th graders were struggling," Sheth said. "But after tutoring some friends in NHS (National Honor Society), I realized I had a lot to give."
However, tutoring through NHS became a problem.
"The challenge was how NHS was so clogged up with the number of students they have compared to the number of teachers," Sheth said. "I couldn't ever actually tutor someone, let alone the people who actually needed it because the only people who are signing up for NHS are the higher-tier students who know that they need help."
With NHS being swamped with primarily vanguard students, Sheth knew he had to think outside the box.
"The only way that I could reach out to the students who didn't necessarily have the self-control to actually reach out to NHS was through going to the teacher himself," Sheth said. "And that's when it happened."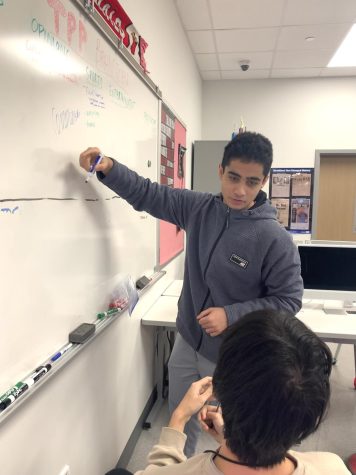 He approached his former WHAP teacher, Mr. Houle, with an unconventional idea: to become a tutor for the entire program. And eventually, with the backing of all the WHAP teachers, Sheth's tutoring services became official within a week.
"I think that the main issue that I can solve is a disconnect between the teachers and the students in WHAP," Sheth said.
To become that bridge, Sheth decided to walk the halls to get more in touch with his prospective students.
"I've started a couple of surveys in order to modernize the WHAP program and understand the student perspective," Sheth said.
Within his week-long career, Sheth has already achieved what no other student has ever done at Bellaire: officially host a presentation for an entire department.
On Jan. 23, Sheth gave a presentation for the WHAP program, in which he shared his process and strategies for excelling on the Document-Based Question (DBQ) essay. His presentation was met with great reception, with over 70 students in attendance.
"I was in a daze," Sheth said. "I honestly only expected a few people to show up, but for a whole room of students to sacrifice their lunch to come to see me. I was mind-blown."
Sophomore Luke Wang, one of the attendees, said he "saw the light" with Sheth's PowerPoint.
"The main problem I had with the essay was time management," Wang said. "But, I just took my DBQ, and all those time-saving strategies, like never lifting my pen off my paper, helped me get everything I wanted to say onto the essay."
Sheth's contributions have been noticed not only by his peers but also by his teachers.
"He runs an incredible, informative tutorial that kids would be dumb to pass up on," Houle said. "Michael would make a great teacher."
With the success of his tutoring services in the WHAP department, Sheth has set his sights on expanding his "dynasty" to other subjects.
"I have a lot to offer in helping my underclassmen prepare not only for world history but also how to be a more efficient student," Sheth said. "My end goal is to create a lasting legacy for both the teachers and students at Bellaire."
View Comments (11)