A Bellaire love story
How two Bellaire student-athletes met in 2013, fell in love and returned as coaches for their sports
Less than two percent of marriages start out as high school sweethearts. But assistant volleyball coach Brianna Shannon and freshman football head coach and varsity offensive line coach Devonte Jones have beaten those odds.
It was November of 2013. Back then, Shannon was a Bellaire High School senior with aspirations to play college volleyball. Until she met Jones, she had never expected to find love.
It all started in a Kik group chat, which Jones said was a "popular group chat" in the early 2010s. Also a senior, he had seen Shannon at school and thought she was "very, very sweet" and could tell she was "down-to-earth." Their mutual friend group helped set them up.
"I told [my friends] to put her in the Kik group chat," Jones said. "After she was put into group chat, I put my games down on her. That's how I got her."
After talking in the groupchat for a few days, the two officially met in-person at one of Jones' playoff football games during Thanksgiving break. Jones played offensive line for Bellaire's varsity football team. When she met him, Shannon said their conversation "flowed."
"I was like 'wow, he's tall, and he's cute,'" Shannon said. "And it was easy. It wasn't like a nervous feeling or nerve-wracking, because normally it's hard to get to know somebody. It was very easy."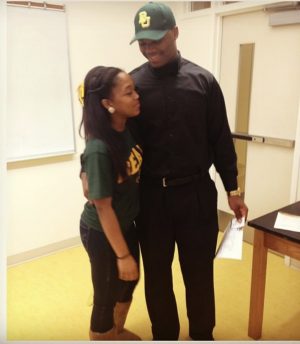 That same day after the game, Jones sent her a text in the Kik group chat:
"Do you think I'm cute?"
Shannon can still recall the surprise she felt at seeing his public text. She said it took her about 20 minutes to respond.
"I was like, 'yeah,'" Shannon said. "He was like, 'Okay, bye y'all.' I thought that was weird, so then I texted him privately."
And the rest, as the saying goes, was history.
In just three days of back and forth messaging, Shannon and Jones started dating Dec. 1, 2013.
The couple were supportive of each other's sports. While the Bellaire volleyball season was over for Shannon at the start of their relationship, Jones never missed any of her club games that weren't too far away. Shannon also went to every single one of Jones' football games to cheer him on.
When offers for Division I scholarships arrived for both Shannon and Jones, they decided to pursue their college dreams and go long distance. Shannon left to play libero, or defensive specialist, for the University of Texas Rio Grande Valley's volleyball team, while Jones played as an offensive lineman for Baylor University.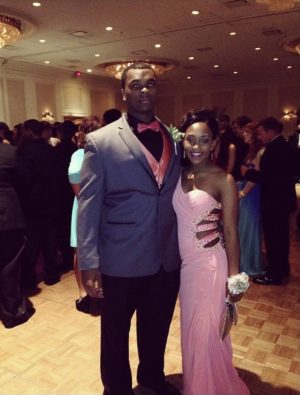 "We did two years of long distance, and we tried to see each other through breaks and all that," Shannon said. "It was hard going like six months without seeing each other, but we FaceTimed everyday."
After two years, Jones transferred to Stephen F. Austin State University to play football. Then, after deciding not to play volleyball in college anymore, Shannon followed him to SFA, where they finished school together.
In September of 2020, the couple got married. Jones had always known he had wanted to be with her, and Shannon described their relationship as "serious from the get-go."
"We started off serious at 17, as in looking forward to marriage and not playing any games," Shannon said.
That same year, Shannon returned to Bellaire High School as an assistant volleyball coach, and Jones returned in 2022 as the freshman football head coach and the varsity offensive line coach. They came back to the very place that nurtured their prospective education and where they found each other. In a separate love story, Shannon said she fell in love with Bellaire and "wanted to come home."
"Since I graduated [Bellaire], I wanted to come home to make a difference within the volleyball program," Shannon said. "It made an impact on my life, and I want to make an impact on other young girls' lives."
Volleyball player and sophomore Darian Prince attests that Coach Shannon has achieved her goal. Prince said Coach Shannon is like a "second mom" to her.
"She makes volleyball so fun," Prince said. "She makes me feel very comfortable, and I can literally tell her anything. I really love her as a coach and as just a person in general."
View Comments (2)