Stuck on the sidelines
Varsity basketball player rehabs ACL tear
He had done it hundreds of times before.
His feet sprang up as he slammed the ball through the basket. But this time, as his legs braced for impact, he felt a pop in his knee. The excruciating pain that ensued was just the beginning.
Sophomore Kohlman Dutton tore his ACL on Dec. 31 in a varsity basketball tournament on his landing from a dunk.
"I initially thought my kneecap popped out of place, so I didn't want to look down at it," Dutton said. "It didn't look disfigured or anything so I didn't really think it was anything crazy until we got to the hospital."
After a week of waiting with his family, the doctors told him he had torn his MCL and ACL, two ligaments that support the knee and are vital for contact sports.
"I'm not really an emotional person, so I was just like, 'Dang'," Dutton said. "After the news, I started thinking about the future and my rehab moving forward."
Dutton underwent a successful surgery on Feb. 17 and will now begin the grueling six to eight month rehab process that includes physical therapy sessions three times a week. After the first three months, Dutton hopes to return to light activities like shootarounds and non-contact drills on the basketball court.
"The injury definitely makes me appreciate the game more and not take it for granted," Dutton said. "Basketball is like an escape from reality, and I put a lot into it, so it's pretty disappointing."
Despite his injury, Dutton continues to travel to the varsity games along with his teammates and coaches where he supports the team from the bench and gives advice to the players.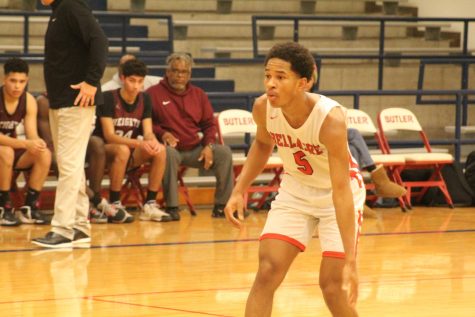 "It sucks, but I'm still going to support my teammates," Dutton said. "I want to see them succeed and I want what's best for them so I'm still going to support them and do what I can to help the team in any way."
Dutton said he still feels like part of the team even though he isn't able to play.
"The relationships and the bonds are still the same," Dutton said. "Nothing has really changed. I'm just not on the court anymore but I'm still there."
While he still travels with the team, assistant coach Cedric Netty said it is undeniable that Dutton's impact on the court is missed.
"Kohlman is a hard guy to replace because he brings a lot of intangibles, is a great defensive player and a great leader out there as well," Netty said. "But we've adapted by getting some other guys who show off in practice and do the things they're supposed to do."
Dutton has received scholarship interest from Texas State, Texas A&M, UT Arlington and more. While the injury is a setback for his playing career, Dutton remains optimistic that he will be able to bounce back once he recovers.
"The injury will affect me because I'm missing the whole summer, which is the biggest part of the year," Dutton said. "But I still have another summer and two whole school seasons, so I should be fine."
Dutton hopes to recover by the start of next year's season, when he will be able to showcase his talents once again.
"I just want to keep my head up, keep moving and I'll be back stronger next year," Dutton said.
Leave a Comment