The people behind the poems
Taking a look at performers of Bellaire's 2023 Poetry Slam
The 2023 Poetry Slam on Feb. 10, hosted by Poetry Club, Maple Street Journal and WRITE Club, invited 18 students to read their poems in front of an audience of around 60 students and teachers.
These performances ranged from breakup struggles to haikus about the pandemic, all through the power of rhythm, tone and metaphor.
Clarissa Li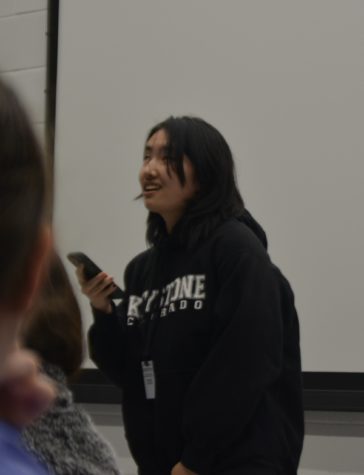 Sophomore Clarissa Li's poem "Ode to Autocorrect" was a "ducking" success.
"I was getting more and more emotional when I started speaking, and after that I heard a bunch of applause," Li said. "I think everyone liked it."
In their emotionally packed performance, Li spoke about the frustration of using autocorrect when "nothing [they're] trying to say comes out right," but the poem's meaning shifts beyond autocorrect to a more personal experience for Li.
"[The poem] was representing my struggle with how when I say things, they don't come out the way I want them to," Li said.
Not a stranger to poetry, Li said they first came up with this ode idea from a creative writing camp they took last summer. During the camp, Li said they were exposed to "an ode to Whataburger."
"[The poem] was talking about Whataburger and 'oh my gosh, we love burgers,' but it was also talking about capitalism and the exploitation of workers," Li said. "I thought that was really cool, how [the poem] took something that you might not see as a serious concept but twisted it a little bit."
With the concept taking hold inside Li's mind, it only required a chance event to take off.
"I was texting my friend about [the ode to Whataburger], and then I got autocorrected," Li said. "That's how I came up with the idea of writing an ode to autocorrect and twisting some of my own feelings in there as well."
Li's poetry slam performance ended with laughs across the room.
"See, writing's not that easy," Li said, standing on the makeshift stage. "That's why Grammarly can help."
Thomas Dove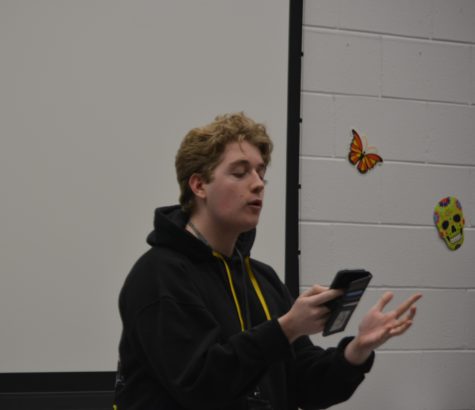 "Among Us was big. The imposter was sussy. They got caught venting."
The poetry slam's attendees couldn't hold in their laughter during sophomore Thomas Dove's performance of his poem "Insanity and Idiocy: A collection of Haikus of the Quarantine."
"I didn't intend for it to be comedic," Dove said. "Being able to hear people laugh was nice."
Dove's history in theater did not fail him as he took up the LGI floor for his performance.
"It was not my first time performing," Dove said. "I tried to combine my sense of comedy which I find myself using a lot in theater and my ability to be more dramatic rather than just reading off of a sheet of paper."
Unlike Li, the poetry slam was a first for Dove.
"This is my first time not only just performing poetry, but also something that I myself have written," Dove said.
Though his participation in the poetry slam was originally for extra credit, Dove grew to enjoy the creative process of writing poetry.
"I decided to start writing some haikus because [my English teacher] didn't just want one," Dove said. "After a few haikus, I started really getting into and having fun with throwing out syllables and relating to the pandemic. It eventually became fun."
Bailey Sutton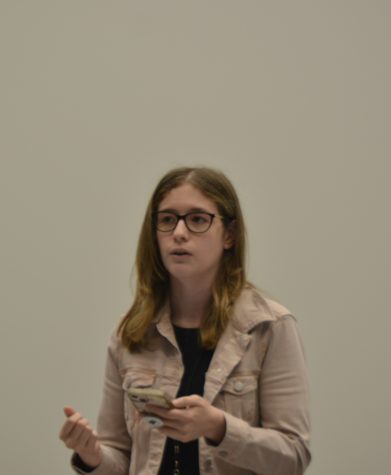 Senior and WRITE Club President Bailey Sutton took a breath. And then some more.
"I was terrified to perform," Sutton said. "I'm a very private person when it comes to my poetry because a lot of what I write is very emotional, and that can be scary to share with people."
In her poem "Ethereal," Sutton described her desire to "be the embodiment of ethereal."
"I want to have the majesty of a painting… I want to be classical music," Sutton said. "I dream for the day that when I look in the mirror, I do not see a girl but a goddess."
Sutton said her performance was a representation of her trying to push herself.
"I wanted to step outside my realm of comfort and perform at the slam," Sutton said. "It wasn't as scary as I originally thought."
As president of WRITE Club, Sutton not only performed during the poetry slam but helped run the event.
"I really wanted to form relationships with other clubs and the school," Sutton said. "I felt like a poetry slam with Maple Street Journal and Poetry Club would be a great way to connect us and also help us gain members."
For Sutton, the poetry slam represented a place of solace for her poetry.
"To me, poetry slam is being able to put your poetry in a different emotional context than when you first originally wrote it," Sutton said. "Poetry is powerful when written but it can be a different kind of power when performed."
View Comments (3)