'Start your clocks, shake hands and begin'
Chess club officers share passion for chess as game rises in popularity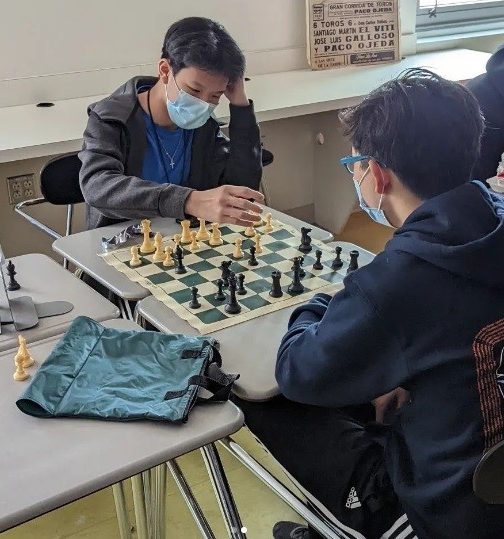 He just 'couldn't stay away from it.'
The black and white squares and the pieces on them constantly pop into his mind.
The industrial timers at the tournaments count every second he spends making his move and the timers in his mind count all the time he spends away from the board.
For senior Yanke Wang, chess is a huge part of his life.
"I first started playing chess when I was in elementary school, and I did this chess enrichment program with a lot of my friends," Wang said. "I had a lot of fun with it and eventually I started playing at tournaments where I found that I was kind of good at it. It made me want to play even more. But, I've always found it interesting devising all those strategies and tactics in the game."
After playing chess for over 13 years, Wang, who is now co-president of the chess club, said he hasn't grown tired of it at all, treasuring every game he's played. For Wang, one particular game in fifth grade stands out from the rest.
"The tournament was all the way in Brownsville," Wang said. "It lasted for three days, but in the final rounds, I had this position, this trap, and my opponent fell for it straight from the opening. So I won that game pretty quickly, and on top of that, it was also really exciting winning a tournament at the state level."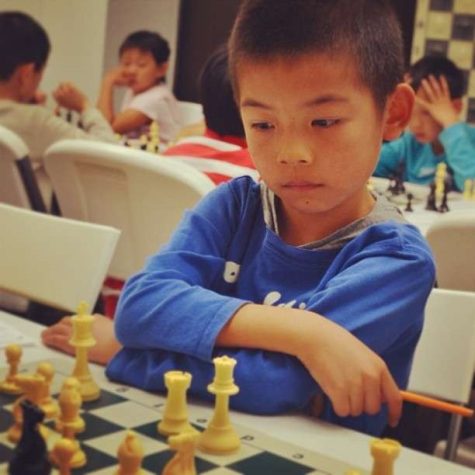 But, with any competitive activity, Wang also encountered losses alongside his wins.
"There's always going to be times where you lose and that always feels terrible, especially when you lose more than just once or twice," Wang said. "I had these years where I played really horribly and I just kept losing and kept dropping in the rankings. And that led to me quitting chess for a while."
Wang did not stay away from chess for long, though. He eventually returned to chess after revising his outlook on the game.
"I had gotten into this mindset where I cared too much about my results," Wang said. "And since I was losing a lot, I started to not like chess. Eventually, I came back partially because of Bellaire Chess Club. The previous president left me as president, so that gave me some obligation to get more involved in chess, which helped me get back into it. But, a large part of it was I just loved playing the game and I couldn't stay away from it."
Similar to how Wang's passion for chess pulled him back into the game, chess' appeal in the media has pulled new players into a national trend that started at the beginning of the pandemic. The unprecedented rise in chess players has even caused 502 server errors on the popular online chess website chess.com.
Sophomore and treasurer Andy Shen attributes part of that rise in popularity to online streamers and chess's easy availability and endless variations.
"Big chess platforms like lichess and chess.com saw a lot of new users join mostly because people were stuck at home with nothing to do and they wanted to pick up some new hobbies," Shen said. "Online streamers like GothanChess, Hikaru Nakamura or the Botez Sisters have really been a big part of promoting chess thanks to their large social media presence. Even my friends who I thought would never be caught dead playing it started playing."
Like Wang, Shen also started playing chess in kindergarten. Though his mom initially forced him into chess, Shen said he's grateful for that show of tough love because of all the enjoyable moments and memories chess has given him.
"I play chess because it's like a paradox that I love to try and figure out," Shen said. "It's extremely complex because there are so many possibilities, but it's also very simple. You take the basic principles you learn as a beginner and you integrate them with theory and tactics. I continue to play because I've played for so long and over time, my love for the sport has only grown."
Senior and co-president of the chess club Shreyes Bharat said chess also provides an outlet for friends to battle it out with their intellect.
"Like what Bobby Fischer said, "I like the moment I crush a man's ego," Bharat said. "It's just a game where you're putting your brain and head against other people and seeing how well you can come out. People think it's about how smart you are, but I think it's more about how much work you're putting in than anything else. It's just fun and a time-waster."
Though Bharat only started playing chess two years ago, he quickly got the hang of the game and climbed up in the ratings.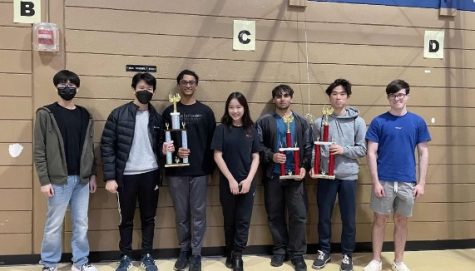 "I lost to a friend pretty badly," Bharat said. 'And my very fragile ego couldn't handle it. That's a joke, but I did get really into it and mostly because I wanted to get better and eventually beat the person I lost to. And, that's how I started playing."
From his tournament experiences, Wang said that this social part of chess, how it can spread through friends, doesn't come as a surprise to him.
"Chess is pretty social because you see a lot of the same people at tournaments and each one is different and helps you improve in its own way," Wang said. "Players don't really have big rivalries, but we all just know each other. Another thing is that chess has been hyped up intellectually, treated as an IQ test, but in reality, it's really the same as any other strategy game."
Shen said people can play chess for different reasons ranging from recreation to competition. But, for Shen, chess at its core is just a game to be played for fun.
"All chess players, no matter how good or bad, love the game," Shen said. "Chess offers something more than strategy in terms of how it exercises your brain. Yes, there's a ton of strategy involved, but I don't think chess is ever anything more than just a game. It has different meanings for different people; naturally more competitive people will feel a stronger connection with it, but to me, it is simply a game."
In contrast, Wang is one of those players who experience a stronger connection with chess. Since 6th grade, Wang has ranked as an expert with a chess rating above 2000. But, when he entered high school, Wang said his rating started to drop since he had less and less time for chess.
"I played less and less throughout the years mostly because I started to have way less time to dedicate to chess," Wang said. "A lot of chess I play now is just playing with friends on a weekly basis and also playing online. I used to go to a lot more in-person tournaments, but they can take entire days, especially for bigger tournaments."
Shen said that on top of the time commitment, chess at higher levels also requires early training.
"Most good players start training from a young age, reaching ratings of 2000+ by the time they exit elementary school which is absolutely insane," Shen said. "I never really went past 1400 since I haven't really been able to attend many chess tournaments because of debate and robotics. But, I usually just attend a few tournaments a year with some friends if I feel like it."
In the context of the increase in not just chess players but also chess streamers, Wang said the rise in interest has helped make chess more accessible.
"A lot of the problem with chess is kind of like an elitist culture," Wang said. "And I think it's kind of been a bit more democratized through online streaming and all the new people joining. Most chess players don't always treat chess as a huge deal. Paul Morphy, the first world champion said that knowing how to play chess is a sign of a gentleman, but knowing how to play chess well is a sign of a wasted life."
But, chess' booming popularity has also unintentionally increased the frequency of cheating.
"I think you see an influx of more unique players who like to play weird openings," Shen said. "But, you also, unfortunately, see a large increase in the number of cheaters. It gets very easy to cheat online and if you've been following chess, there's also the scandal between the world champion Magnus Carlsen and Hans Neimann."
Due to increased cheating, false positives for players mistakenly accused of cheating have also risen. In fact, the chess club has had its own issue with chess.com which banned some of its players, like Shen, from tournaments, hurting the chess club's performance at state.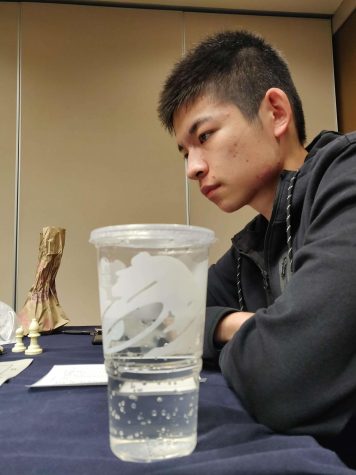 "One really big low for me was getting kicked out of the state tournament last year because chess.com flagged me for cheating," Shen said. "And, the tournament director used my "body language" to justify my cheating which I thought was pretty ridiculous."
The uptick in cheating is also a part of the bigger discussion on the digital transformation of chess. For Bharat, chess still maintains most of its appeal at the board.
"I think in person is more fun because you can look your opponent in the eye and watch them slowly feel the realization they're losing," Bharat said. "But in my opinion, virtual is the best way to practice but you only really, really truly think when you're playing in person. No one's thinking in virtual, especially since with servers like chess.com where ratings are more inflated because players start out pretty high, to begin with."
For students thinking of joining chess, Wang said it's never too late to start playing.
"I know a lot of people who started playing in high school and they've shown up to all our meetings, and they've been doing very well," Wang said. "They've learned a lot and they've gotten really into it."
It's become especially apparent to Shen during this period of chess mania that anybody can learn how to play the game.
"I walk away from the board feeling refreshed," Shen said. "The game can be thrilling, frustrating and rewarding all at the same time. Chess is a great mental exercise that really challenges the strength of your mind and you can meet so many great people through it. You don't have to be smart to play. Start your clocks, shake hands, and begin."
View Comments (2)