A long-standing tradition: Bellaire women's lacrosse
Screams echo through the dark hotel. Muscles ache from an intense day of lacrosse. Sophomore Alana Spencer sat upright in confusion and discomfort, unaware of what happened to her teammate.
Unbeknownst to Spencer, after a day of playing in the heat, her teammate cried out over exhausted muscles, cramping in overuse. It was the night of the previous year's Aggieland tournament, and Spencer shared her room with three other players. Bellaire women's lacrosse team travels to the campus of Texas A&M to play schools from all over Texas in the Aggieland tournament.
"Aggieland is one of the biggest Texas tournaments for high school and middle school lacrosse players," Spencer said."Every team from this area is going, including Lamar, Friendswood, and teams from all over Texas. We're playing Austin teams mainly when we're there," Spencer said.
These new teams and their playing techniques are entirely new to Bellaire's team. This makes it hard to predict their plays and know what their strengths and weaknesses are.
"The teams we play we're not really used to playing. It's a little bit harder to prepare versus district games because we kind of are going into it blind," senior Madeleine Bird said.
Players see the tournament's challenges as a double-edged sword: a valuable opportunity, but a stressful experience.
"Going against opponents from areas we never play challenges our skills," junior Bethany Belgrove said. "I think our team is most worried about not giving all our effort into our performance on the field, leaving knowing we could've tried harder would be a disappointment."
The JV team lived up to this competition last year- by making it to playoffs and continuing to play past their originally scheduled games.
"Our JV team went to the playoffs where we lost, but it was still a really fun experience," Bird said.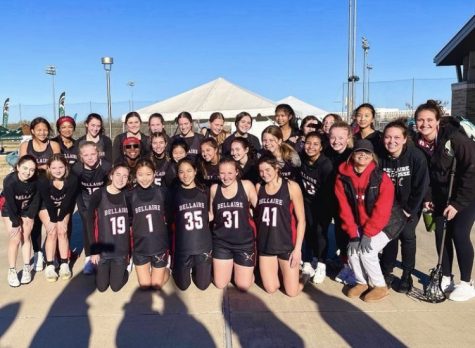 The tradition and popularity of Aggieland make it a regular event for many long-time players.
"Last year I played for JV and varsity and this year I'm playing and also coaching for the Pin Oak team," sophomore Sarah Lack said. "I've gone to Aggieland once a year since sixth grade."
Aggieland takes up most of the weekend- leaving early Saturday morning, playing from the morning to late afternoon Saturday, team bonding on Saturday night, and traveling back home on Sunday.
"The weekend begins immediately, we have to drag ourselves out of bed early on Saturday and head to the field," Spencer said. "We commute and play without missing a day of school."
Aggieland pushes the team to put in extra work. The team reviews past game footage on Youtube and has added a day to their practice schedule in anticipation of the weekend.
"Watching our film helps us to better understand our mistakes and how we can improve," Lack said. "The extra practices are optional, so they are more relaxed and we get more input on the drill we run."
During freshman year, Lack's time was split between playing for both JV and varsity. The season mentally and physically took a toll on her, having to compromise her time outside of sports and play through overuse injury.
"It was a lot because they didn't give me the breaks that I needed," Lack said. "I couldn't really walk because I got such bad shin splints."
The fast-paced play and running-centric games can be taxing on the players' bodies. The athlete's parents play a critical role in keeping the players hydrated and tending to injuries.
"It's hard because you have really early games and then afternoon games, so you get tired throughout the day," Spencer said. "It's hard to keep the same skill level throughout the day, and it gets hard because it's so hot."
The team doesn't let these circumstances interfere with their playing, they take advantage of the breaks they are given by resting and reenergizing with support from helping parent volunteers.
"There are some team moms who bring snacks and Gatorade, so whenever we don't have games we can sit in the tent they bring and relax," Spencer said. "This replenishes our strength."
In the downtime between 45-minute games and after the playing ends, the team finds time to bond off the field, following the team bonding traditions that have taken place for many years. For this tournament's traditions, the girls organize a team dinner and lunch, exchange gifts between upper/underclassmen pairs, play games and win prizes.
"It's [the traditions] a good way to meet the players on your team that you don't get to talk to as much during practice," Bird said.
The team traditions help the upperclassmen and underclassmen become closer and allow them to feel more comfortable around each other.
"A lot of times there's a divide between the upperclassmen and underclassmen in sports because you don't see them in classes," Spencer said. "They are better at the sport and usually there's a layer of respect, so you don't interact with them that much. It was nice to interact when we weren't on the field. It's not as tense and you actually get to know them, which is nice."
The team took the Aggieland field again on Saturday, Jan. 28. They played two games, and the rest of the tournament was canceled due to the poor weather.
View Comments(1)