'Here, you have unlimited imagination'
Games Studio hosts its first meeting of the year
Programming games wasn't always his passion. He originally wanted to become a math teacher, but as the world went into quarantine, his interests diverged. Hooked by a different interest, the coding world soon consumed him.
Junior Kihea Adams-Wilson, founder and president of recently established Games Studio Club, dedicated his club towards designing, developing and releasing games for the student body to play.
"I first started programming five years ago by making games in Roblox Studio and watching AlvinBlox on an old laptop that my mom gave me," Adams-Wilson said. "I was playing around, and it was fun putting games together, even if it wasn't an AAA production. Programming finally clicked when I started making simple games."
Realizing the importance of applying one's knowledge and putting it into practice, Games Studio hosted its first meeting on Feb. 27, showcasing how simple creating a game could be.
Junior and attendee Grace Cruz said she is interested in growing her understanding with code and hopes to do so alongside Games Studio.
"Kihea has been talking about the club, so I was really excited to come, especially since there was talk about making a game together, " Cruz said. "I'm really looking forward to being a part of that and seeing it all come together."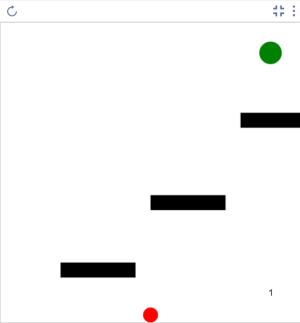 Students gathered in Room 1714 to watch Boss Fight, where Adams-Wilson created a game based on student suggestions in real time. He did this to show newcomers that writing code isn't as difficult as it may seem.
"[They] asked me to make a platformer that can jump, so I did just that," Adams-Wilson said. "I ended up calling it 'Mawreo.'"
Sophomore Braylon Bryant, who previously attended the meeting only to accompany a friend, left with a newfound interest.
"It was really cool to see [Adams-Wilson] coding right in front of us and being able to see the process," Bryant said. "He made it seem so doable, debunking the notion that only certain types of people can succeed in computer science."
Bryant said that he never gave programming a second thought because he felt as though he were not smart enough. He has "no question [his] skills will progress" as he attends future meetings.
Not a stranger to doubting the lines of his code, Adams-Wilson says there isn't one true way to tackle self-doubt. Instead, he "focuses on the end goal by 'gaslighting' [himself], knowing it will get done, then executing it."
"Anyone is capable of doing anything," Adams-Wilson said. "A bug in your code is simply a hurdle; keep trying and your imagination can't be limited. Even if you can't code or model, you can make a game. I started by copy-pasting free models into a game, and even five years later, I can't use Blender. Games are meant to be enjoyed. They don't need to be perfect."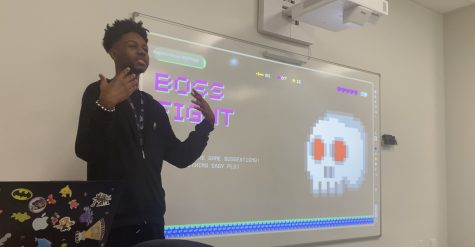 Computer Science Fundamentals and AP Principles teacher, Wesley Thomason, has Adams-Wilson as a student, and acknowledges his capabilities as a leader and developer, saying he is "prepared and very knowledgeable," while also being "invested in his community and others." Upon being asked, Thomason became its sponsor, offering support when needed.
"I love game development and I want to help this club and aid in any way I can to ensure it thrives," Thomason said. "I believe everyone has the capability of creating some sort of game of their choice."
Games Studio's next meeting will be on March 20, where the club will discuss exploring processes and aspects of games, before segueing into creating its first game.
"I have some things planned such as a game event hosted for all students for a prize," Adams-Wilson said. "I'd also like to tour local game studios and have professionals in the space come and talk about their work, their roles and the process of making a game."
For more information on future meetings follow @blrgamestudio on Instagram and join its Remind by texting @bhgamedev to 81010.
Leave a Comment