Coin a collection: Junior shares her unexpected, newfound hobby
She first stumbled upon two of her father's quarter-collection booklets while cleaning the house.
Carrying a waft of metallic scent when first opening them, she ran her fingers through the older side of the album where it was mostly occupied with quarters.
Curious at first to find out what it was, she soon found herself digging through her house to fill out all the remaining blank space of the booklet. Quarter collections soon evolved into her new hobby beginning sophomore year.
"When I opened it, they were pretty much empty on the newer years' side," junior Grace Pravinkumar said. "I thought it was very fun, so I emptied my piggy bank out to find the quarters, and it started the whole obsession."
The two different collections started as 100 quarters and have grown to more than 135 quarters from different states ranging between the years 1999 to 2021. Pravinkumar said most of the quarters came from her parents.
"We have a lot of quarters at home, so I went through them first," Pravinkumar said. "Then every time my parents got money back from groceries, I would check their coins. My dad also gives me advice on how to get newer quarters, like going to the bank to exchange $5 for quarters."
Pravinkumar loves studying the characteristics of the quarters as she organizes them and learns about the details embedded in them along the way.
A quarter's head would have either a letter "P" or "D" to indicate the minting places. "P" means it was minted in Philadelphia, and "D" means it was minted in Denver. The U.S. Mint embeds scenery, dates and states on the tail's side.
"There's always a sense of satisfaction when I find the quarters minted in Philadelphia because it's easier to find the Denver-minted coins than Philadelphia, at least for me," Pravinkumar said. "So every time I find a Philadelphia-minted coin, I think 'Yes!'"
Pravinkumar personalized her collection by having the tail side facing outward. She enjoys looking at the state's name as well as the scenery on top of the quarter because of how intricate the designs look.
"My favorite quarter is the 2006 Nevada quarter because it is my birth year, and the design is so pretty with the horses running," Pravinkumar said.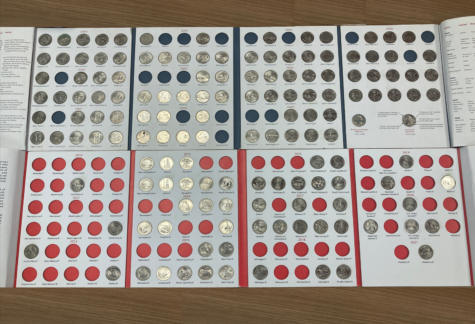 Not only did the coin collection give her knowledge, but it was also a time to bond with her dad as they shared the hobby.
"It's a time for us to learn more together about the different designs and quarters," Pravinkumar said. "Since I'm the one who does quarter hunting now, my dad usually joins in with my excitement every time I get a new quarter."
Despite learning about the features of the quarters, Pravinkumar also looked into new ways on how to preserve the coin in its best conditions.
"It was always exciting to get nice coins since it is hard to preserve them because they don't have plastic film covers, so the coin would get damaged," Pravinkumar said. "I tried many ways online to make the quarter shiny again, but those never worked for me."
Joining Pravinkumar's quest for new quarters, junior Kate Griffiths said Pravinkumar's growing collection and determination to find new coins impressed her.
"I know Grace is an avid coin collector," Griffiths said. "She's come up and asked me several times, actually, if I have any quarters, and if I could donate to her collection. I'm very impressed with her collection and how dedicated she is to getting all of the quarters possible."
To Griffiths, the collections always stuck in the back of her mind whenever she stumbled upon a quarter.
"Every time I see a quarter on the ground, I think of Grace," Griffiths said. "I would pick it up for her and ask her if it was in her collection or not. Normally, she already has that quarter in her collection but sometimes we are lucky."
Pravinkumar hopes to continue her collection so as to finish the entire collection.
"​​Some of the sections are almost done, so I still need to find the other coins," Pravinkumar said. "It's just nice once you finish a section of quarters for each year because it looks completed. They also are more valuable in the future."
View Comments (2)