What makes her Sonya
Senior's journey to accolades and success
Throughout her mother's pregnancy, there were no indications she would come out "anything other than normal." So when, within 24 hours of her birth, doctors diagnosed her with hearing loss, her parents were shocked.
Questions ran through her parents' heads: "Could this be progressive?" "What are our next steps?"
They signed up for sign language classes out of an "abundance of caution," wrapping their heads around the thought that their child might grow up deaf.
As senior Sonya Kulkarni grew older, her parents faced the challenge of nurturing a child with a disability.
"[My parents] thought, 'If she can't hear, then why doesn't she focus on reading?'" Kulkarni said. "When I came home from the hospital, they had lined the walls of our basement with the alphabet, and they would carry me around and read out the letters to me. It eventually graduated into picture books, chapter books and novels."
Kulkarni believes her parents approached her disability "expertly." The environment in which Kulkarni's parents raised her would later become a major factor of who she is today.
"I credit my passion for writing and my enthusiasm for communications to my parents," Kulkarni said. "They really instilled in me the unshakable values of discipline and an unrelenting passion for work and helping others. These values have steadily become more important to me and my career, and I would be absolutely nowhere as of now without the support that my parents have continued to provide me. I'm incredibly blessed to have them."
Kulkarni will major in business and biology at Harvard University to help create a more patient-friendly healthcare industry. Her own experiences with hearing loss as well as her work in research and advocacy led her to realize that the industry is far from equitable.
"It's making sure that not only am I focused on my end goal of trying to do the most that I can for patients," Kulkarni said. "It's also trying to give back. I'm privileged enough to be able to go to good schools and have access to high-quality assistive technologies like hearing aids. I became aware that that's not the case for all kids. That breaks my heart."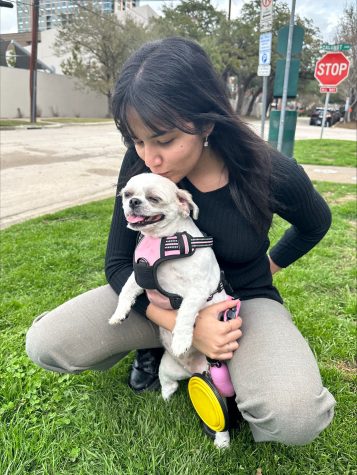 Kulkarni's passion for improving healthcare inspired her to write and draw graphics for her two children's books: "A Junior Scientist's Guide to Genetics" and "A Junior Scientist's Guide to Hearing Loss."
"The purpose of the book was to provide my readers with what I wish I would've had growing up and what I wish my parents would've had too," Kulkarni said. "I've grown up studying medicine, and one thing I noticed was that there was a clear racial disparity. There was a lack of diagrams that were colored or looked like me, so I wanted to represent a diverse population by making my own illustrations and graphics."
Kulkarni uses her books to give back to her community and provide support for kids. She has also worked to achieve this through her non-profit STAAR Peers.
"STAAR Peers' goal is to reach as many children as possible in the greater Houston area by creating resources by and for peers," Kulkarni said.
Kulkarni holds many titles: author, advocate, researcher, non-profit founder. But math department chair and AP Statistics teacher Kay Kubena knew Kulkarni as just an eager student during online learning.
"She was one kid that I really appreciated because she was trying to really connect," Kubena said. "She's really good at creating relationships, so it made it really easy for me to be her teacher."
The relationship grew stronger when Kulkarni became Kubena's teaching assistant.
"She comes at 7:30 in the morning to TA for a class she took two years ago and is willing to help me on anything because she is a truly good person," Kubena said. "She has a mind for service and a heart for service. I have come to depend on her greatly."
Through her daily conversations with Kulkarni, Kubena grew to admire her former student's passion and drive for social justice.
"She's not letting anything get in her way," Kubena said. "Her passion keeps her going until she finds the answers that she is looking for."
Kulkarni's passion has not only been noticed by Kubena but by her peers as well. Senior Christopher Ho realized her dedication through their work together on the HISD Legislative Advisory Committee.
"Sonya was always very passionate about issues [discussed with the Legislative Advisory Committee]," Ho said. "She would always go to all the legislative breakfasts where she would meet with community leaders. She's really excited and motivated about advocating for others."
Despite all of her many titles, accolades and achievements, Kulkarni continues to show compassion and kindness to those around her. Kubena knows that Kulkarni will "never forget where she came from."
"What's amazing is that she sounds like she has an iron will," Kubena said. "And she does, but the thing is, she is probably one of the kindest and the most gentle people I've ever met. It's not just her strength that makes her Sonya; it's how energetic, dependable, kind and empathetic she is all at the same time."
View Comments (3)