The end of a season
Despite winning first place in districts the week prior, a depressing air surrounds them.
Sophomore Saachi Gupta and junior Dhruv Balivada have to face the best team in the tournament for their first match.
If they lose, they are eliminated.
A loss that would end their season.
Representing Memorial High School, their opponents rank higher than Balivada and Gupta. Before the match even starts, doubts begin to creep into their minds.
"The competition was very strong," Balivada said. "In districts, we were expected to win, but in this tournament we're expected to lose. So it's like opposite sides of the spectrum."
As the underdogs of the matchup, Balivada and Gupta must overcome the mental game if they want to win.
"We're going to focus on getting as many games as we can and just taking it a point at a time," Gupta said.
A half-hour later, they stepped onto the court. Balivada made his way to the baseline while Gupta remained closer to the net. They looked at each other and their opponents on the other side.
"When we first got on, everyone was standing by our court," Gupta said. "There were over a hundred kids. I was really, really nervous. I've always had anxiety with tennis, so I was really nervous to see all those people watching me."
Before the match officially started, the two teams warmed-up for the first 20 minutes, lifting the anxiety and expectation to win off of Gupta's shoulders.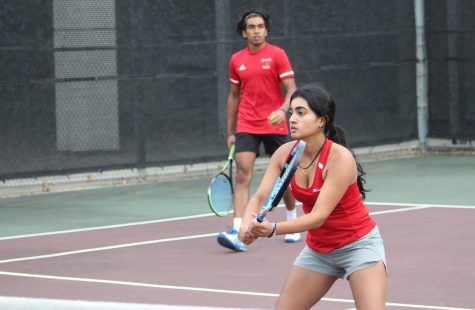 "As I started warming up, I realized that I just have to play, and I just have to have fun," Gupta said. "I'm not expecting much of this match, but I'm just gonna try to just go out there and play, without thinking about it. Because, during the season, I couldn't really do that. During districts, I was really stressed because I just wanted to win and kind of get it over with, but this time, I could actually just enjoy playing."
Once warmed up, Balivada looked over to Gupta and signaled to their opponents that they were ready to start. The opposing team's boy begins the match with a lightning-fast serve with tremendous power. His entire body weight sends the ball zooming over the net and into the service box, but Balivada is no stranger to hard shots.
"I feel more comfortable playing against people who are better than me because I'm used to the way that people hit when they hit harder," Balivada said. "It's more natural for me, so I wasn't really stressing that much during the match, even if we were losing. It kind of felt natural. And I felt like I was able to play up to their level. So I found myself playing better than I normally would."
The pair returned their fair share of shots. The only problem was that their counterparts not only overpowered them, but strategically placed their balls to where the pair couldn't give a good return.
"The guy was aggressive," Gupta said. "He kicked his serve out wide, so I didn't really have much of a choice but to hit it high, then they'd finish the point. It was just little strategies like that."
The teams exchanged points, but the Memorial team edged out the Cardinals in each game, ending the match 6-0.
Even though they lost, the duo gained an experience that they would have never gotten facing a worse opponent.
"I knew what I was getting into," Balivada said, "I knew our opponents, and I knew how good they were because I've seen them play. Going into it, I just wanted to play to the best of my own abilities. And I was satisfied because I was able to keep up whenever they would hit a hard shot, I was able to hit one back. It wasn't as bad as I thought it would be, and I'm glad I was able to keep up as much as I did."
As this match marked the end of their season, the two reflect on this past year. Despite not being very excited to start playing mixed, he now feels proud of their results.
"When we did start, I realized that it wasn't as bad as I thought it was going to be," Balivada said. "We actually had pretty good performances in every tournament that we went to; we won either consolation, or we won the tournament."
Gupta shares what she took away from playing this year, describing her main challenge with tennis.
"I played a lot of sports, but I think tennis is the most mentally taxing," Gupta said. "As good as your physical game may be, you're nothing without your mental game. That's what I learned this season."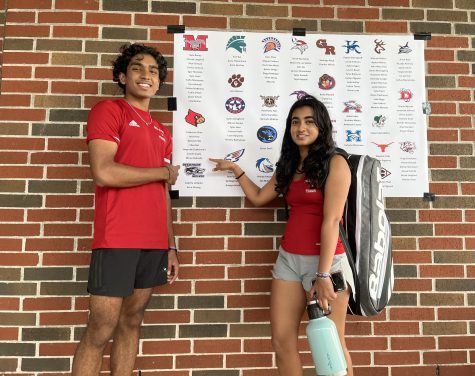 Balivada and Gupta weren't always a duo. At first, Balivada solely played singles and Gupta mainly played doubles with other girls.
"I chose to play mixed doubles because I am good at the net," Gupta said. "I would say I've good hands. Since I played volleyball, if a guy hits it hard at me I'm not scared of the ball and the coach said I'm the only one who can play mixed."
Balivada explains why he chose to transition to playing mixed doubles.
"It's all about logistics, because although I prefer playing singles, if I were to play singles, I probably would not have made it to regionals," Balivada said. "I wanted to be a team player because the goal of Bellaire tennis is to get as many people to regionals as possible."
Since Balivada played singles for most of his career, it took some work to build the chemistry they now have between them.
"I'm more vocal, but Dhruv is really quiet," Gupta said. "He communicates in different ways, so I had to learn how to be with someone like that and to play with someone like that. Because we had a few rough moments."
The more they play with each other, Balivada warms up to the idea of having a teammate by his side.
"Sometimes when I'm playing alone, I get in my own head," Balivada said. "I stress myself out sometimes, but when Saachi's there, she reminds me to calm down a little bit and think about what I'm doing before I do it. So she keeps me calm and keeps me in check."
Saachi's twin brother and longtime teammate of the duo, Dhruv Gupta, said both players have their own strengths that allow them to cover anywhere from the net to the baseline.
"Saachi is good at the net," Dhruv Gupta said. "She has good volleys. Dhruv is more suitable for the baseline. He is strong so he has good groundstrokes."
This combination of skills allow them to cover each other and play to their own strongpoints, the foundation of their success this past year.
"Just making it to regionals is something that I haven't done before," Balivada said. "So I'm excited to try to do it all again next year when I get even better."
Leave a Comment