Comedy in a sea of dramas
Louder. Bigger. Bolder. Those were the words director Kayla Boffone imparted to Red Bird Production's cast of "Lend Me a Tenor."
"Lend Me a Tenor" is a farce, a genre of comedy that focuses on exaggeration and violent horseplay, which worried the cast members, especially sophomore Riley McDonald. 
"We didn't know what the judges would like," McDonald said. "We were the only comedy competing, and schools usually compete with dramas. We didn't know if we stuck out in a good or bad way." 
A farce typically thrives off of crowd interaction, and UIL is a competition where dramas are the norm. Despite  the disadvantage that it put them in, RBP still took on the challenge of competing with "'Lend Me a Tenor." 
"It's kind of like Disney channel acting on stage," McDonald said. "With farces, you have to get the timing just right and say the jokes a certain way to make the show funny.The show was so much better when there was an audience because it made us act even bigger than in rehearsals because we wanted to make the audience laugh and enjoy it."
After the comedic performance, impromptu costume changes and working with delivery to both an audience and judges, the cast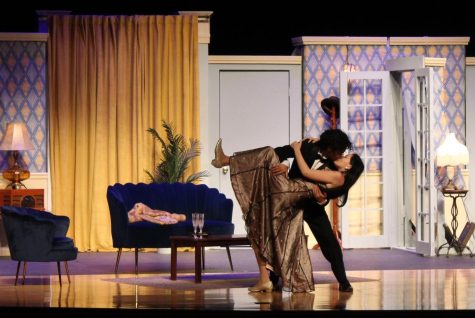 awaited their highly-anticipated results in their assigned dressing room. After a thorough deliberation, the judges gave the cast their performance notes and constructive critiques.
The quick-changes were also a stressful part of the performance. Since there were seven quick changes in a 35-minute timeframe, RBP feared that actors would not stay on cue or have their correct costumes.
Every detail of the costumes, which dressed all types of characters from the nerd archetype to a clown, had a purpose.
"We didn't expect [the clown costume] at all or how goofy it would look," senior Jonathan Dimacali said. "But I think that was perfect for our play and for the comedy of it."
Through an extensive auditioning process, the RBP directors selected the students who would form a tight-knit cast and crew with roles ranging from the lead to the stage managers to the talented makeup artists and technical crew. 
"The auditioning process is crazy, so I knew we were working with a really strong cast and crew," McDonald said. "We became so close because we were spending hours after school together and eight hour rehearsals on the weekends. The cast and crew will have a special place in my heart forever."
On day one of the week-long audition, each person was called back with a partner to read the same scene to the directors. The directors told those auditioning which characters they think will fit best with each person. 
Each person read for the characters they were given, and had the opportunity to read for a character not assigned to them through "jumps." The directors said the "jumps" changed everything for their casting choices, making this show one of the hardest to cast. 
"When I found out I got the role of Maggie, I was so happy and proud. There was nothing I wanted more," McDonald said. "I was on an adrenaline rush for the whole next day."
After being cast into these roles, the actors had to learn their character and adapt to their traits and quirks. 
"I had to use an Italian accent, which was very hard," senior Michael Carron said. "My co-star Audrey [Tanzil], she had to also learn an Italian accent, so we helped each other by speaking in Italian to each other."
Dimacali, who played the "stock character" of a nerd [Max], said the time he dedicated to perfect the small details in making his character appear timid raised his confidence in his role.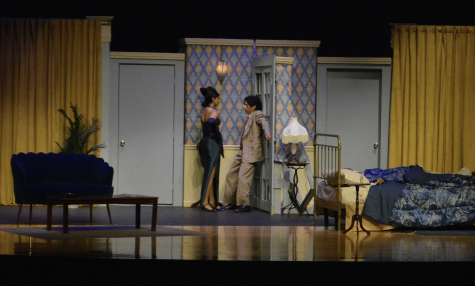 "I portrayed him very well, to the best of my ability," Dimacali said. "I'm not like giving flowers out to myself, but I was very proud of my work and how much effort I put into him."
Dimacali's co-stars value this dedication he brings to each scene with his character work and acting.
"We were on stage and I could feel his energy," Carron said. "I could see that he was taking it to the next level. We're feeding off each other's energy."
On top of performing for the large crowds RBP brings to its normal shows, the UIL competition meant the cast also had to focus on performing to the judges as well, a challenge compounded by the fact they performed a comedy in a drama-dominated event. But, the cast stepped up to both of these challenges, and Dimacali said that everyone felt prepared and confident in their show.
"I think everything we did in preparation led up to our best show that we performed at districts and bi-districts [Mar. 2-4]," Dimacali said. "It's just all up to the judges at that point."
View Comments (3)