'I believe in them'
English Teacher navigates first year teaching full time
By first grade, HADV English 1 teacher Shuruq Gyagenda knew exactly what she wanted to be when she grew up.
Or rather, who she wanted to be.
"I had a teacher named Mrs. Donald," Gyagenda said. "I knew I wanted to be just like her when I grew up. She left me with this really positive impression about the impact of a teacher in a classroom."
Because of Gyagenda's connection to Mrs. Donald's teaching, she discovered her interest in education.
"At that age, 7 years old, I didn't quite know that I wanted to be a teacher," Gyagenda said. "I just knew I wanted to be like Mrs. Donald. And then it turns out she was a teacher, so I should be a teacher to be like Mrs. Donald. That's pretty much what inspired me."
Despite Gyagenda's passion and desire to educate others, it didn't make her long journey of college any easier.
The year right after high school, Gyagenda went to Yemen to study abroad, as she was studying Arabic. She came back and started college before leaving for Egypt and then Jordan during her junior year.
However, during that whole time, her mom had been battling cancer for a number of years, and she passed away after Gyagenda's second study abroad.
While trying to process her grief, Gyagenda was in and out of school for the next two years, trying to finish her college degree. However, she realized she needed to take time off from school to grieve.
Gyagenda took a break from school for three years, and her post-high school experience took a positive turn.
"In that time, I worked at Walgreens as a sales representative," Gyagenda said. "Then, I was at Starbucks for three and a half years, which I loved. I'd always wanted to work in a coffee shop. After that, I went back and finished my last year of college."
Even though she faced challenges during those years after high school, Gyagenda remained focused on her hope to become a teacher.
She began as an associate teacher, substituting for long-term assignments at schools like River Oaks, Poe and Mark Twain Elementary Schools. After becoming a full-time teacher this year at Bellaire, she noticed major differences between the two teaching levels.
"Being full-time, you definitely feel much more invested," Gyagenda said. "And you look forward to seeing the growth and the progress of your students. Whereas as a substitute, what's kind of challenging about it is you begin to develop these relationships with your students, then after a week you're saying bye to them. It's kind of hard to juggle the investment level."
After substituting for about a year, Gyagenda had taught across a wide range of age groups. But, it wasn't hard for her to settle on high school.
During her own high school experience, Gyagenda faced her fair share of struggles from her parents' divorce to her moves across states and her mom's cancer. She knew what it was like to struggle, but what remained consistent was the support of her teachers.
Even though it is given a lot more attention these days, Gyagenda noticed that her English teachers focused on their students' mental health when she attended high school from 2005 to 2009.
"My English teachers always seemed to care about us beyond just academics," Gyagenda said. "So I knew I definitely want to teach high school because I want to be able to have the capacity to deal with the range of what they're all going through on this journey."
Once she decided on teaching high school English, Gyagenda had to choose a specific grade level within it.
"I settled on freshmen because my hope is to give them a good introduction to high school, to set them up with a good foundation for their mental health because things always get much more challenging," Gyagenda said.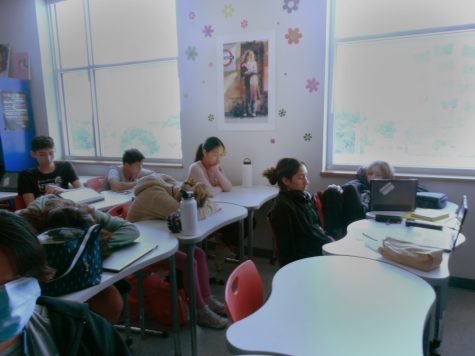 To keep her students' mental health a priority, Gyagenda has introduced a "Wellness Wednesday" where the class meditates at the start of class. They also discuss mental health–related content and journal about the topic.
By doing this, Gyagenda hopes her students "remember that it's important to carve out time to pause and breathe and recenter."
Being able to positively affect students' mental health is just one thing Gyagenda enjoys about being a teacher. In particular, she enjoys having the chance to act as a role model for her students and offer them advice.
Sometimes this advice revolves around things that have nothing to do with English.
"I'll talk about health-related things sometimes," Gyagenda said. "I'll tell my students if you can't read the label on the snacks they eat, don't eat that. I talk about how health is wealth. If you're healthy, you're going to be mentally sound and physically sound. You have the chance to keep a job and make more money. So I always connect it to your future self."
A rewarding aspect of giving advice for Gyagenda is seeing it translate into students' everyday lives.
"They're eating Takis and all these things, and I'll tell them, 'If you can't read it, don't eat it,'" Gyagenda said. "Then, a few days later, they'll come to me with something different and ask me if they can drink this or eat that. I make the connection that they actually listen to what I say and I realize that I'm invested in their lives beyond what they're doing in the classroom. That means a lot."
Throughout her first year as a full-time teacher at Bellaire, it's clear how much of an impact Gyagenda has had on her students. However, Gyagenda has also learned something herself while teaching.
"One of the earliest lessons I learned was that as a teacher, it is okay to be myself," Gyagenda said. "I think initially, I was a little apprehensive about the large school. I felt a bit intimidated, and I struggled with what kind of teacher I needed to be, as opposed to just being myself. And I didn't discover that until midway through this year. I like to goof off, talk in different accents, sometimes I sing in class and that's okay. Students need to see my authentic self; I don't have to try to be a 'Bellaire type.' There's no type, it's just you are who you are."
By being her authentic self, Gyagenda shows her students that they can be their true selves as well.
"I hope that my students always feel safe in my presence," Gyagenda said. "I want them to be who they are, to know that I'm always going to accept them no matter what. Whether they're struggling in class and being lazy, or they're performing well, I love all of my students the same no matter what."
Everything Gyagenda does for her students is to allow them to become successful in the classroom and beyond.
"I hope that they know that I believe in them," Gyagenda said. "When they see me, they see someone who sees their potential and someone who expects and believes that they will reach the ultimate level of success, whatever that looks like for them."
View Comments(1)