Jetlagged and sleep deprived for 24 hours, he looks out from the shores of the beach. He has a 1000-meter swim and 5000-meter run ahead of him.
He wears a wetsuit, cap and goggles, but underneath, he wears what's less tangible: determination, resilience and ambition.
In the seconds before the start signal, he forgets his exhaustion and the crowd of 678 other athletes around him. Diving into the water reminds him where he is but also reminds him of what brought him here.
Senior Samuel Wen found himself competing on the international stage, taking second in his age group 16-19 at the 2023 World Triathlon Aquathlon Championships Ibiza, Spain in May. He raced in the aquathlon, a multi-sport event divided into swim and running portions. Wen's success in Spain also led him to start a Multisport Club this school year, which plans to participate in upcoming marathons, like Great Houston Pie Run Nov. 18, now that the triathlon season comes to a close.

Wen said he chose to compete in aquathlons primarily because of his background in swimming long distance. In middle school, Wen tried out all kinds of sports, tennis, soccer, basketball and running but stuck with swimming for more than just its individual nature.
Story continues below advertisement
"When you're younger, it's a lot more fun to go to a pool for your sport every day," Wen said. "But as I got older, I continued swimming because you can see your own work amount to something specific to you. It's really easy to track your progress. If you drop time, it means you've gotten better, you've gotten stronger, you've gotten faster whereas team sports it's not as easy to quantify success and improvement sometimes."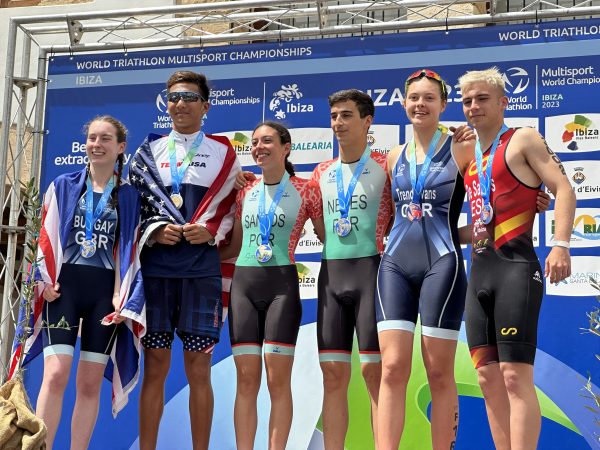 Wen's decision to race in the aquathlon didn't just rest on just his swimming background. He also drew from his experience in track and cross country in middle school.
"I thought just combining swimming and running shouldn't be too hard," Wen said. "So then for the aquathlon, I just supplemented my weekly swim practices with a little running afterwards. If I were to do something like a triathlon or marathon, I'd have to do a lot more targeted and specific training than just going to the gym or running a little bit."
Wen's first triathlon experience with Texans Kids at 8 years old also influenced his move toward multisports, competing initially in relay triathlons with one of his middle school friends during the pandemic. Taking that first step towards getting to know more about triathlons and the multi-sport community was what pushed Wen to later compete in his first aquathlons.
"It opened up my view to a lot of other triathletes, and I found that the triathlon community was really welcoming, really nice," Wen said. "I wanted to get to experience that and I figured aquathlons would be a good first step for me because those are two of my comfort sports and then if I included biking later on, I can become an actual triathlete."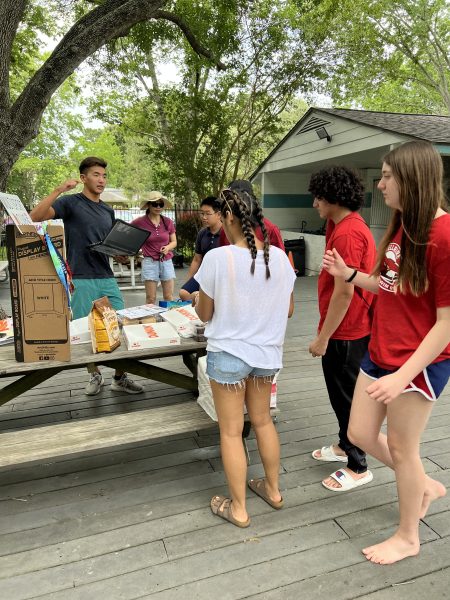 Though Wen had a good start into multisports, he did not begin the world multisport championship as favorably. Wen encountered a delayed flight that left him without sleep for over 24 hours, which he said was one of the biggest challenges he had on race day.
"When I got there I was really tired from a day straight of traveling and being in a foreign country I didn't know," Wen said. "I don't know about all the competitors as a whole, but at least in my age group, the top finishers were from Spain or from Portugal who probably were not jet lagged. They wouldn't have had to travel for upwards of 24 hours, so they had that advantage going in."
To deal with the physical fatigue throughout the race, Wen kept track of his placing, making it first out of the water and later onto the podium as the only American competitor ages 40 and under to place.
"When I finished and knew where I placed and knew my time from the timer displayed, I was happy with myself," Wen said. "Honestly, I finished well. It was a world class event. I got second place in my age group. I can't be disappointed with that."
However, Wen does have reservations about his performance, especially in terms of his preparation before and pace during the race.
"With Spain, I would have wanted to take it out faster and lead the first 500 because I think I lost some time trying to draft off the first place person," Wen said. "I wish before Spain I practiced wave management and got somebody in a swimming pool with me just splashing me while I swim because the waves in Spain were really hard to manage."
Regardless, Wen said he was happy with the results and had a great time meeting all the other triathletes.
"I really would like to train with them, maybe compete against them in the future," Wen said. "I'm definitely going to do this in college, so it'd be really nice to find other kids my age who I could team up with, or compete against later."
Swim coach and AP Physics 1 teacher Gary Johnson said he's excited to see how Wen develops this new area of his athletic career.
"I think the aquathlon was great for him, especially for his swimming," Johnson said. "I think, from the standpoint of any sport, cross training is a good thing. So running is always a good cardiovascular thing to improve stuff like endurance."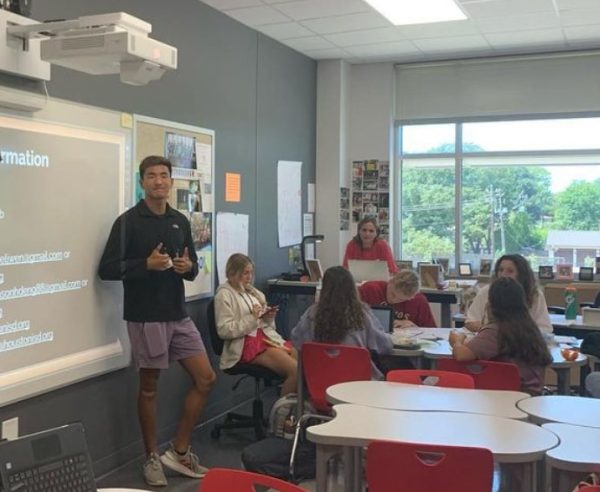 Those advantages multisports offers with cross-training as well as the culture of triathletes he discovered at the world championships in Spain were exactly what led Wen to start the Multisports Club with the help of English teachers Kelli Tomlinson and Hannah Arrington.
Wen first discussed the club in spring last school year with Arrington, who is also the assistant swim coach. After seeing Wen's pacing and rigor in the 500 free at regionals, Arrington said she was 'over the moon' when Wen came to her wanting to 'work on that same pacing with a triathlete club.'
"For triathletes, normally, someone's coming in because of their experience with one particular sport, whether it's biking, swimming, or running," Arrington said. "So, to see a student like Sam, who already has so much experience in one avenue, make himself vulnerable in trying new things and knowing that sheer practice and willpower and commitment can get him to be successful in all facets. I think that's really impressive."
However, Arrington also knew that Wen would need more help with the running part of his club, so she pointed him to Tomlinson for her experience in the Boston Marathon and interest in triathlons.
"Sam asked us [Arrington and I] to kind of join forces and make a multisports club," Tomlinson said. "Then he just sent me an email introducing himself and we met up that week in my classroom, and he talked a little more about it. I never taught him and I didn't know him outside of that."
Tomlinson said the initial interaction she had with Wen and seeing his initiative with starting a multisports club impressed her and also gave her an outlet to share her passion of triathlons to her students.
"Sam is already competing at a very high level with the world aquathlon and he doesn't really need to start a club like this, but I think he wants to share this joy and passion with others," Tomlinson said. "And, I really admire the fact that he's wanting to give his time to start this club, serve as its leader and just the way that he wants others to enjoy what he has come to enjoy too."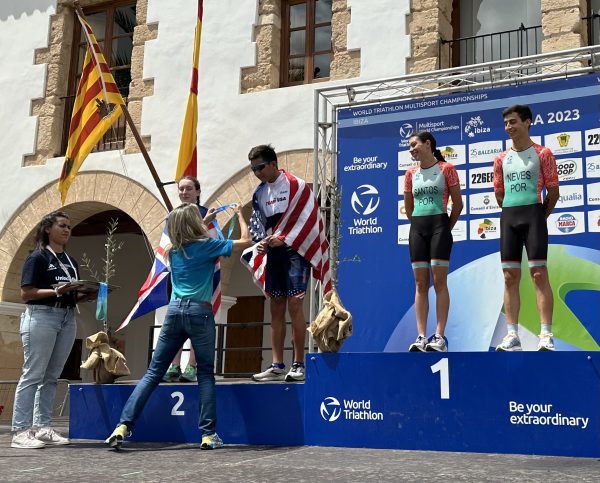 According to Arrington, Wen's leadership and dedication in starting a multisports club is what sets him up for success both in the athletic and personal senses.
"What I am always impressed with is Sam's mind more than anything else," Arrington said. "He is able to block out any doubts, block out any negativity in a way that he will always improve the next day. He is the person who is always able to get in the motivated mindset. And I think that's what it takes to succeed, whether it's a marathon or a triathlon."
Junior Selina Qiu, who swims in the same club team as Wen and is also a Multisport Club officer, said she's also inspired by Wen's work ethic and his involvement in triathlons.
"I'm impressed every time that he does a distance race because I can't do distance so it's baffling," Qiu said. "Sam's a mentor to me. He helps me out with my own technique, usually at school practice, and it inspires me to work harder like him."
Aware of Wen's hard work not just as a swimmer but also as an IB student, Johnson sees multisports as another avenue for Wen to improve himself.
"He's a bright guy," Johnson said. "In the pool, he's always swimming whenever we get in. He's pushing himself to his limits all the time. It's a lot, but it is to take yourself to the next level, so I think continuing on with the aquathlon will probably be a good thing for him. Anything to take your sport to a level where you have more fun with it is a good thing."
It is this universal experience with triathlons that Wen wants to share with other athletes through his club. Every part of multisports has its own challenge, according to Wen, but overcoming one brings new motivation to face the next.
Provided by Samuel Wen
For Wen, that motivation comes in the form of his athletic career.
"It's really inspired me to continue my athletic career, even past college," Wen said. "I want to maybe even go into the Olympics for triathlons in 2028. I'll be 23 then and that's pretty much your athletic prime, so it would be really nice just to be there, I guess."
Though Wen chose to focus on swimming early on, he has come back to doing multiple sports like he did in middle school.
Regardless of what he does, whether running, biking, or swimming, Wen stands by the same determination, resilience and ambition he's always had when approaching any sport.
"It sounds basic, but it's really true," Wen said. "You have to want it. You have to prove to yourself that the training hasn't been in vain, that you're actually going to do well. You have to push yourself to that limit. You have to envision the end result of you finishing."