In 2023, this club won 49th place in nationals, making its best record since 2013. Small red buttons are used during club practices to "buzz in." Headed by club president Patrick Shaw, the club meets every Tuesday after school from 4:30-5:30 p.m. Chemistry teacher Kevin Goosherst sponsors—for 10 points—what club?
ANSWER: quiz bowl.
Quiz bowl is a trivia game played between two teams of four people. Each team uses a buzzer to answer the question, and speed and knowledge are critical to amass the most points.
Story continues below advertisement
Second-year member Daniel Wu said he joined the club in part because trivia "sounded fun" to him. He enjoys "the rare instance where the answer instantly clicks" in his mind.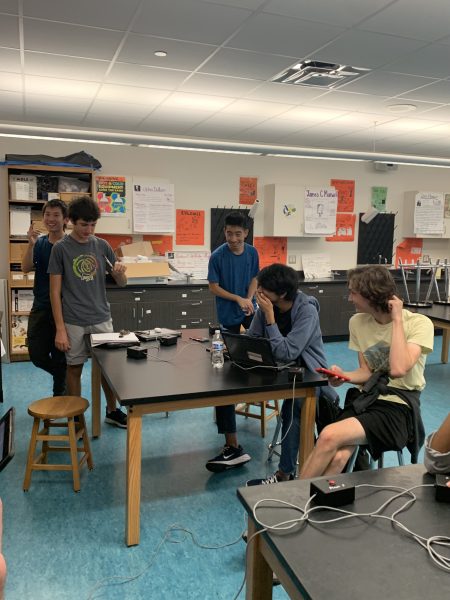 Moments like these drive students into competition. Shaw said that there are instances where meetings get overly competitive and "chaotic," and that his primary goal for this year is to make quiz bowl more accessible for everyone to participate in.
Shaw introduced additional meetings every Monday during Cardinal Hour as tamer, toe-in-the-water meetings for newcomers. These Monday meetings also provide an opportunity for those who can't make the after-school practices to still participate.
"We're trying to make [meetings] a little more organized than last year," Shaw said. "I want to help us be able to study more or just focus more on practice and having fun."
At junior Winston Montgomery's second quiz bowl meeting, Montgomery said that the club members "were clearly there to have fun."
"Something that surprised me was how accepting the others were even though I wasn't good at many of the topics," Montgomery said.
Fifth-year member Anastasia Shih, one of the few girls participating in quiz bowl, said she enjoys the competition.
"Being a girl on the team can sometimes be daunting and nerve-wracking, but I reassure myself because I know I am capable of competing in a male-dominated activity," Shih said. "I joined quiz bowl because it's engaging and fun. It's nice to know some general facts about various different subjects, and I like being knowledgeable on a variety of interesting topics."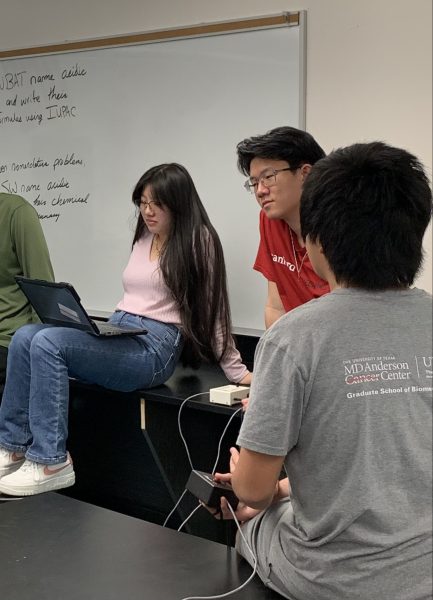 When the practices do get chaotic, Goosherst is quick to cool arguments down. Beyond the standard expectations of a sponsor, Goosherst often participates in the practices himself because he said the meetings are "fun."
"It's cool to see [students] get involved with answering trivia questions, and it just shows the expanse of knowledge that all these kids have," Goosherst said. "From what I've seen, quiz bowl is a good bit of neuron-shootin', trivia tootin' fun."