His eyes were fixated on the finish line up ahead, just about five more feet to go as he pushed himself harder and harder. His black hair stuck to the beads of sweat on his face as the crowd cheered louder. He crosses the finish line and looks down at the clock next to it.
He had beat his season goal time: 21:45.
A varsity cross country runner, freshman Brian Zhang developed a passion for the sport after this seventh grade race. Cross country wasn't this easy though. He faced tough moments leading up to this race, and Zhang didn't find the drive to commit to cross country. He'd never even considered running as something he enjoyed.
"No, I did not like running at all. My mom made me do it in middle school and my very first meet I got second to last. But there was just a random day in seventh grade. I just woke up and I went to practice and then I just wasn't that tired anymore," Zhang said. "So then at the next meet, I got a huge PR [personal record], and I broke my season goal. And then that's when I started getting more interested in running."
Story continues below advertisement
From that moment on, Zhang committed himself to cross country by training every day in hopes to achieve a varsity position his freshman year of high school. Soon, his eighth grade summer was ending and varsity tryouts were starting at the beginning of the new school year. Zhang had never been more excited. This is what he has worked so hard for all of middle school and he knew what the outcome would be.
"I wasn't that surprised I made varsity because I did my research before," he said. "I knew the expectations and I trained really hard for this."
Benefiting the team

Before Zhang knew it, he was pushing the cross country team forward. His commitment displayed his diligence in wanting to become a better runner and benefit the team. Soon, he had caught the attention of the varsity upperclassmen runners.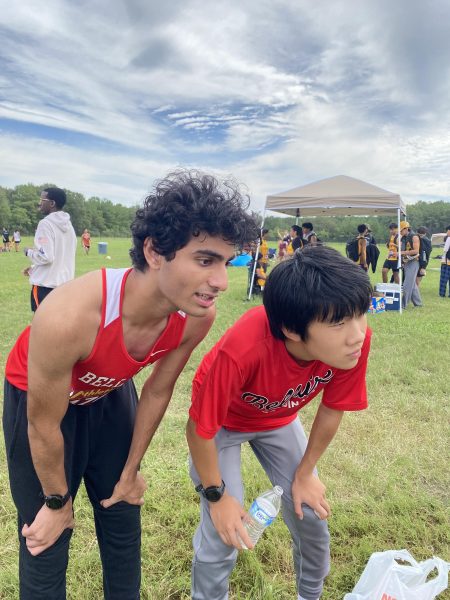 "Brian has brought himself, which is a great value to the team," varsity cross country runner and junior Esaam Zaman said. "He has an amazing work ethic, is always motivated, and has the talent to be a star. This type of runner is exactly what this team needs as we strive to not only reclaim our district title, but attempt to qualify for states."
Zhang doesn't just see his team as people he runs with. He sees them as his friends and people he can rely on if he needs help with school or his personal life.
"I often help Brian by giving him advice about both school and running as I want him to be successful both in school and in the sport," Zaman said.
The upperclassmen play a vital role in Zhang's running career as Zhang often looks up to them as an inspiration.
"I also try to mold myself after most of the juniors on the team like Jatin and Jacob and Esaam because they're the first people who I met before I went to Bellaire," Zhang said.
His outgoing personality drew his teammates closer and helped establish a connection with his coach Shardrick Johnson.
"He is a good kid and he is very attentive, which helps to build the connection him and I have," Johnson said.
The start and the finish

At first, Zhang didn't think that cross country needed much effort and was just doing it because of his mother pushing him to pick a sport. He wanted to choose an "easier" sport. One that would be easy on him while also making his mom happy.
"There's a video game called Fall Guys," Zhang said. "It costs $20 and I didn't have $20. So my mom said if I ran cross country she would give me the money. I just thought cross country was just running but it wasn't. It wasn't very fun for the first one and a half years."
Despite all the hard times in cross country, Zhang still finds a way to make unforgettable moments for his teammates.
"I'll never forget when Brian showed up to the first race wearing basketball shorts. It was very funny to look at," Zaman said.
All his hard work paid off in the end and his coach saw it the most. He knew that Zhang deserved that varsity spot.
"Brian was picked to compete on the varsity team because he has shown improvement and his times were ultimately what got him there," Johnson said. "We still have time to build memorable moments. He is just a freshman and his future is bright."