As Diwali neared, dance groups around Bellaire started to prepare for an evening full of performances, colorful Indian outfits like shalwar kameez and kurtas and heartfelt celebrations.
The Bellaire City Diwali festival started off on the second floor of the Bellaire Family Aquatic Center in 2008 with less than 100 people in attendance. Yet, in a matter of a decade, and after a few location changes to accommodate the growing number of people, Bellaire Zindler Park became home to this celebration of the triumph of light over darkness.
This year, on Oct. 29, over 400 people enjoyed this celebration symbolizing new beginnings and protection against spiritual darkness.
Freshman Shivali Sinha returned for her ninth yearly performance with one of the dance groups performing.
Story continues below advertisement
Sinha's dance group was the first to perform. Sinha has firsthandly seen the group grow, with 19 people being a part of it this year.
"[The] first year it was like five people," Sinha said. "It was a really small group. We just looked really cute, but we did not know what we were doing. We were just jumping around."
Sinha has been doing this since she was 5 years old, and it has become a staple in her Diwali celebrations.
"It's like a constant," Sinha said. "It's before Diwali so it's the start of all of these Diwali parties and the festivities, so it's a constant [that] is always there."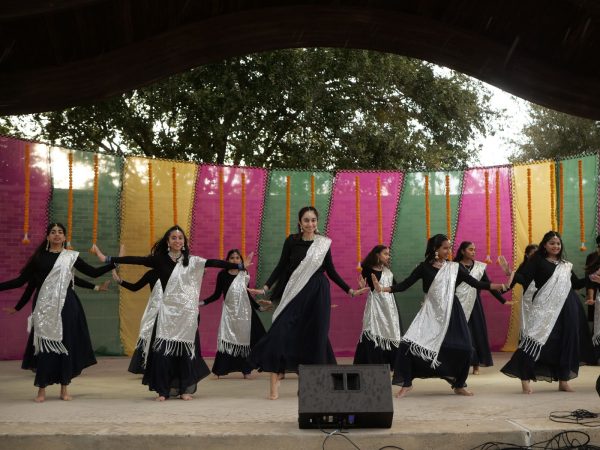 This year wasn't the same. Right before the rehearsals began, the teacher dropped out because of the commute that she would have to take twice a week to get to rehearsal. Two children, one in seventh grade and one in ninth, stepped in and choreographed three dances for over 15 kids.
"I thought it was helpful having two people because it's easy to see the instructor," Sinha said. "When you're looking at the steps there could be someone on [both sides] and there's always someone to look at."
For students like freshman Ishani Kaushik, this dance performance also became a staple in her family's Diwali celebrations.
"[I loved] meeting new people, and it's really nice because I feel like it's a super nonjudgmental place," Kaushik said. "The dancing is super chill and it's not a lot of pressure on everyone."
Back in San Antonio, Kaushik and her sister were the only two Indian girls in their school. Since moving to Bellaire, Kaushik has found a more diverse community with more Indian festivals and celebrations.
"In my community [in San Antonio], there were very few Diwali celebrations, so it was really interesting to me that there's so many here," Kaushik said. "It's been really nice and super inclusive."
Unlike many other members of the group, whose main experiences with dance come from this performance every year, Kaushik gained her experience with dance through a classical Indian dance called bharatanatyam. Although her eight years of experience helped, it also created challenges for her.
"I have to make sure that I just come off more as fun and flowy rather than super precise with all my movement, because truly Bollywood is more of a flowy dance," Kaushik said.
Because of her past with dance, this form of self expression holds a deeper meaning for her.
"Dance [for me] is universally a way to connect with people and communicate with them in all different cultures and all throughout time," Kaushik said. "It's really something special to be able to talk to the audience in a way that's not just you speaking."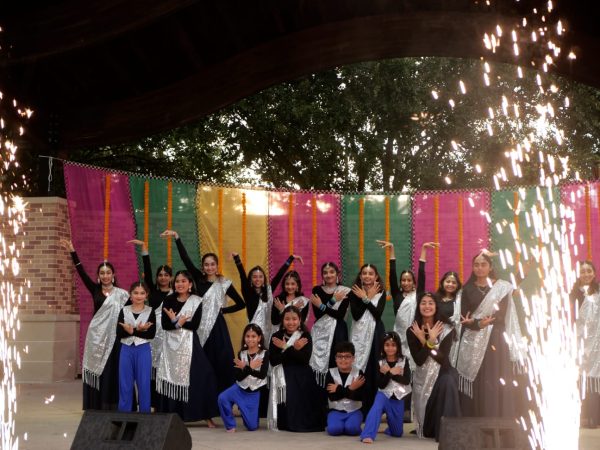 Another newcomer to the dance this year was junior Sanya Misra. Although she's sung a short piece every year, she has never danced at the festival before. Her nerves were brought down after she opened the performances for the festival by singing on stage.
"Since I had already done the singing, I didn't feel as nervous," Misra said. "[I thought], 'I already did something and now I just have to do it again.'"
Unlike Sinha and Kaushik, this was Misra's first experience with any Indian style of dancing.
"I've always wanted to learn Khattak [a classical Indian dance], but I never really got to because I do singing classes already," Misra said.
With the Bollywood style of dancing that she performed, Misra did not find the complexity of the dance too hard and said the steps were easy to pick up "for the most part."
"It took some time to get the order of everything properly," Misra said. "As we learned more dances, [I] was getting mixed up with some of them, but as we kept practicing, we eventually got it."
Even if she does not start Khattak though, Misra will continue to do the Bellaire Diwali dance next year.
Almost as if it were perfectly timed, it started raining right before the dance group entered the stage, making for an unforgettable experience.
"I remember we were standing behind [the stage] when there was singing and there was a drop of rain and I was like, 'We are probably going to have to perform,' [and] I was worried that all my makeup was gonna melt," Sinha said. "[But it] always comes together in the end. When I get [up] there, the muscle memory kicks in. [This year] I [felt] prepared."
Whether they were newcomers or returning to the stage, dancers were brought together through Diwali in many different ways, some continuing a love of dance and others sparking a love for it.
"You kind of just have to be in the moment," Misra said.
"One thing I liked about this group was the community," Sinha said. "It's always fun."