HUMANS OF BELLAIRE – Amy He, Valedictorian
"I really liked high school overall. Coming in freshman year, I definitely did not know what to expect because Bellaire is such a big school. I didn't know where I would, as cheesy as it sounds, find my place. So, I just tried out a few things and joined a few clubs. I think [doing] that really built a certain community that I started to feel freshman year. However, we did become virtual in March of 2020, and that really hit me hard because I had kind of started to find my place. At the end of freshman year, I joined Student Council, and at the beginning of my sophomore year, I joined Math Club. Future Problem Solvers, Student Council and Math Club definitely stuck with me. I think virtually, I was still able to be connected through these clubs and stuff and I talked to my friends, but my parents were very cautious, so we didn't actually get to go out a lot and hang out with people, so that definitely did feel kind of isolating. Coming back in junior year, I regained a certain type of confidence because of my experiences, and in sophomore year, I was still able to stay involved with the school. I also gained a few leadership positions in the clubs, so I was also really excited to see what junior year would bring. Junior year was definitely really about pursuing what I found my interest in and also just forming new friendships because the sophomore year was definitely not very conducive to actually meeting new people. I hung out with a few people virtually just because I knew them from freshman year.  I was really excited for senior year overall, just because senior year is like the last year of high school getting to make all these memories, and it's been a very fun year, though pretty busy at times.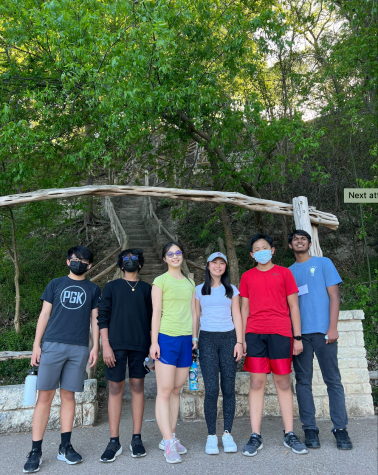 I think the trips I took with the clubs that I'm in were really fun. In November of 2022, we [Math Club] went to a math competition hosted by Harvard and MIT called HSMC. That was a very fun experience because the competition was different from our usual ones. It was very collaborative. Our team was able to put our brains together, and to be honest, individually, the four of us on the team didn't do very well. However, we were able to come together and get pretty good results in the team round. So that was a really exciting experience. It was also nice to see some of our old friends from Bellaire who were at those campuses, like going to school, so that was really exciting. And I think it was just a very fun weekend to be in Boston. And then last April, we [Future Problem Solver] took a trip to Waco, Texas for a convention called Staple [where] we talked about our project that we were pursuing last year, which was hurricane preparedness. Then we got to just meet some other teams to learn about their projects. And it was also a nice team bonding. I remember we were swimming in a very freezing pool all together. 
I told my freshman self, the things that you think matter so much actually don't. Like yes, getting good grades is important. But bombing one test isn't going to be that influential, it might bring a grade down or two, but it's better to have a wider perspective and to just be more open-minded. Things that you think you'll never actually like, just try it out. Like you never know what's going to happen. And just to always put myself out there, I like to embrace who I am and to continue challenging myself.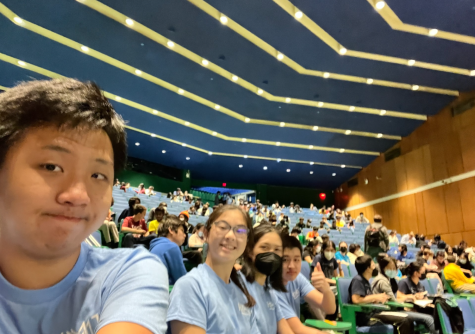 Leadership is very important in general because it keeps us organized and keeps us going forward. And I think as a leader, what I've really experienced is how important it is to be with a diverse group of people and enjoy the diverse group's set of ideas. So I talked about how in Future Problem Solvers, we did the project on hurricane preparedness. And so basically, the goal going in was to be able to fundraise a lot of money to donate hurricane kits and go and give presentations at hurricane safety, which in and of itself is already a pretty solid idea. But what I really liked about leading such a diverse group of people, like we had over 30 students, was that everyone had new ideas. Some people were talking about how we can also reach out to legislators about getting more hurricane safety education or making YouTube videos to disseminate our message on the web. So that's what really excites me.  Being a leader, it's just being really open-minded and being very excited to hear other people's ideas. 
What I'd really miss about Bellaire is my friends and the people I've been able to meet and really connect with these past four years. I think what really excites me about Bellaire is that everyone here is so interesting. Everyone has their own stories, and it's just so cool to just meet new people. And like you never know what someone else is going to tell you. And it's just very surprising. Also, what I really like about Bellaire is I think there's structure and freedom. I really like how there's such a diverse set of classes that we can take, and how everyone has like all these different schedules, and everyone's in like all these different clubs. So I really liked the freedom, like Cardinal Hour. It's very amazing. I really enjoyed it because it's a great time for clubs to meet so we don't have to stay after school, but also to hang out with friends and I don't know, maybe go put on my lip gloss or something.
I'm really looking forward to campus life. I think that that's something that you can kind of only have when you're actually living there. And I'm really excited for all the friendships I'll be able to form and then everything we're gonna do, like just with my friends on campus. I'm also excited about the classes. I think that whatever variety our classes are here, I think it's very hard for high schools to offer classes that go very deeply into particular topics. And so, in college, I'm definitely excited to take very niche classes that I don't think I was able to actually take up out there. I feel like this was more like a survey, like kind of see what you like, but then college is really the opportunity to dive deeper, whether that be through classes or like research and stuff, and I'm really excited for that opportunity as well. It'll be very intellectually stimulating. 
I'm gonna go to the Massachusetts Institute of Technology. I'm interested in majoring in computer science and business, but also I might do some other type of engineering."