BPA gains 18 new members in first virtual meeting
Senior Matthew Zhang, co-president of the Business Professionals of America club, closes his laptop and lets out a deep breath. 
Flopping on his bed, he grabs his phone and starts scrolling through Instagram, relieved after finishing BPA's first virtual club meeting. The custom packed BPA meetings in the Ramen room were replaced by a screen. 
Eighteen new members attended the 40-minute virtual introductory meeting on Sept. 14. The club discussed BPA's regional, state, and national competitions, along with volunteering hours and future meetings for the 2020-2021 school year.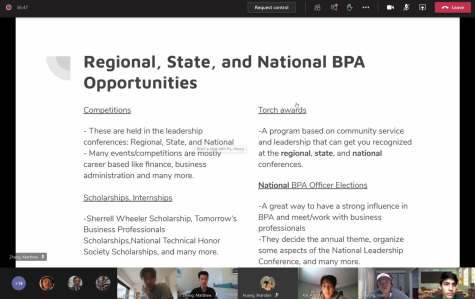 "There are a lot more responsibilities this year," Matthew Zhang said. "You really have to think about all the things you have to do before the meeting. It was in some ways organized and in some ways chaotic."
Future meeting topics will teach basic career skills in the fundamentals of Microsoft Suite. Meeting's will also host Bellaire graduates to discuss business majors and career paths students take in college. 
Junior Owen Zhang, co-president, said the first meeting went really well. 
"There could have been a lot of problems with people not being able to access the link and connection issues that did not happen," Owen Zhang said. "Content wise, getting the information about BPA across we were able to make that happen." 
While officers prepared to meet, they feared they would not be able to attract new members, Matthew Zhang said. He had nothing to worry about. A record number of new members logged in to the virtual meeting, the most in the last three years. 
"In our call, most of the people there were new members which is something I'm really proud of," Matthew Zhang said. "Maybe that's due to being more active ourselves, but it shows how even with virtual meetings there is still interest in clubs." 
New member freshmen Karis Chen said the club did a great job of keeping students informed.
"I was able to join the remind during club jamboree which has been really helpful in getting information," Chen said. "I also follow BPA on Instagram so I had plenty of reminders to attend the meeting." 
As people joined the meeting, officers tried to connect with members by presenting their personal experiences about BPA. The goal was to mimic the person to person connections of in-person meetings, Owen Zhang said. Freshman Grace Cruz said she felt welcome to the club. 
"The officers and club presidents did a great job during the meeting to help make the meeting feel more welcoming," Cruz said. "When the officers introduced themselves they were laughing and smiling at each other and everyone seemed super nice which I really liked." 
BPA will meet again on Oct. 12. For more information on how to join, join BPA's remind @bpabhs2021 and follow the club on Instagram @bpa_bellairehs. 
"I can't wait to see what opportunities the club is going to make available to us while online," Chen said. "The only thing I would want in a future meeting is maybe an ice breaker so I can get to know all the club members better."