Students show support for Black Lives Matter, attend protest
More than 300 Bellaire students and their families and friends marched around the block that surrounds Bellaire City Hall for a Unity March on June 12. They carried posters that read "Black Lives Matter," "ACAB" and "No Justice, No Peace."
After gathering at the hall for three speeches, junior Milan Narayan and senior Omar Busaidy spoke about anti-blackness, white supremacy and how to create an environment where racism can be talked about openly.
Senior Jonathan Saucier attended this event. 
"I went with my best friend, but the priest from my church was there and some other families that I knew were also there," Saucier said. "At first I was unsure about staying at the march because I didn't like the fact that there was a lot of police there, but then I realized they were Bellaire Police so I felt safer. I think I ended up spending about two to three hours there."
Ten days earlier, senior Bitanya Mariam attended the protest held at Discovery Green on June 2.  
This event was organized to demand justice and for the police officers involved in the deaths of Breonna Taylor and George Floyd to be punished to the full extent of the law. More than 60,000 people attended this protest, according to Forbes. 
For Mariam,  it was an experience she will never forget.
"I felt so good the entire time, even though the protest was about fighting for people's lives," Mariam said. "It felt good to be there and a part of what we would consider social change." 
Even when Mariam found herself far away from the main crowd of protesters, loud chants of "No Justice, No Peace" could be heard echoing throughout downtown Houston in the afternoon.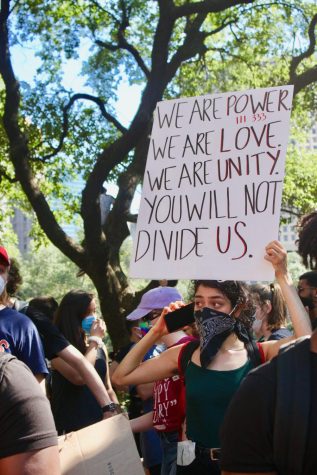 "The first thing I noticed really about the protest was the chanting, like I could hear the chanting before I even saw the crowd," Mariam said. "We got to the protest in the afternoon and we left at 9 o'clock and it didn't feel like I was standing at all really. It felt like we had walked for an hour and that was it."
Due to COVID-19, protesters had to wear masks and social distance to the best of their ability, but in an ideal situation, Saucier would go to another protest. 
"I would want to, but also corona, my mom is high risk, so of course but under the current circumstances, no," Saucier said. 
Mariam also said she felt strongly about being active with the Black Lives Matter movement and would go to another protest when one is announced. 
"If there was a protest today I would've gotten ready and been like 'Let's go!' It feels good to be a part of the activism," Mariam said.
Additionally, despite fears about getting hurt, Mariam continued to raise her poster, which read "Foot on my neck is plain disrespect #we'vehadenough," high and chant with all her might.
"I was just worried that the cops were going to start hurting people," Mariam said. "Other protesters were saying rude things to the cops out of anger and I remember when everything calmed down, people were sitting on the floor because the cops closed each side and we were forced to leave the main road."
According to National Public Radio, this is a time where there is a lot of anger, weariness and fear that rules over the lives of black people in America due to the fight against police brutality and systemic racism. 
"I think the most memorable moment of the protest was when the cops came at each end and people that were driving and weren't in the protest stopped in the middle of the street," Mariam said. "They just joined the protest and they were like 'You guys can get on top of the car' and a bunch of people did. It felt like we were intimidating them [the cops] and I felt like I was on top of the world."
Authors note: Yasmeen Ofleh also attended this event as one of the speakers.