Young people get involved in election, drive change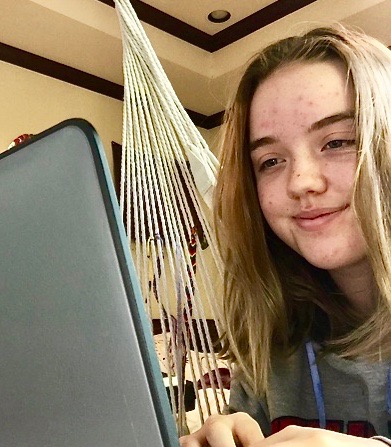 Organizations Texas Generation Ratify and New Voters teamed up on Sept. 19 to train students on how to host voter registration drives and how to take action before the upcoming election even if they can't vote.
Sophomore Lainey Sikes logged onto the Zoom webinar. This was her first time participating in a politically related activity. Though only 15 years old, she wanted to learn how she could become involved.
"I found the event very informative and a great start to becoming more involved and active in politics," Sikes said. 
According to the NV website, the goal  of New Voters is "educating and empowering the youth and ensuring that politicians are held accountable by young voters for their legislative decisions."
NV makes sure every eligible high schooler is registered to vote. NV does this by hosting events like the one on Saturday to teach high schoolers on how to register other students. You can learn more about NV on their website.
"We are experiencing one of the most important election cycles in modern history," one of the organizers and the TGR Lead Marco Gonzalez said. "If you will not be able to vote, it is important to get involved through organizing. Hosting local voter registration drives are impactful especially during pandemic times."
There are other ways the youth can get involved in this year's election.
"Besides voter registration, student poll workers are most impactful," Gonzalez said.  "Since most elections are run by the elderly, the pandemic has created a shortage of helpers. With fewer poll workers, voting precincts might close leaving the most vulnerable communities marginalized." 
According to the County Clerk Website, student poll workers are paid for their services and receive an excused absence from school.
Gonzalez also mentioned that TGR is putting together the Elect Equal Justice Texas Cohort for high school and college-aged students. Their mission is to connect civically minded youth with the most competitive campaigns across Texas. 
"Our program aims to elect candidates into the halls of Congress who will stand up for the people and ensure equal justice for all," Gonzalez said. "It's the perfect way to get involved in this election cycle even if you cannot vote."
With a presidential seat, supreme court nominee, and 35 senate seats up for grabs, Sikes wants everyone to remember that voting this year is especially important.
"It goes as far as being life or death for so many Americans and the result of this election could very well be the end of our democracy and take away many Americans basic human rights if people don't allow for their voices to be heard," Sikes said. "Vote, Organize, Empower."