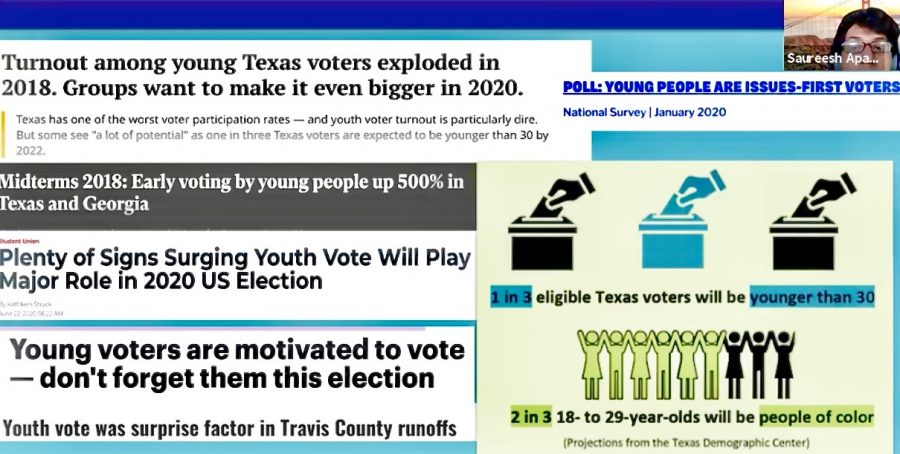 Photos provided by Sonya Kulkarni
Young Voters take action to make voices heard
Behind her glowing computer screen, Isabel Lan joined the Zoom webinar with one main goal in mind: to educate and inform students about the sheer power they hold in our country's future.
In the era of COVID-19, high school students across the United States face a unique array of barriers when attempting to cast a vote: complex registration guidelines, vague voting instructions and overall confusion have the potential to disincentivize students from voting and exercising their constitutional right.
Although Harris county succeeded in collecting more votes than the entire 2016 election during the 2020 election's early voting season, voters in other cities across the country are facing long lines, the broad usage of mail-in ballots, partisan fights over voting rules.
Student associations are bridging the gap between the campus and polling station through events that endeavor to educate and encourage students to vote.
Students, Let's Get Out the Vote!
Bellaire Young Democrats, Vote Tripling, MOVE Texas and Houston Youth Climate Strike teamed up on Oct. 19 to educate students on how to cast a ballot, providing resources and responding to questions  about civic engagement for youth who have not yet reached the voting age.
A collage of news articles shouting "Youth Vote Will Play Major Role in 2020 U.S. Election" and "Surging Youth Vote is Critical" adorned the slide-deck of the Students, Let's Get Out the Vote! event as Alfredo Hernandez, associate at Vote Tripling, spoke about his own experiences with voting and why he has made it his mission to encourage students to vote.
"I think young people should vote because we all have a different perspective, and if we don't vote, no one is going to hear us," Hernandez said. "By voting, we can start pushing for the ideas, thoughts, and policies that we identify with and make a difference in our lives. Democracy at its strongest when we have student influence."
Webinar organizers shared resources such as a handmade voting checklist as well as an official voter-information site to view a sample ballot and a map search tool for nearby polling locations.
Junior Vidya Muthupillai, an officer of HYCS, suggested that though voting is a civic duty of an American citizen, teenagers can use the action to rebel against the norm in a lawful manner.
"A lot of young people have the mentality that the political system has failed us, as oftentimes we may have the misconception that political officials are not intent on implementing policies that aid the interests of young people; and that we can't do anything about it," Muthupillai said. "Voting is very radical for young people to do because every poll relies on young people not casting their ballot. So, if you want to do something radical, or if you want to do something that will tear down the system, just go vote." 
Missing Votes and Missed Opportunities
According to the Texas Secretary of State, in the 2016 general elections, 46 percent of Texas' voting age voted, and less than half of all young people between the ages of 18-24 did not vote. 
Kristina Samuel, a Texas A&M University student and volunteer at MOVE Texas, said young voters could be dissuaded from voting because of internally conflicting views, which could lead them to feeling inadequate or less powerful than older voters.
"There's a lot of stigma in terms of the voting process and thinking your vote doesn't matter, or if you're not into politics, you're therefore not educated or qualified enough,"  Samuel said. "But, you really must understand the value of your voice — you have power and a say in policy. I personally think that voting is even better than planting a tree in the sense of expressing your own hopes for the future — these words are very profound to me."
Sophomore Julia Lewis, a community outreach member of HYCS said that today's youth feel isolated on the national scale.
"Let me tell you this: many votes throughout history, and especially recently, have been decided by only a few votes," Lewis said. "In our democracy, voting shows what matters to you, and what you can contribute to the national sphere. Voting is a way to show that you exist and that your existence matters."
Bridging the Gap
Looking forward to the general elections this November, student groups and activist organizations have been pushing to simplify the voting process and help students deal with voting difficulties.
Isabel Lan, president of Bellaire Young Democrats and guest speaker at the Students, Let's Get Out to Vote! event, said her club encourages political engagement among students. She discussed how young citizens can inform, participate, and organize events in light of the COVID-19 pandemic.
"Every year, we host voter registration drives in partnership with larger organizations," Lan said. "We also usually go around the school, look for government and civics classes and talk to the students about the importance of voting, ensuring that they vote. Obviously, though, we haven't been able to do so this year, but we have successfully moved these events online. We recently hosted two watch parties for the presidential and vice-presidential debates and participated in discussions afterwards about our own thoughts and feelings."
Coupled with their efforts to stimulate nonpartisan discourse among students, Lan and BYD members have expanded to multiple social media platforms.
"We have noticed the power of social media and the impact that it has on young people, and we are using our platforms to educate and inform," Lan said. "But, we need to realize that democracy is not a spectator sport. If you can vote, please do vote, because what we, as young people, have to say matters."