Theater class hosts virtual performances
Red Bird Productions debuted the Virtual Theater Festival on Friday, Nov. 13. The theater company's 5th and 7th-period classes worked to produce 14 short plays, all of which were performed over Microsoft Teams.
The Virtual Theater Festival comes after COVID-19 halted Red Bird Productions' original performance plans.
"I knew it was serious," theater teacher Kayla Boffone said. "But I didn't have the awareness back in March of the scope of the impact COVID-19 would have on the theater industry."
Theaters around the world began closing one by one. Soon, it became clear that schools would remain closed as well.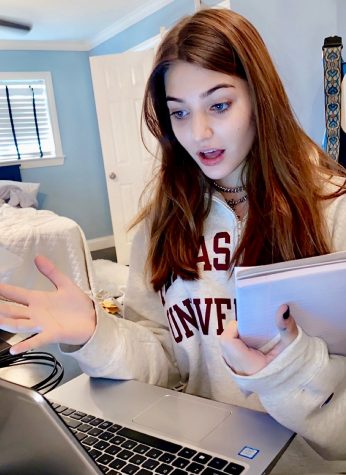 Once the realization of the impact COVID would have on the theater department set in, the teachers scrambled to create alternatives for their students.
The teachers drew inspiration from one of the company's largest events, 24 Hour Plays. This event challenges the theater students to craft short plays in under 24 hours. After bouncing around ideas, all theater teachers agreed upon the Virtual Theatre Festival.
For the students, however, the virtual theater presented itself as less than an ideal circumstance.
"I was initially not too excited about it because it felt like a filler project," senior and Red Bird Productions president Leah Harvell said. "I had little faith that it would work smoothly."
Harvell's group and others alike worked for weeks to create original scripts, characters, costumes and virtual sets for their performances. 
"Eventually, I really enjoyed it and the entire process," Harvell said. "I learned that virtual theatre has many more possibilities than I originally thought."
The Virtual Theater Festival has been a creative outlet for the theater students, as well as a learning opportunity.
"I gained new friendships working with people that I might not have worked with otherwise," junior Jenny Katzen said. "I learned how to make theatre happen even when you can't be together physically."
It is unclear whether the full company will be able to get together in the near future. This means more events similar to the Virtual Theater Festival could happen.
"I think the most important part has been problem-solving ways to do theatre safely while information is still changing," Boffone said. "This year we have developed several plans that we will be able to implement throughout the year."
Despite the challenges of COVID-19,  Red Bird Productions was able to create an experience that the teachers and students could be proud of.
"It wasn't the easiest thing in the world," sophomore Bing Nanson said. "But we were still able to make it work, and I think we all did a great job."