Revising Project Santa: annual event moves to Youtube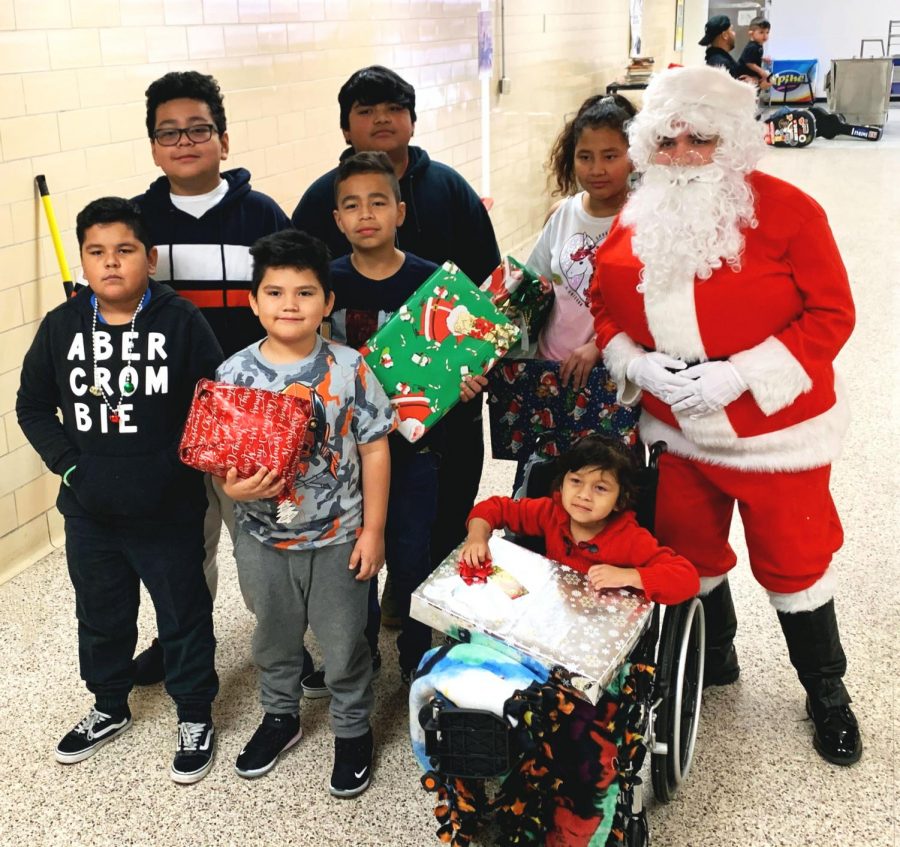 Due to health and safety concerns over COVID-19, Student Council's annual Project Santa event will take on a new form this December:a YouTube compilation video featuring clips of dozens of Bellaire clubs and organizations spreading holiday cheer. 
Bellaire's usual partner in the yearly event, Texas Children's Pediatrics Gulfton, declined participating in both an in-person and live virtual event due to technology shortages and craft kit contamination concerns.
Student Council president and senior Shirley Zhu announced the change at the Nov. 12 President Council meeting, attended by the presidents of each of Bellaire's clubs. 
"I was definitely initially very disappointed, and I was very worried that there was going to be no way for Student Council and for Bellaire High School to still have a contribution during this winter season," Zhu said. 
However, after brainstorming, Student Council members formed a new plan to instead create an approximately 20-minute long compilation video made up of school performances and 30-second clips of different Bellaire clubs engaging in holiday-related fun. 
"Even though this is just a video, it's one way for people to have fun and also hopefully brighten other people's days," Zhu said. 
Under normal circumstances, Project Santa brings together Bellaire organizations in the multi-purpose center on a December weekend to give presents to Texas Children's Pediatrics patients. Each club is responsible for sponsoring a child by buying them a present off their wish list as well as leading a holiday-related craft. 
With the new video approach, Zhu hopes to extend Project Santa to more of the nearby Bellaire and Houston communities. She plans to post the finished video on the Bellaire High School YouTube channel where it will be accessible to everyone. 
"We really hope that it can be a way for students to get involved and work together on a project that will also be able to spread joy throughout more of the Houston community," Zhu said. 
In addition, the YouTube video will feature performances by the Bellaire choir and eMotions dance teams. President of the eMotion modern dance team and senior Michelle Sun is working to put together a holiday-themed choreography before mid-December. 
"This year we are already pressed for time since we started school two weeks late and then took a month for things to settle down," Sun said. "So we might be using our current fall show choreography and just changing the music because dance is super versatile, and as long as you have a similar beat, you can alter any dance to any song.  I think the idea is that we'll choose one of our jazzy or more upbeat dances, and then recycle the dance moves into a potentially holiday-themed song." 
Due to social distancing requirements, only about six to eight dancers will participate from each of the eMotions dance teams, since filming the dance requires the team meeting at school. Practices have also posed a challenge to perfecting the Project Santa dance. 
"There is a lot of lag on the Microsoft Team calls when we practice," Sun said. "All of the choreographers request that we send in recorded videos of us, just to make sure that everybody's on time and hitting the notes you need to hit.  But unexpectedly, when we all danced in person, we're all completely in sync, which is really cool." 
All three eMotion dance teams: modern, hip hop and popping will submit around a 3-minute long dance set to the Student Council video. Performing without an audience will be a new experience for the dancers. 
"It feels really different performing for a video compared to performing on stage with bright lights and the audience cheering, so it's pretty upsetting, but it is the best we can do, and I just want to make sure that everyone is safe," Sun said. "Safety is always our number one priority, and being able to even produce something this year is already a really big key that we've accomplished." 
Despite the hospital patients not visiting craft booths this year, Bellaire clubs are planning new ways to spread holiday cheer on camera. Hindi National Honor Society president and senior Kirti Mhatre planned her club's clip right after last week's President Council meeting. 
"I knew Project Santa was going to be virtual so it didn't surprise me," Mhatre said. "Although I was hoping we could at least send the kids their presents. But I understand the issue of safety so I'm not complaining about that." 
Mhatre will lead her 25-member club in a short clip of the members saying "Merry Christmas" in several languages spoken throughout India. 
"We have members who speak Telugu, Malayalam, Bengali, Tamil, Hindi of course, Marathi and several others," Mhatre said. "We have families from all different parts of India." 
Mhatre hopes to still incorporate a holiday craft element in her club's video by including a segment of the club officers folding origami.
 "We haven't decided what we'll be folding yet, but one of our friends, Angela Ling, she's really good at origami art so we were hoping to ask her how to make a Christmas tree or a Christmas star," Mhatre said. "You know, one of those pop up stars that says Merry Christmas when you open it. It would be a cool addition."
Mhatre commends Student Council's efforts in still attempting Project Santa this holiday season despite the obstacles presented by the COVID-19 pandemic. 
"From my point of view, if I was a patient and I was alone in the hospital, I would think it a nice gesture that some students who don't even know me are thinking about me," Mhatre said. "I would be very flattered and happy to know that there are people who are supporting my health. It's a very special gesture."