Red Bird Productions to continue UIL theatre competition tradition on March 6
Red Bird Productions was ready: the stage set to present Brendon Peluse's post-apocalyptic "Wellesley Girl," understudies on the sidelines with scripts in hand, garment bags packed and light cues memorized. Last year, this was the scene the UIL theatre cast was left with when a day before their competition, the Houston Independent School District shut down. 
"It felt very incomplete and lacking in closure," Head Theatre Director Rachel Ollagnon said. "We all understand that anything could happen this year." 
Junior Aryianna Brewer, stage manager for their new show "After the Blast," said they were only able to participate in one part of the competition last year. 
"While we did have a good time, it was upsetting that all the effort we put into our show wasn't fully valued," Brewer said. 
Ollagnon opted to participate in this year's March 6 UIL One-Act Play competition even though the other performances were canceled. 
"I felt that having this one meaningful production was important," Ollagnon said. "It is a true joy to be able to continue with UIL and make theatre together. As theatre artists, we thrive on the collaboration and creative energy that comes from working together on a production. I have missed that terribly, as have so many students."
Senior Jonah Dove said he worried that there would not be any theatre due to COVID-19, but he was happy when he got the text about auditions.
"Now I get to be in a show," Dove said. "[Acting] is really what's keeping me going right now."
In order to continue with UIL rehearsals safely, castmembers' temperatures are taken at the door and students not speaking on stage wear double masks (a disposable one with a cloth one over it).
"We have tried a lot of different types of masks," Ollagnon said. "We've been trying to figure out which ones offer strong protection while fitting the aesthetics of the show."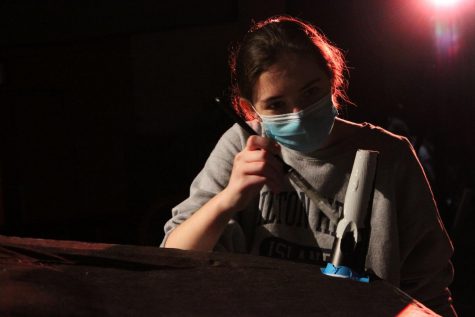 "We are planning on having a separate After the Blast showing at Bellaire in the auditorium on Feb. 26," Ollagnon said. "But we don't know yet if we will be able to do this and have a live audience."
Written by Zoe Kazan, "After the Blast"  is set in the future where the earth has become unlivable due to climate change and radiation. The play touches on themes of what it means to choose life, how humans cope with unfathomable tragedy and the importance of human connection. 
"I chose it because it is a beautiful and thought-provoking script," Ollagnon said. "It is truly pertinent to our time – in society and in this pandemic."
For Ollagnon, the "always-present, underlying worry about COVID-19," is an extra weight on the everyday struggles of running and being part of a theatre company. 
"The atmosphere has changed a lot in rehearsals. In show rehearsal, we are usually very close and friendly with each other," Brewer said. "But due to COVID-19, we can't connect with each other on that type of level. With UIL up in the air this year, it's stressful because we don't know if all the work we're doing on our show is gonna be worth anything. "