Students Without Borders, Medical Club host speaker series with health professionals
Bellaire Students Without Borders and Medical Club teamed up to host the first part of their virtual speaker series on Feb. 11, featuring Dr. Andrea Stolar, professor of psychiatry and assistant dean of student affairs at Baylor College of Medicine.
Members who joined the Google Meet room asked Dr. Stolar questions about her work as a forensic psychiatrist, her career path to becoming a professor and listed to her talk about her research on the mental health of veterans.
"The speaker was very engaging and I was very interested in learning specifics of her work in psychology in law and court cases," SWB historian and junior Ellery Strength said. "I thought it was especially fascinating to hear how detailed the diagnostics are to psychologically evaluate witnesses and defendants and how important expert testimonies are to cases."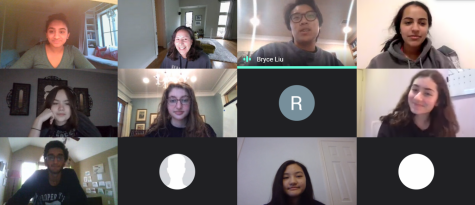 SWB event-coordinator and senior Zoe Du said she enjoyed learning about the intersection of psychiatry and law.
"Dr. Stolar had a lot of insight into the legal applications of medicine I had not previously considered, as well as the needed de-stigmatization of mental health," Du said. "I unfortunately did not get to ask any questions because we ran out of time, but a lot of great questions were asked and it was a great learning experience. I look forward to attending future events!"
This speaker event will be followed by two additional meetings this week. The next speaker event, which is indefinitely postponed due to inclement weather, will spotlight Dr. Supriya Ramanathan, MD and physician at the UT Pediatrics High Risk Clinic. Dr. Ramanathan will speak about her professional journey as a pediatrician from India as well as her career experiences.
More information about the speaker series and event links can be found at here.
The Medical Club also plans to host more virtual speaker series and expand their medical field mentorship program. SWB hopes to attend in-person events such as Project CURE, which focuses on sorting and boxing medical supplies for donation to developing countries around the world.
Anyone interested in joining Bellaire SWB should follow @studentswithoutbordersbhs on Instagram and join their Remind @swb20. Bellaire Medical Club can be found at @bhsmedicalclub on Instagram.
Leave a Comment