Name That Book team places second in district finals amidst worries of cancellation
Five students tied for first place in the virtual Name That Book competition on March 12 and placed second in the finals on March 14. 
Sponsored by English teacher Gretchen Oertli Bonnes, this year's team competitors on the Name that Book team included Rebecca Chen, Dilara Muslu, Bailey Sutton, Taryn Morris and Trinity Sloan.
"We only missed one question, and that was due to a typo," sophomore and team member Bailey Sutton said. "We were extremely proud because we were really worried about how this year would play out because preparing for the competition was a challenge."
Coordinated by the HISD Department of Library Services annually, the Name that Book contest aims to acquaint students with a variety of genres in classic literature and contemporary award-winning books.
Students competed against other schools virtually this year due to COVID-19 restrictions. 
"Honestly, I was just relieved that we were still having the competition because there was concern earlier in the year that Name That Book would be canceled," Sutton said.
The five-member team, who met in-person in an English classroom, faced their opponents behind a Microsoft Teams call that was projected on the classroom's whiteboard.
Bonnes, who facilitated the competition, said that her experience holding the event virtually was relatively smooth.
"I had to learn how to get all of the tech tools and devices working at the same time," Bonnes said. "To be honest, it was easier than I thought it would be."
Sloan said that the virtual setting was surprisingly liberating.
"It was nice to be able to talk at normal volume instead of whispering the way we would if we had competed in person," junior and team member Trinity Sloan said. "The delays because of other team's technical difficulties were sometimes frustrating, though."
Sutton elaborated that though it was difficult to hear everyone during the contest, being able to talk normally was a considerable benefit to the team's performance. 
"When we compete in person we are seated next to the other teams, so you have to whisper or you'll give away clues to the other teams," Sutton said.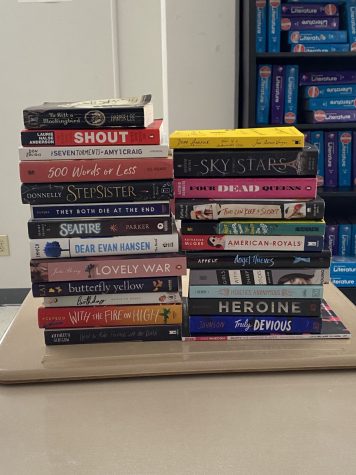 Before the competition, students receive a list of 30 books to study, all with different genres and themes. This year, notable titles included "To Kill a Mockingbird," "Dear Evan Hansen" and "American Royals." During the contests, competitors try to match book titles to the given quotes.
"During finals, some of the quotes were vague and difficult to identify," Sutton said. "It was a bit surprising and took a while to get adjusted. During our break, we got refocused for our final two rounds which helped."
Sophomore and team member Dilara Muslu, who first competed in Name That Book in the 6th grade, said team members must read all 30 books and remember 'lots of details.'
"It actually went pretty terribly: I ended up crying because I was so frustrated that we got 4th place." Muslu said.
In contrast, Sutton, who first competed in the 2019-2020 season, said that her experience was simply amazing. 
"Last year we also placed first in prelims and got third place in finals after a tiebreaker," Sutton said. "To win top three in my first year competing was a wonderful experience."
Sloan said working with her fellow team members was the best part of the competition.
"We've really been able to bond together which is why I think we perform so well in competitions," Sloan said. "We all mesh really well together and have fun doing what we do. It's also really nice to have a friendly competition with book lovers from other schools."
Muslu said that she agrees, adding that her favorite part about the whole experience was reading the books.
"As a student taking difficult courses and extracurricular activities in high school, I don't really have a lot of time to read, and when I do, I generally don't know what to read," Muslu said. "Name That Book is a wonderful opportunity for me to have an excuse to just sit back and enjoy some good books without worrying about anything else."
The team has shown extraordinary commitment during these uncertain times, Sutton said. To prepare, the team practiced for two hours and held practice sessions virtually.
"We were all speechless when we found out that we placed higher this year," Sutton said. "And we were all really excited and proud that all of our hard work led us to do so well."