Student Council facilitates schoolwide discussion on environmental sustainability, women's rights
In an effort to build a sense of community and foster connections between students and administrators, the Student Council recently introduced student forums: a way for students in all grade levels to voice concerns to the staff and learn about social issues. 
The first two forums, hosted through Microsoft Teams on March 21 and April 21, attracted over 320 attendees and covered feminism and environmental sustainability at Bellaire. 
Although the Student Council plans to continue to host monthly forums, Advanced Placement tests and final exams scattered throughout May have raised concerns over a possibility of very low attendance this month. In lieu of a scheduled Teams call, Student Council members are discussing   AAPI heritage through an Instagram campaign May 24-28.  
"We're definitely going to continue to have these forums so students can voice their opinions since we know students obviously have a lot of thoughts on how the school and administration are run," Student Council event coordinator and sophomore Amy He said. "May's forum just might look a little different." 
He and fellow Student Council officer and sophomore Anthony Nguyen lead the six-member committee responsible for organizing the forums each month. Nguyen said he thinks students should feel comfortable having their voices heard by the administration, even if they're still participating in virtual instruction. 
"We're at school for six hours a day, it only makes sense for us to be able to change the school or for people to voice what they feel the school should do," Nguyen said. "It's more than just an educational environment, it's a community, it's a place where people should feel like they're able to have their voices heard and have changes implemented." 
Student Council co-hosted Bellaire's first-ever student forum with the Feminist Club and Women in STEM on March 21 on a Microsoft Teams call. Guest speakers Kathy Patrick, an attorney, and Rene Graham, architect, CEO and founder of Renzoe Box attended to discuss women's rights in the workplace for Women's History Month. 
Fifteen teachers offered extra credit for attending, and 180 students joined the call to participate in discussions about gender relations and how to improve experiences for female students at Bellaire. 
He said a lot of the feedback from students showed excitement about the guest speakers, especially Kathy Patrick, who presented students with a unique story on her role in feminism as a woman of high standing at a law firm. 
"Mrs. Kathy Patrick brought a really interesting perspective on how she applies feminism in her field," He said. "She talked about how when she has male staff members or male employees and their wives give birth, she makes them take leave, which I'd never heard of before." 
Nguyen said the forum made him realize how much gender still plays a role in gender relations, and how those effects are felt by female students at Bellaire. 
"I guess because I'm a guy, I've been blessed with ignorance in the fact that a lot of people can feel uncomfortable with how male students or even teachers may act, and there are concerns like not having period products inside of restrooms, and students never even knew that a lot of teachers do provide them," Nguyen said. "It's good we're having a discussion about it in the first place, it helped bring awareness to the topic."
Student Council's second student forum, hosted on April 21, covered topics of environmental sustainability for Earth Day, aiming to make Bellaire a "greener" school. The event attracted 140 attendees and featured guest speakers Isabel Richards and Julia Lewis, local climate activists from the Houston Youth Climate Strike.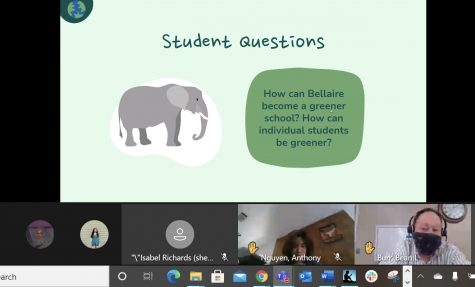 Teachers supported Student Council's new initiative by offering extra credit and contacting students through the HUB and Remind. Sophomore Jessica Whittaker attended the event after hearing about it during her advocacy class.
"My chemistry teacher Mr. Burr told me about the forum and said I should attend, and I thought 'why not,'  it would be a better use of my time to learn more about climate change than watch TV shows," Whittaker said. "It was definitely a comfortable space to express my thoughts." 
He said that the guest speakers being young teens themselves inspired Bellaire students by showing them that people their age can still create a lot of change. 
"People were definitely motivated by that, and the chat exploded with ideas," He said. 
Ideas posed by students included restarting the recycling club, constructing a school garden, limiting plastic bottle consumption at school, and organizing schoolwide community cleanup events. 
Whittaker looks forward to the upcoming AAPI week and is excited for future forum topics.
"I hope the forums continue and that they host forums that talk about racism, injustice and mental health, specifically men's mental health," Whittaker said. 
Anyone interested in contacting Student Council can email [email protected] or follow @bellaire.stuco on Instagram.