Robotics Club competes in four contests, advances to semifinals in new VEX AI competition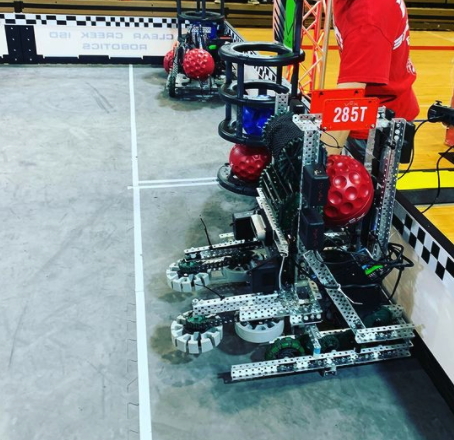 The Robotics Club built a 120-pound industrial-sized robot for their VEX competition on Apr. 16 which qualified for the World Championships. The club also advanced to the semifinals for their Innovation Challenge competition. The team is now preparing for their next VEX AI competition on June 25-26.
In light of the pandemic, the Robotics club competed in four competitions. Usually, during this time of year, the Robotics team would focus on just one competition. However, being virtual has created more opportunities for the team to compete.
"This year's different because everything is virtual," Mackenzie said. "Normally we don't have as many competitions. We just have FRC, which is building robots. So this year we have the Infinite Recharge and the Innovation Challenge which are virtual. Also, the VEX AI competition is completely new, it was brought in last year. So, we've never signed up for that before."
Robotics team president Jimmy Xi, technical director Miles Mackenzie and team member Devin Matthew run  competitions. The entire Robotics team participates, with three meetings a week for each competition.
The members competed in four challenges: Video Editor for XML, For Inspiration and Recognition in Science and Technology Robotics Competition Infinite Recharge, the FRC Innovation Challenge, and the VEX Artificial Intelligence competition which was held on Apr. 16. Despite the pandemic, the competitions are more widespread.
"For FRC, it's global this year," Robotics team technical director Miles Mackenzie said. "So we're competing against teams from around the world. For VEX, it's within Texas for now."
FRC Infinite Recharge
This year the robot designs can be shown off using a CAD or digital model or by showing the real robot in action if they have a functioning robot.
"The tasks vary a lot and they're designed to keep teams on their toes and level the playing field," Xi said. "The tasks can include catapulting balls into goals, hanging on bars, balancing robots on balance beams, and a lot of other fun challenges."
VEX/VEX AI Competition
The VEX competition is a robotics competition for students from elementary school to university. Robots will compete against each other at regional, state, and national levels. "The goal of the competition is to develop skills in leadership, communication, and collaboration," Xi said. VEX is similar to FRC Infinite Recharge, but VEX involves smaller robots.
Virtual meetings make up most of the robotics team members' interaction with each other, but for this competition, in-person visits are necessary.
"The VEX competition requires building," Mackenzie said. "And we've got some people who are willing to meet in person to do some building. There were other FRC challenges that allowed people to meet in-person if they wanted to, but we chose not to do that."
The competitions were released in January and the Robotics team has been working on them since February.
The VEX AI competition involves autonomous robots that must complete an obstacle course, and their next VEX AI competition will most likely be held in June.
FRC Innovation Challenge
For the Innovation Challenge, a problem is presented to the Robotics team: how can technology increase exercise? The Robotics team came up with an app with a virtual creature. The more you make the creature exercise, the more rewards you earn to nourish or customize the creature. A feasible business model must also be presented.
"What we're doing now is we're coming up with what the app user interface is going to look like," Mackenzie said. "What our different creatures are going to look like, how we're going to make money and advertise with our business model. Right now, we're just working on how we're going to take our idea from just an idea to a more realistic business plan."
For more information on the robotics team and to support them, visit their website.