21 students place in top 1.25% for PSAT
Senior Amelia Ding sat in her first period class when she got a note from the office saying to meet near the school stairs after second period. Following the bell, she hesitantly went down the stairs.
"I thought I was in trouble," Ding said.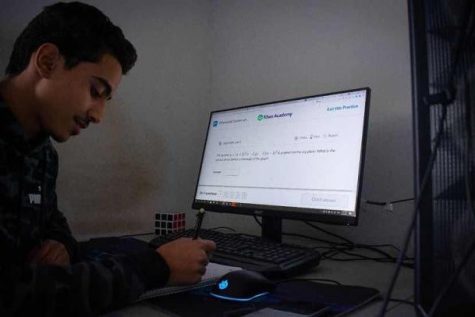 Ding waited around with the other 20 confused seniors before Principal McDonough finally came and gave an announcement. Ding learned she qualified as a semifinalist for the National Merit competition putting her in the top 1.25 percent of test-takers in the state.
"I was really excited when I found out," Ding said.
The highest scoring juniors each year on the PSAT can qualify for The National Merit Scholarship Program. Bellaire juniors will take the PSAT on Oct. 13.
"I am motivated to study for the PSAT so that I can get a scholarship to study computer science in college," junior Basem Mohamed said.
Mohamed said he feels less prepared for the PSAT due to the pandemic especially since he couldn't take the sophomore PSAT last year because of health concerns.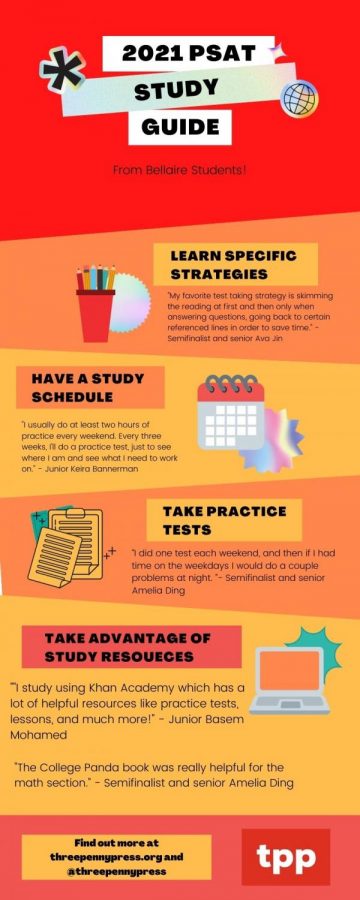 "COVID-19 definitely had an impact on my ability to study," Mohamed said. "Learning online was difficult for me. I just wasn't used to it. I think I could have learned a lot more if school had been in person."
Junior Keira Bannerman said she doesn't feel as prepared for the PSAT because of her education in Sweden.
"In fourth grade, I moved out of America to Sweden where they didn't give us homework," Bannerman said. "And we didn't learn a lot of math. I just didn't have a good education there."
Even once Bannerman returned to the states, she said she still had problems.
"When I moved back, my seventh grade math teacher quit so the principal had to take over and she didn't really teach the class," Bannerman said. "Ninth grade was great; I loved it but I don't remember anything from it. Then in 10th grade during COVID-19, I didn't pay attention."
Bannerman said her parents are a big part of her PSAT prep.
"Honestly, it's all my mom making me study which I'm kind of grateful for," Bannerman said. "I would have no motivation to study otherwise because I have so much other homework and responsibilities."
The PSAT prepares students for the SAT, so Ding advises students to not stress while taking the test.
"I think my biggest tip is to realize that it's okay if you don't get the score you want because overall colleges don't really care about the PSAT unless you make it to finalist status," Ding said.
Leave a Comment