Business booms for noodle room
Selling ramen is harder than it looks. Sometimes, it means beefing with cafeteria ladies, or even selling only popcorn and water.
On a daily basis, Ian Zlotnik, Business Professionals of America Club sponsor, helps BPA run the noodle room during Cardinal Hour, selling ramen, gatorade and a variety of other $1 snacks to students. Before he joined Bellaire this year as a business and statistics teacher, Zlotnik taught business at Austin High School. With some experience in managing a school store as the business teacher at his old school, Zlotnik has worked with BPA to make the noodle room a success through new changes to the menu, or even to the layout or the way students can order their food.
At first though, the noodle room got off to a rough start.
"But over the past few weeks, we've been expanding the menu back to the OG days and business has been booming," senior and BPA historian Henry Pu said.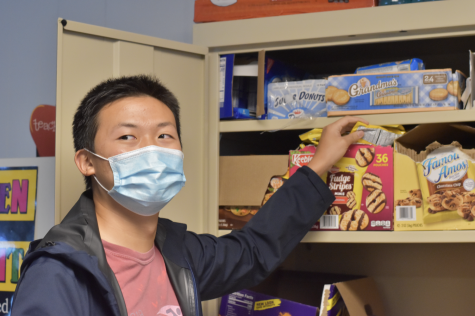 Although the noodle room has had some success, the work has only piled up.
"I'd be lying if I said it wasn't a lot of work," Ian Zlotnik said.
Every day, Zlotnik transforms his classroom into the noodle room that students see during Cardinal Hour.
"Assuming we have all the inventory, I have a couple of my BPA officers that don't have a first period come in and fill all the water tanks," Zlotnik said. "Then I take turns heating each of them up, and by the time lunch is here, they are heated and ready to go."
Then, during fourth period, Zlotnik rearranges his classroom, putting out signs and setting up the classroom next door, Mr. Ogle's room (T21), as an exit, to meet new COVID-19 regulations. But, the biggest change, according to senior BPA Vice President of Finance Brandon Huang, has been the new location.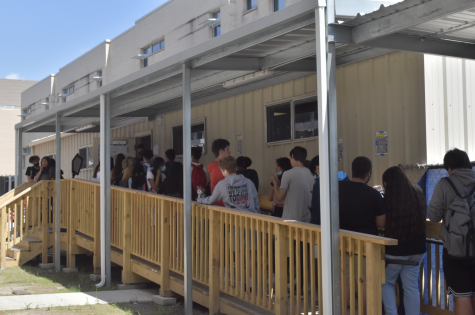 "With the noodle room in the new building, we're definitely operating in a smaller room, so it's a little different," Huang said. "The year before the pandemic, we were in Mrs. Kelm's room which was a lot bigger. It held a lot more people, and we had more people selling at once so we moved along a lot faster. We just had to adjust to that, but otherwise it's been pretty much the same."
Besides running the noodle room in T22, one of the many temporary buildings, nicknamed "cottages" in the courtyard, Zlotnik also teaches business and statistics. Before coming to Bellaire, Zlotnik taught business classes at his old school.
"At my old school, I was in the process of starting a DECA, as well as a school store," Zlotnik said. "However, Bellaire was just too good of an opportunity to pass up."
Zlotnik also shattered his old school's record for the most certifications throughout the year.
"That was something that Bellaire really wanted to get into to send you guys off," Zlotnik said. "So, I think that's what appealed to Bellaire about me and what appealed to me about Bellaire is to make those business certifications something that every student can have rather than just their diploma"
At the beginning of the year, Zlotnik began sponsoring BPA while figuring out how to run the noodle room. But now, Zlotnik has already acclimated to Bellaire and even implemented some changes to the noodle room.
"This year, there are the little things to adapt to, like changing the layout," Zlotnik said. "It's definitely something that you make changes to as you go. But, I think, each week, we've seen it going more and more smoothly."
Since the officers give up their lunchtime to work the noodle room, Zlotnik is always looking for ways to "speed up the process" so that officers have enough time to eat their lunches before Cardinal Hour ends.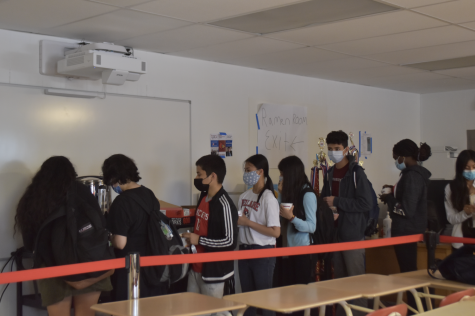 "I changed some of the layout within my room to try and make it faster for people," Zlotnik said. "The biggest change I've done is putting the menu on QR codes, so that people can scan them and already know what they want once they get to the front line."
But, one part has remained unchanged: the purpose of the noodle room.
"The ramen room is a fundraiser for BPA," Zlotnik said. "We don't necessarily just do it for the sake of making money. None of the money goes in my pocket or to any of the officers' pockets. It all goes into our club which we then use to have kids compete for scholarships and awards, not only all over the region but all over the state and the country."
Along with the funds it raises for BPA members to compete, Zlotnik said that the noodle room is great for students to get a true job experience.
"I was really happy about the noodle room opening up this year because I think it's a part of Bellaire culture," senior and BPA member Ricky Kai said. "Any upperclassman knows the importance of the noodle room for all students because we have hundreds of customers each day. I also like working because I get to see people that I'd otherwise never get to see."
This year is all about the little changes, but next year, Zlotnik hopes for a pick-up window arrangement on Main Street.
"I think it would be really cool if people lined up at a pickup window on Main Street and we could hand them ramen through the window," Zlotnik said. "The problem is you'd only really be able to do one at a time. But I think that'd be a cool concept."
One change Zlotnik had wanted to make to the menu was adding smoothies. But, he chose not to after being told about the items that sold well and those that didn't.
"My initial plan was to do something like a coffee shop or a smoothie idea, and I was kind of curious to see what the reaction would be to that," Zlotnik said. "But seeing all of the feedback and the notoriety of just being able to sell ramen for a week makes it kind of unlikely for me to go that route."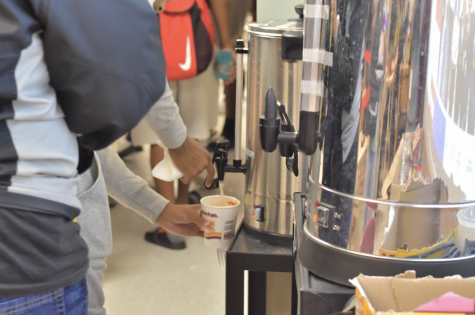 Although Zlotnik hasn't added smoothies to the menu, he has added ice pops.
"We have ice pops this year which sell really well, especially because of the heat outside," Zlotnik said.
Thanks to best-sellers, like ice pops, and the dedication of BPA members, business in the noodle room has started to speed up.
"We've seen more and more people coming in," Zlotnik said. "I know due to COVID, it slowed down significantly last year. And then years prior, there was a lot more space, so I think it's tough to compare it to that. But at the moment, I think there are places we're going to be making improvements throughout the year that will hopefully improve not only sales, but also customer satisfaction."
For sophomore Michael Sheth, this is certainly the case.
"I mainly came for the ramen," Sheth said. "It's my first time at the noodle room because one of my friends suggested it to me. Honestly, it's pretty interesting that Bellaire has something like this."
The noodle room's popularity has certainly risen among student customers, but without the BPA officers' dedication and energy, Zlotnik said that he doesn't know how he would be able to run the noodle room.
"Their dedication is the behind the scenes feature that makes it all work," Zlotnik said.
As the school year progresses, Zlotnik said he will want to make changes to improve the noodle room.
"I'm constantly looking at ways to improve, to get people in and out faster, to make it a better experience for everyone," Zlotnik said. "I'm always open to suggestions from students on layout or ways to speed it up or even new items to sell."
Leave a Comment