Spanish Club hosts Day of the Dead celebration
The Spanish Club hosted a Day of the Dead celebration on Oct. 19 in room 2621.
Club members ate tacos, arroz con leche, tamales, tres leches and other desserts. After eating, the celebration continued as students created Day of the Dead skulls with clay and paint.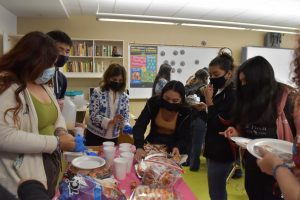 "We had a large turnout and had no food left over," sophomore and historian Ella Castillo said. "I'm glad a lot of people came but we were not expecting so many people. It was a great meeting and I hope more people come to our next meetings as well."
Students lined up for food and within the first 15 minutes, nothing was left.
"It was kind of stressful trying to manage everyone wanting food and scrambling to serve everyone," Castillo said. "We were so busy and wanted to prioritize everyone who attended that the officers didn't eat. It was fun though, after the craziness slowed down and the wave of people started to calm down."
Club members also made and painted skulls out of clay in preparation for Day of the Dead.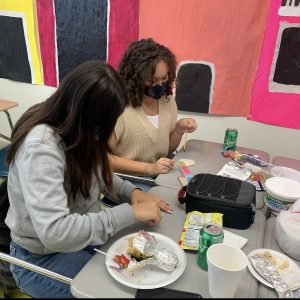 "It was fun making the skulls with the other members and we didn't have that much time left to paint them so we left them for the next meeting," junior Juan Rivera said. "I usually don't really do anything for Day of the Dead so this was fun to do."
This event was the first for Rivera and he was one of the students encouraged to come back.
"This was actually the first event I've come to for the Spanish Club and it was great," Rivera said. "I will definitely come back and I'm excited for future meetings and events."
Castillo said she was was happy with the turnout.
"This was super successful for us and now more students know about the Spanish club and hopefully this event will encourage them to become a member and attend more celebrations with us," Castillo said.
Leave a Comment