Buddies meet for the first time this year at pumpkin social
Best Buddies held their Pumpkin Social on Oct. 23 at Karl Young Park where they bonded over common interests. The Pumpkin Social was the club's first out-of-school event where they participated in Halloween-themed activities with their buddies in an effort to reconnect with new and old members.
"Buddy director Toby paired with Will to decorate a giant pumpkin," senior and vice president Sophia Ho said. "I paired up with Jacob and decorated a mini pumpkin as well as sugar cookies to eat."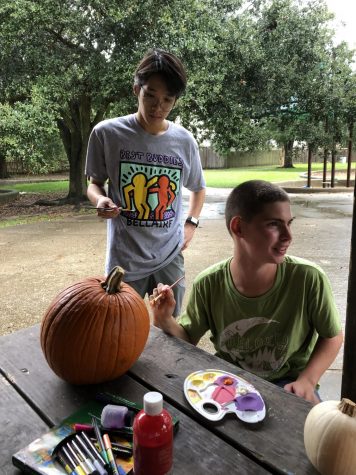 Best Buddies is a nonprofit organization and club dedicated to helping all students – both special and general education. During the social, club members got to know one another and even got matched with their buddies. Buddy pairs are created when two club members bond over a conversation they had that can start off with a question as simple as 'What's your favorite show?' and agree to meet again.
"I matched with a buddy named Luis," junior and classroom manager Samatha Ho said. "I'm going to try to visit him once a week at school."
President Nicole Mao and vice president Sophia Ho planned the event and along with other members brought supplies and food for everyone to enjoy.
"Best Buddies is trying to do one event per month at least, so we were like, 'How fun would it be to do an October event where everyone brought pumpkins,'" Mao said. "I brought up the idea to the other officers, we had an in-school meeting and I sent out emails to the parents about the event."
They started to plan for the event in the beginning of October and a lot went into preparation.
"We had to buy pumpkins from a local pumpkin patch, buy cookies and supplies, shared about the event via flyers, mutuals and Instagram," senior and secretary Sejal Thakur said.
The rainy Saturday afternoon caused some worry among members about having to potentially cancel the long-awaited event.
"When it started to pour outside, we were really concerned that we would have to cancel," Sophia Ho said. "When the rain slowed, we decided we should do it because we would be sitting under the pavilion in the park. It was a success."
Under the pavilion, the officers and members engaged in conversation with their buddies about Scooby Doo while painting spooky characters and decorating the pumpkins and cookies.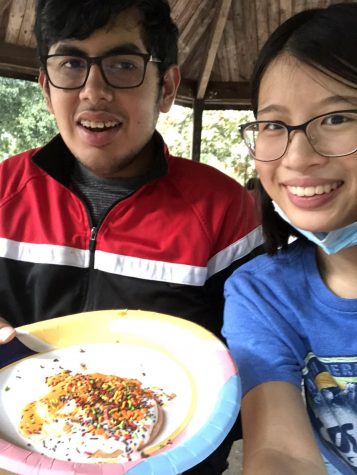 "Overall, the environment of the event was fun and comfortable, even though it was raining pretty hard," Samantha Ho said.
Thakur said she joined Best Buddies for personal reasons.
"I have a sister who is autistic," Thakur said. "I brought her with me and I understand the other kids' perspective of having special needs, how it's hard for them to interact and understand certain things."
Others, such as Samantha Ho, came across the club pre-pandemic and decided it would be worth their while.
"When I was a freshman at Club Jamboree and saw the Best Buddies poster board, I knew I wanted to join that club," Samatha Ho said. "I thought the club had a meaningful and wonderful message about inclusion. 4 years later, I am vice president."
Upcoming events for Best Buddies include Friendsgiving, Winter Formal, and Friendship Walk that students are encouraged to attend.
"A lot of our buddies graduated last year so we have lots of new buddies that would love to have a new friend," Sophia Ho said. "Anyone can join Best Buddies. Come visit us at lunch."
Anyone interested in joining Best Buddies should follow @bellairebestbuddies on Instagram and join their Remind by texting @bhsbbuds to 81010.
Leave a Comment