The World Series just got harder for the Astros
The Atlanta Braves lead the series 2-1 over the Houston Astros.
The first game back in Atlanta didn't go in Houston's favor. In fact, it was nearly disastrous. So much for 'We're the best offense in baseball!'
The best offense in baseball put on an *incredible* display of hitting, accumulating 2 hits and was ultimately shut out 2-0 in a low scoring, pitchers duel. The question has arised: do the Braves have the formula to dominate the Astros?
"I think they do, their pitching has been great. This game was definitely discouraging. They can obviously beat us because they're up 2-1," said sophomore and fan Jared Goldberger.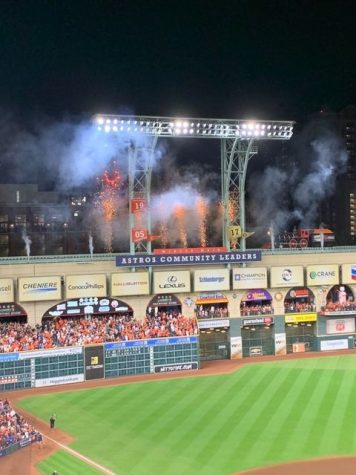 One thing is for certain – this series is going to come down to six or seven games. Atlanta's pitching has been really effective, even without their star pitcher Charlie Morton out for the series with a broken leg.
They kept Jose Altuve and Michael Brantley in check, which is a major red flag. If the Astros are going to win, the whole team is going to have to perform like they did earlier this year and this postseason.
"The Astros aren't performing as they normally do, and I don't know if that is pressure from being in the World Series or the Braves doing everything right," said Goldberger.
As for the rest of the offense, it is absolutely necessary that we pick it up. Carlos Correa needs to prove that he deserves THAT much money. Pitching will get better, but it needs to happen quickly or this series will get out of hand real fast.
As for me and many other fans in Houston, we still believe we can pull through. In 2017, the Astros were down 2-1 in the World Series against the Dodgers. They went on to become world champions for the first time ever in seven games.
"If our best players start to perform, we can get it done, easily," Goldberger said.
View Comments (1)