Quiz Bowl hosts their first Cardinal Clash
Quiz Bowl members and teachers faced off in the Cardinal Clash hosted by Quiz Bowl on Nov. 1-2.  Both teams raced to be the first to answer questions about various subjects, from academic questions about chemistry and social studies to questions about pop culture.
On Monday, the Quiz Bowl team won the clash against teachers with 300 to 60 points. The next day, the teachers won against the students with 200 to 170 points.
"It was really action packed," spectator and sophomore Caden Lee said. "The [students] were up at first but the teachers won it back."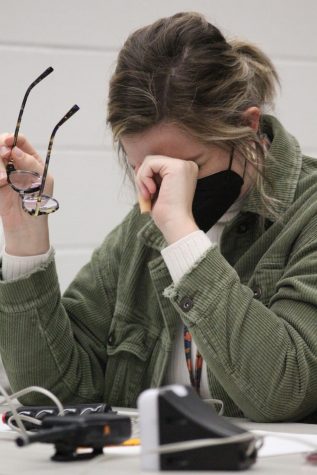 Over 200 students came to watch the Cardinal Clash, allowing the club to raise over $600, which they plan on using to attend tournaments and save up for nationals. Some students joined for extra credit opportunities offered by their teachers.
"I'm here because I'm getting extra credit for Theory of Knowledge and AP US History," junior Nina Wallach said. "I'm also interested to see what quiz bowl is."
Quiz Bowl member and sophomore Shivam Nayyar felt glad to see the high turnout on both days.
"Quiz bowl is like a relatively niche thing," Nayyar said. "It's only really practiced holistically in one school in all of HISD and seeing the amount of support that we got, even though some people left in the middle, was just really motivating to see how much people our program can actually rally."
Social studies teacher Jennifer Kuhleman competed for the teachers' team on Tuesday.
"I felt nervous at first because I was a fill-in," Kuhleman said. "But I think it went really well. The students took chances, they really shined in some areas and then we just kind of came from behind, rallied and pulled it out in the end. It was fun."
Kuhleman wasn't the only competitor feeling nervous. Quiz Bowl member and sophomore Patrick Shaw said he felt excited and nervous as online competition and in-person competition were different.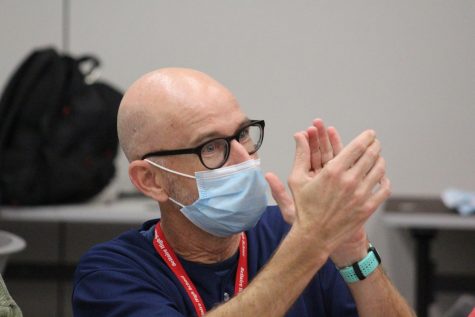 "I've never really done this in front of a crowd because with Zoom there's nobody watching," Shaw said. "This, there's like 100 people watching."
Kuhleman said the most exciting aspect was buzzing in and getting a right answer, as well as watching her students get a correct answer.
Nayyar said he also enjoyed seeing people's reactions whenever they got a question correct.
"That type of joy, that type of excitement," Nayyar said. That's what I think quiz bowl is all about. It's just proving to yourself that you can actually do stuff. You actually are smart."
Nayyar hopes that the club can continue to attract more people and move to a larger space like the auditorium next time. Kuhleman shared similar sentiments.
"I think that the next time this happens, we'll have more participation from the faculty," Kuhleman said. "I think it'd be really awesome to maybe have it in a larger venue and have faculty and students cheer on their respective teams."
View Comments(1)