Bellaire's 13 valedictorians break HISD record
Bellaire's class of 2022 will graduate 13 valedictorians with a perfect 5.0 GPA in June.
HISD held their annual Scholar Recognition Ceremony to honor the district's valedictorians and salutatorians at Delmar Fieldhouse on Apr. 12.
The class of 2021 previously held the HISD record for most valedictorians with a 5.0 GPA, graduating nine last June and making headlines across the country.
"I heard a rumor that there was going to be more [valedictorians] this year," Principal Michael McDonough said. "It was never above two until last year and now we're up to 13."
The high number of students earning a perfect grade point average at Bellaire has drawn attention to the school's perceived cutthroat academic culture.
"The first thing that comes to mind when describing Bellaire's academic environment is competitive," McDonough said. "But then the next word that comes to mind is comprehensive, as we try to offer a wide array of classes from our AP, IB, dual credit, to CTE, academic level and pre-AP, as well as our full fine arts program."
Valedictorian Richard Lin said that although he dislikes Bellaire's competitive race to the top, people are willing to help each other.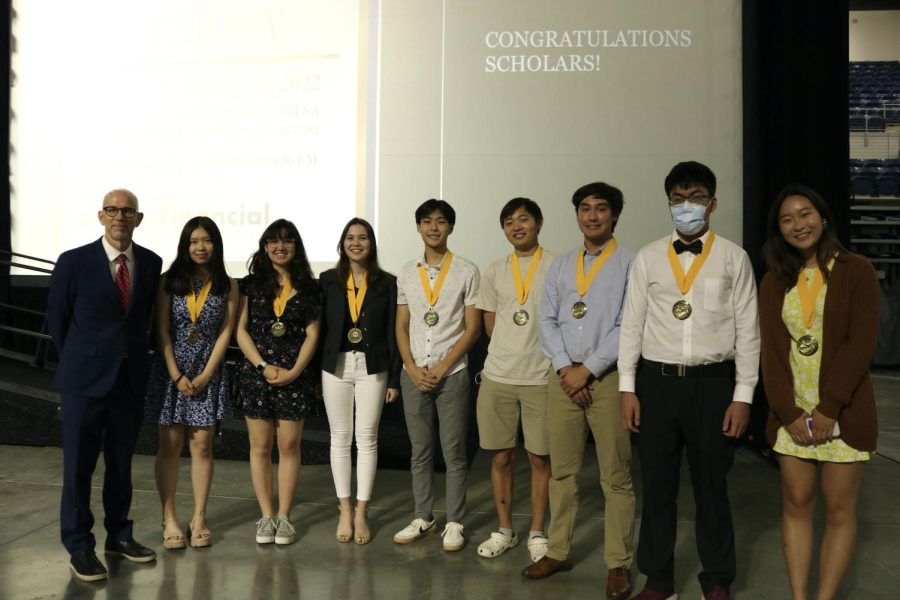 "I think it's a good learning environment because it's so cooperative, and I think we're different than a lot of other schools that emphasize a lot of individual work, while here it's about working together," Lin said.
HISD calculates both a weighted and unweighted GPA on the 4.0 scale. Students who take high-level classes, such as AP, IB, and dual credit courses, can earn credits that are weighed above a 4.0. To achieve a 5.0 GPA, a student must take all advanced courses throughout all four years of high school, and earn an A in all of them.
"The worst part of school has been trying to plan out the classes I take, because I know to be valedictorian you have to give up some of the other classes that you might want to take that are 4.0s," valedictorian Katherine Chen said.
At Bellaire, the only way to earn a 5.0 GPA is to take health and PE, required 4.0 courses, the summer before freshman year to prevent them from being counted in GPA calculations.
Playing this "GPA game" created discontent among students who weren't aware of these classes they could take prior to even entering high school. Chen said students described this strategy as a "loophole" or "cheat code."
"I don't think you should judge people who are willing to sacrifice their time and other activities they may have wanted to be a part of to achieve things like valedictorian," Lin said.
McDonough said there has been no talk among the administration of changing the grading system, and that summer P.E. classes offer benefits to students who take all sorts of courses.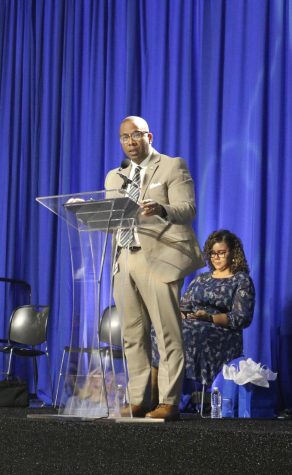 "Kids who take mandatory health and P.E. classes during the summer are freeing themselves up to take additional classes here on campus, whatever their grades are," McDonough said. "That's what allows them to get into classes like AP Biology, and we're thinking about bringing AP Art History back, which I think a lot of kids will be interested in."
At the Scholars Recognition ceremony, Superintendent Millard House II and other principals emphasized the dedication of the scholars to their education throughout the COVID-19 pandemic.
"I think [the valedictorians] represent perseverance," McDonough said. "It takes a lot to keep that focus and I heard a couple of them talking the other day about the challenge it was to keep that focus while not on campus and not in a typical classroom environment, so the fact that they were able to maintain focus through that while at the same time being involved with so many other things is admirable."
Local news channels interviewed the valedictorians on their motivations and challenges.
"You have to learn to make time for yourself and have a certain balance, because you can't just burn yourself out," Chen said.
The class of 2022 valedictorians plan to attend the following colleges next year:
Katherine Chen – UT Austin or NYU, Business
Justice Cordova – Texas A&M, Business
Collin Crockett – Texas A&M, Engineering
Sophia Hernandez – University of Pennsylvania, Finance & English
Annie Lin – MIT, Architecture & Data Science
Richard Lin – Yale University, Biology or Physics
Margaret Schwierking – University of Pennsylvania or Princeton, Engineering & Business
Donne Su – UT Austin, Computer Science
Crystal Tang – MIT, Engineering
Jason Yao – Undecided
Nina Zhang – Undecided
Owen Zhang – Yale or Princeton, Political Science
Albert Zhu – Rice University, Mathematics
Leave a Comment