Students hold walk out in protest of principal Michael McDonough's reassignment
About 2,000 students staged a walkout in protest of Bellaire principal Michael McDonough's reassignment yesterday morning in the bus lane.
Starting at 11:10 a.m., waves of students — some hoisting signs — abandoned their classes and headed outside to protest.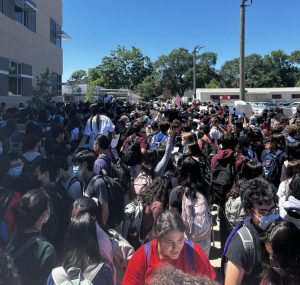 "Mr. McDonough is the school spirit," senior Aditya Markan said. "He is the reason so many kids come to Bellaire because he greets everyone with a smile on his face."
The walkout, which was approved by HISD and acting principal Delesa Franklin, lasted for ten minutes before students moved to their fourth period classes.
"We want Mr. McDonough back because he's a really welcoming presence at Bellaire and during my time here, he's been incredibly supportive," senior Keira Metz said.
While teachers and parents were not permitted to attend the walkout, some showed their support for McDonough's reinstatement by wearing red.
"I think that it's a great thing that students are doing to exercise their agency in their voice to support Mr. McDonough and to protest his reassignment," HADV English II teacher Brian Wolf said. "The unknown is how the district administration, who's conducting this investigation into some unknown issue that hasn't even been disclosed to us. I hope that they will see that this is a community that supports Mr. McDonough and that this is a testament to his leadership and his impeccable character."
Since McDonough's reassignment, HISD has not released any official statements about the investigation. The issue, however, was brought to light during this month's district board meeting where current and former students, teachers and parents shared their experiences about the 10-year principal.
"He's the least problematic principal I can think of," A student (who did not wish to be named) said during a protest. "He is so supportive and understanding and he makes me look forward to coming to school. He has such a great school spirit and is so interactive with the community. Unlike many principals and administrators I've had, he actually takes the time to get out of the office and visit with students. McDonough actually cares."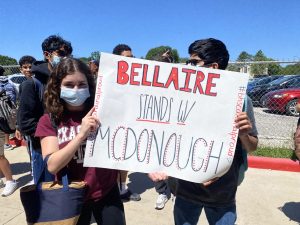 AP US History teacher Patricia Edaburn, who was a student activist herself, said she believes the walkout was overall handled expertly despite a few incidences of water bottles thrown around the crowd toward the end of the protest.
"I am incredibly proud of the students for handling it so well," Edaburn said. "There were a few hiccups, from what I've heard, but overall I think the majority of students did a great job."
Wolf said that teachers are frustrated with the lack of communication and support from HISD in wake of McDonough's absence.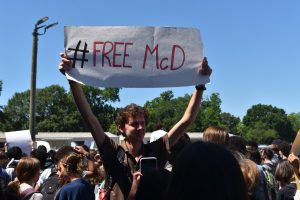 "I've known Mr. McDonough for 25 years, and I have never known him to be anything but an exceptional human being and a fantastic leader," Wolf said. "And my hope is whatever this investigation is about, that he's treated fairly, and that the district can act with transparency, instead of the mystery with which they've been operating."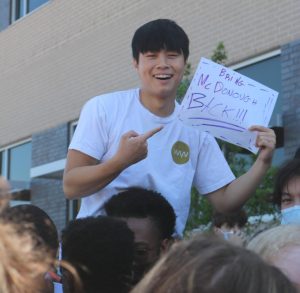 Senior Natalia Justiniano said students will continue to protest until more information is disclosed to the Bellaire community.
"Mr. McDonough is really involved with the community and he cares about every single one of his students," Justiniano said. "He's just amazing and I love him. Bring him back."
Reporter Johanna Wen contributed to this story.
Leave a Comment