[NEWS BRIEF] Orchestra dazzles at its final concert, "A Night at the Movies"
The orchestra held its last concert, "A Night at the Movies," this past Tuesday. All three orchestras, Lyrica, Philharmonic and Sinfonia, were a part of the program consisting of different movie pieces such as Disney's "Pirates of the Caribbean," Lionsgate's "Lala Land" and Marvel's "The Avengers" soundtracks.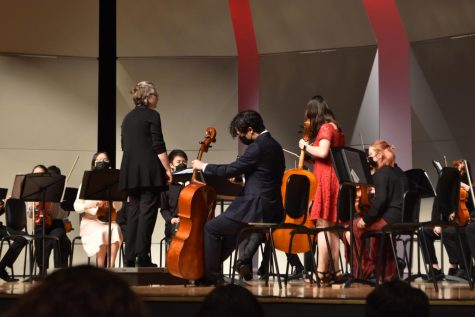 Lyrica started the concert, followed by Philharmonic and lastly Sinfonia. Junior cellist and Secretary Mitsuki Jiang said she is thankful that the year ended on a good note.
"I thought the concert went really well," Jiang said. "It was really exciting to hear the other orchestras because I don't really get to see them ever. And we played a lot of fun pieces from movies."
Toward the conclusion of the concert, senior cellist and Social Chair Alex Xu performed his solo, The Elgar Cello Concerto.
"I've been practicing [the solo] for three to five months," Xu said. "I messed up a few times when I was performing because I got really nervous thinking about all these people that were recording me, but despite the mistakes I made, I think people enjoyed it. My friends told me that they really liked it, so I was happy."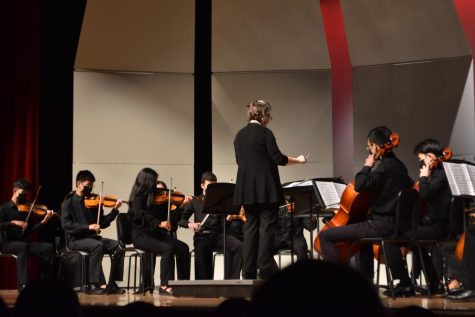 Laurette Reynosa, Director of Orchestra and Piano, said she is proud of the orchestra's performance.
"I think [the concert] went really well," Reynosa said. "All the orchestras played really well and so did Alex on his cello concerto. I was really proud of everyone."
Senior violinist and President Catherine Li said the friendships she created will last a lifetime.
"The most memorable part of the orchestra program is the people," senior violinist and President Catherine Li said. "You make a lot of good friends here, and since it's a small orchestra, you get close with these people. You're with them all the time. Mrs. Reynosa is an amazing teacher and I love her so much."
Xu said he is thankful for Mrs. Reynosa's leadership and guidance throughout his time in orchestra.
"Mrs. Reynosa always makes orchestra fun, but we're also always focused at the same time," Xu said. "I just feel comfortable being myself in this program."
Leave a Comment