Looking back at Mr. Burns, a Post-Electric Play
Red Bird Productions performed their second show of the year "Mr. Burns, a Post-Electric Play" by Anne Washburn on Oct. 27, 28 and 31.
The play had three distinct acts spanning over 80 years. In Act I, the characters are survivors of a recent nuclear devastation, who have just met each other. They recount the iconic Simpsons episode Cape Feare to distract themselves from the apocalypse. In Act II, which happens seven years later, the survivors come together as a theater company, performing episodes from the Simpsons. Act III, which takes place 75 years after Act II, is a play within a play.
Actors had around one and a half months to prepare, which junior Kristen Lea, who played Maria in Act I and II and Bart Simpson in Act III, felt was inadequate.
"Two months would've been the ideal time for preparation," Lea said. "A month and a half sounds like a long time but it's really not. We were definitely rushed for time."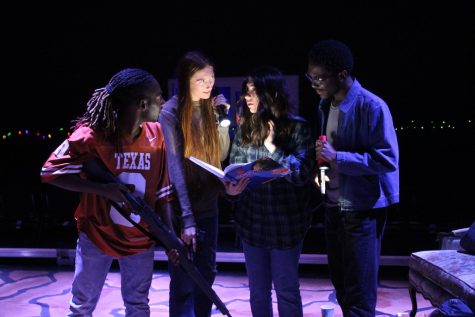 Initially, interpreting her character Maria posed a challenge for Lea because the script didn't include character descriptions, which was a first for her. Lea assumed the script got cut off by the copy machine and turned to Google for information about Maria but found an unofficial website offering their own interpretation of the character instead.
"I tried going with [the website's interpretation] for the first week and a half, but I decided to change it because I didn't like it," Lea said. "I envisioned Maria as being optimistic, considering the situation, and sweet. One thing I thought was crucial about her is that family is extremely important to her."
Unsure of whether or not he could embody the creepy and scary Mr. Burns, believing in himself was the most difficult part for senior Micheal Carron. Makeup and fake blood coming out of his eyes helped him get into his role.
"The makeup really pulled it together," Carron said. "I had to be really weird and really interact with the audience in a creepy way. When I was onstage I thought, 'I'm no longer Micheal, I'm Mr. Burns.'"
Singing proved to be the biggest surprise and most difficult part of preparations for senior Cali Thomas, who played Quincy in Act II. Actors weren't told about singing until after they landed their role.
"I knew I had to sing it but I didn't want to," Thomas said. "Singing challenged me because it's something that I didn't expect. I did not expect to have a whole spotlight solo but I had to work with it, so it was challenging, but it was a good challenge because it allowed me to do something that took me way out of my comfort zone."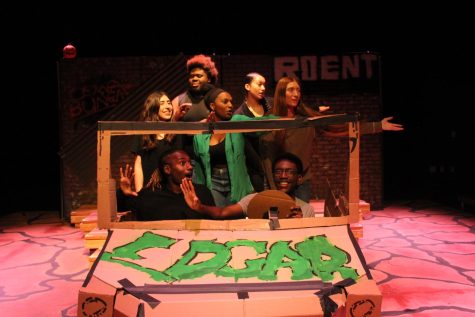 For Lea, one of the most rewarding aspects was the audience's positive response to the show.
"Opening night was really rewarding because Mr. Burns is such a unique show that we were like, 'how are people going to respond to this?'" Lea said. "We were all worried how people were going to react to this, so it was really great after opening night when people actually liked it."
Red Bird Production's next play, Dracula will run this Thursday, Friday and Saturday at 6:30 p.m. in the auditorium. Tickets are $7 for students, faculty and staff and $10 for general admission.
View Comments (2)