Students adjust to virtual platform change
From reviewing classwork and submitting assignments on Google Classroom before the shift to the HUB and now Canvas, students and staff respond to the change in learning platforms.
"Canvas is very much about aesthetics and not as much about functionality," English I teacher Sarah Collins said. "It has some cool features but I kind of miss the simplicity of Google Classroom back when we had that."
Collins refers to the organization of the Canvas platform, which can be altered by teachers and includes several tabs and modes in student-view, a complicated, yet helpful feature.
Now used by HISD, the new platform Canvas arrived this year along with a trail of mixed emotions. Sophomore Enna Lopez opposes the switch, feeling more lost than before.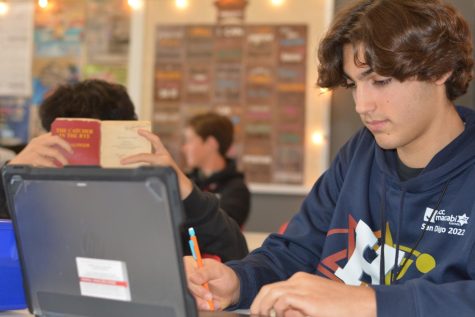 "There are a lot more tabs that click to get somewhere," Lopez said. "I feel more lost if I'm going to be honest."
When a school is confronted with a transitional event, like a new principal or protocol, students and teachers need time to adjust. With the second six-weeks coming to an end, teachers, students, and administrators reflectively look upon the platform's success.
The several teacher-facing resources on Canvas, including the new unsubmit button and plagiarism check are advantages, solving a few of Daniel Andrade's frustrations regarding the HUB in the past. He, additionally, recognizes the pros of familiarizing himself with a platform that could be used in the future by colleges to teach curriculum and convey assignments.
"The unsubmit button is a really good thing because I have turned in assignments blankly," sophomore Andrade said. "The fact that it checks for plagiarism is a plus for teachers, for students it's a loss, there is no hiding now."
The transition process for teachers was quick. In the spring of last year, HISD introduced teachers to Canvas, which would be implemented from the start of the following school year. Training for teachers began in summer, which encompassed behind-the-scenes class-setup and an introduction to the site's extensive Modules and tab-system that would translate over to the student interface.
"I feel like the training sessions offered to us were not comprehensive enough; that would be my biggest criticism," Collins said.
English II teacher Brian Wolf said there was a lack of preparation for teachers using Canvas.
"I feel Canvas is an effective platform but the training that was offered was lacking in some areas," Wolf said.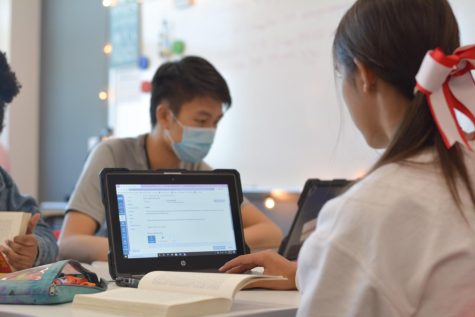 For students still unaccustomed to Canvas, teachers like Collins offer alternatives to online submission.
"I usually give my students the option of whether to turn it in on Canvas or on paper, and I find they overwhelmingly prefer paper," Collins said.
As an English teacher, Wolf thinks paper is a highly acceptable alternative form of assignment submission.
"There are some assignments that I will have students do strictly on paper, part of it is that there are writing tasks that they're going to do next year that will require them to write essays by hand," Wolf said.
Sophomore Alexandra Stancil said she prefers assignments to be done on paper.
"If it's online, I forget that it's there because it's not in my face, so I can't really see that I actually have to do it," Stancil said. "Paper is just easier, especially if Canvas doesn't load."
Overall, the student body has more experience with the HUB than Canvas.
"As much as I don't like it, I think we just have to stick with it," Lopez said.
Leave a Comment