Theater takes a bite out of feminism
Red Bird Productions performs Dracula
Red, a color of sacrifice, and passion filled the auditorium on Nov. 10, Dracula's opening night. Red Bird Productions' third play of the year, it had showings on Nov. 10, 11 and 12 after school.
The play follows the journey of Lucy Westenra's best friend Mina Harker. Lucy gets possessed by Dracula which prompts Mina and Dr. Van Helsing to form an unlikely friendship as they kill Dracula. Dracula is an infamous old vampire who wants to make a new colony in London.
Unlike the original Dracula written by Hamilton Deane, Red Bird Productions decided to bring a new feminist take on the play by acting out Kate Hamill's version Dracula: A Feminst Revenge Tragedy.
Senior Jonathan Dimacali who played Jonathan Harker found it easy to portray the well-mannered Victorian side of his character but challenging to express Jonathan's misogynistic side of Jonathan.
"The hard part was when I was possessed," Dimacali said. "And acting on those human male urges, which is being misogynistic to my wife, Mina Harker."
However, Dr. John Seward is the opposite of Jonathan, as he was misogynistic from the start and later on became more open-minded. When Seward first encountered Van Helsing, he was in disarray by the fact that the famous doctor was a woman and lost all of his former respect for her.
Despite his earlier reservations, Seward changes his mind about Van Helsing. This happens once Mina kills Dracula with the help of Van Helsing, proving to Seward that women are more capable than he realized.
At the beginning of the play, Mina Harker appeared as the perfect example of the stereotypical Victorian woman. But when Lucy becomes possessed by Dracula and the opportunity to kill him arises, she becomes independent. Her character represents how women don't have to stay obedient housewives; she is a symbol of change and growth.
Senior Ria Nanjundan, who played Mina, resonated with her more assertive side, but wasn't a big fan of portraying Mina's sweet side.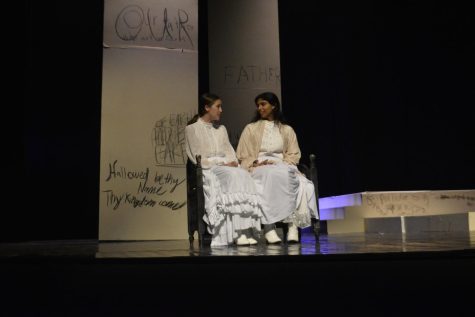 "I like playing villain characters because villains, in my opinion, are more complex characters," Nanjundan said. "Because of this, I'm not used to playing like sweet, caring and motherly characters."
Joshua-Melvin Manio, a sophomore who watched the play on its third showing believes that this new-found autonomy contributes to and amplifies the feminist message of the play.
"I liked how this version empowered Mina without making any major sacrificial changes to the plot," Manio said.
The new feminist take did not take away from the classic Dracula feel – the plot and the tone of the play remained. These were depicted through the technical aspects of the play including costumes.
"This is one of the harder productions I have done because it is so tech-heavy," sophomore Reese Langland said. "It relies on the lighting, sound and special effects to tell the story. The most stressful part of my job was managing everything backstage, from the curtains to transitions and blood cleanup."
The stress and hard work put in by the theater technicians did not go unnoticed by the audience.
"That scene when Renfield was getting possessed because that was the first time in the play where I was distinctly tentative." Manio said. "The lighting change was good and the aggression from both Renfield and Dracula established the threat that Dracula posed while adding a sense of urgency for Van Helsing and Mina to act upon."
Their portrayal of this play was also depicted through costume design. Each article of clothing was chosen intentionally.
"By the end of the show, there's blood everywhere, I feel like it's kind of like Dracula's influence – his imprint on all of us," Nanjundan said. "So we start the show wearing all white, we're all clean slates, and then as it goes on, it becomes redder."
Actors like senior Victoria Allen, who played Lucy Westenra, had to explore new roles and depths to characters to fully portray their darkness and strong emotions.
"Lucy let me just explore a different side of acting, and one where I kind of get bigger and louder and angrier, more aggressive," Allen said.
The actors were surprised by how well the play turned out given the backstage issues. The cast only had one full run-through of the show and felt that they needed more time.
"We didn't even have a full run-through until two days before the show, because of a lot of different factors like people getting sick, and conflicts with the rehearsals," Dimacali said.
Despite this, the work put in on and offstage led to a play that not only entertained audiences, but also one that the actors could feel confident in.
"The play went well and I'm proud of everybody who did it," Allen said. "There was a lot of audience feedback and reactions, which helped keep the spirit of the show up. It energized us. I think people liked it a lot. We had fun and we are proud of what we created."
Leave a Comment