[NEWS BRIEF] Dye of their life
Room 3702 buzzed with excitement as students dyed their shirts in a variety of colors, ranging from hot pink to mellow blue. Cardistry Club, Best Buddies and Fashion Club joined forces for a tie-dye social on Wednesday, Dec. 7.
The event between the three clubs has been in the works for weeks.
"The treasurer of Best Buddies, Sofia Abdalla, is also the president of Cardistry Club," senior and president of Best Buddies Samantha Ho said. "She wanted to bring her club [to the event] because we always talked about collaborating. Jay Stanfield, the president of Fashion Club, reached out to me with the idea of doing tie-dyed shirts with the special Ed students because his sponsor is one of the special Ed teachers."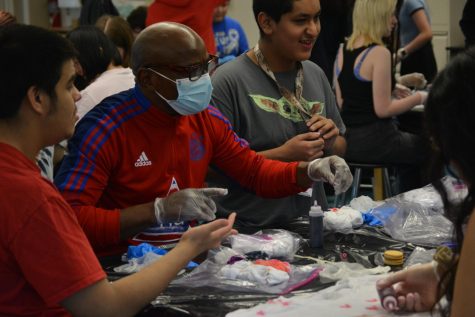 The event got sophomore Vannesa Grimaldo's creative juices flowing.
"I chose to use all of my favorite colors: purple, blue, and pink [for the shirts]," Grimaldo said. [Other people] had very creative color themes and played around with the colors, so the finished product [will be] unpredictable."
Shirts will not be ready to wear until Dec. 9. The T-shirts will have to be dried and then have a Fashion Club, Best Buddies or Cardistry Club logo printed onto them.
"I still need to figure out how to redistribute the shirts with the printed logos onto them," Ho said.
The service project was popular, with attendees waiting outside the room as it filled to the brim.
"I think our event was overall a success," Ho said. "We were able to get all three [special education] classrooms [to dye shirts]. I was hoping to introduce people from each club to each other and do a fun arts and crafts project. I think we accomplished those goals."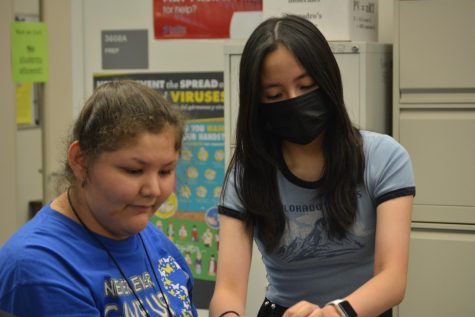 To Grimaldo, the event was one to remember.
"This was my very first time attending a Best Buddies event," Grimaldo said. "I enjoyed the crowd, the process and the snacks. I see why so many people enjoy being a part of such a great club with kind-hearted people."
The relationships made between students during the event were unforgettable.
"Friendships were made only by saying a few words [with] great meaning," Grimaldo said.
To keep up with Cardistry Club, or Best Buddies join their Reminds @cards52 and @bhsbbuds. Fashion Club can be kept up at their Instagram @bellairehs_fashionclub.
View Comments (1)