Settled waters: Seniors' swim night
The Cardinals faced off against the Westside Wolves last Tuesday in their final home meet until districts. Though they lost in the boys' events, they made up for the margin in the girls', bringing home a victory.
But for 12 seniors, that victory was bittersweet as it marked one stroke closer to the end of their last swim season.
"It was our last time racing at home," senior Renee Navarro said. "So, it was kind of sentimental just because it's been a long four years. I've had a lot of fun on the team and it was nice for people to recap those memories on senior night and get recognized alongside all the people who were with you for those four years."
Like Navarro, senior Anthony Nguyen said he'll also miss his teammates, but along with them, he'll miss his coach, Gary Johnson, too.
"I've had him as a coach since I was in seventh grade," Nguyen said. "Obviously I didn't have him for my freshman or my sophomore year because he hadn't become the coach then, but I was really happy to have him this past year and this year. And, I'm gonna miss him as a mentor and how he continued to push me on.
Navarro, who swam the 50 free and 100 breast, said that despite the nostalgic memories that senior night brought up, she also tried to appreciate the positives of the meet.
"It's nice though to see all the hard training pay off both in this meet and just overall, especially over the past four years, because my 100 Freestyle was a 1:20 starting swim and now I'm down to 1:00 flat," Navarro said. "So it's been a big change that way and it just shows that if you commit to something fully you can achieve a lot."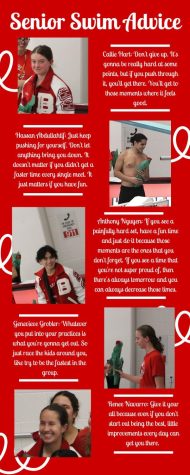 Nguyen also emphasized focusing on the good parts of the season and said the team has a bright future ahead. With more freshmen and sophomores this year, the swim team according to Nguyen has even more potential to improve.
"We're going to continue being a strong team that's going to compete at a district level and at the regional level," Nguyen said. "I'm a strong believer that if you put meaning on something then it's a lot easier to follow through with it. Putting that into perspective with the team, it's more than just the conditioning we've done all season, but it's also about focusing on everything else, our technique, our mentality and how we can improve to perform at a higher level."
One way that senior Genevieve Grobler suggests to make that improvement is to join a swim club and put in more hours outside of school.
"Club's a lot harder," Grobler said. "It's 2 hours; we're also swimming in a meter pool, so it's a couple of yards more every lap which adds up when swimming 5000 meters every time. I think if you want to get really good and build up a ton of muscle for swimming, you should definitely join a club at least for the summer."
For senior Callie Hart, swimming at Bellaire has sparked her passion for the sport and the team spirit that encouraged her throughout the whole season. Hart, who has swam the 500 free almost all season, said that it's thanks to this team's support that she did the event both last and this year.
"Even though the 500 is a really long race, the coaches and my teammates are always watching me and cheering me on, so it's really nice," Hart said. "In a way, I feel like I normalized the event because usually, the super-fast swimmers swim it. I'm not really an elite swimmer, but I still do it and maybe I can show people that regular swimmers can do it too."
Senior night gave way to plenty of happy memories and for Hasan Abdullatif, one moment stood out in particular for him.
"My most memorable moment was definitely when I broke 30 seconds on my 50 Free," Abdullatif said. "I got 28 seconds. That was a very good day and it was actually funny because I had a leg cramp right before the swim, but I still broke 30 seconds."
While for others like Grobler, senior night made them wonder what they could've done differently instead.
"I think 'oh it would be nicer to start club swimming earlier'," Grobler said. " I would have had more time to grow and gain strength. But then I look back at it and I didn't really have any time, especially during freshman year. I could've done more sophomore year, but it was online school so it was kind of wack and I don't think we were doing much swimming anyway. So I don't have any regrets. I enjoyed it from start to finish."
Nguyen said he also regrets not dedicating more time to swimming but is glad he was part of the team's progress these four years.
"We used to have a pool with four lanes and now we have a pool with eight lanes and regardless of that, we've progressed a lot as a team and I guess like the pool's a metaphor for that," Nguyen said. "And, over the night, I got a little bit more emotional; I sent a message to the other captains. I told them that it was a pleasure having my name up there with them. It was really fun even though I wish that we got to hang out a little bit more this season."
Leave a Comment