"It's all about your mindset"
Bellaire wrestlers mentality and strength for the upcoming regional tournaments
From the intimidating roar of the crowd to the thrill of final victory, the upcoming regional tournament is a pressure-filled event that has Bellaire wrestlers feeling a mix of emotions. As they prepare to take the mat, three wrestlers share their experiences of getting ready to compete.
Rocco Grazier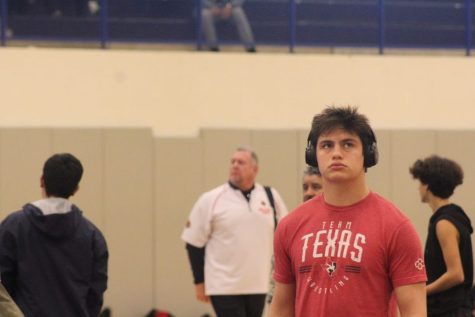 Sophomore Rocco Grazier, captain of the wrestling team, who has lost only one match due to an injury, continues to stay determined despite his demanding agenda.
"The biggest challenge I've faced as a wrestler is the hard work," Grazier said. "Wrestling is such a tough, arduous sport. Not everyone can wrestle and it takes a certain type of person. Passion comes with wrestling and when you're passionate, when you're getting tired, being passionate will keep me going. It's all about passion."
One of the key factors to wrestling is weight classes.
"A lot of people might say that you have to lose a lot of weight to compete in a certain weight class, which helps up to a certain point," Grazier said.
However, losing too much weight can be dangerous according to Grazier.
"If you are 160 [pounds] and you're trying to cut down to 148 then that's probably not a good cut because you're going to be tired," Grazier said. "You're not going to have energy and you can't eat. It's a slow process because you're watching what you're eating along with exercising. Staying tough is how you manage weight."
Even though he's been wrestling for his whole life, Grazier still feels nervous before a match.
"I always get butterflies before I wrestle," Grazier said. "I think everyone gets butterflies to be honest. It's your body getting ready to fight. When it's time to go, you just go, you know?"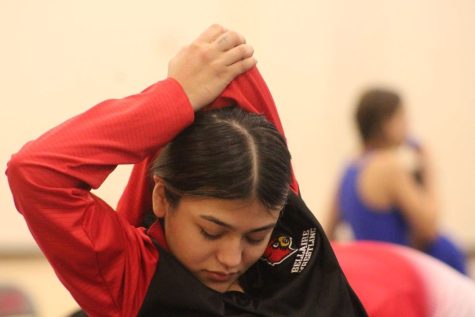 Gigi Gallegos
Junior Gizelle "Gigi" Gallegos, a female wrestler, believes her biggest challenge as a varsity female wrestler is maintaining her weight – especially during her menstrual cycle.
"Girls being weighed on their periods is difficult."
Gigi's response highlighted the challenges that female athletes have to face that male athletes never have to consider.
Gigi said, "Having to find a training partner that weighs the same as you and maintaining weight is strenuous."
Gallegos has been in combat sports since her dad put her in mixed martial arts when she was 4 years old. But with wrestling, she has other reasons to stay motivated for her team.
"I think about my teammates and how hard everyone's working on the team so I have to be better", Gallegos said. "I'm looking forward to my teammates and me getting placed for the upcoming regional tournament."
Leyla Mejia
Leyla Mejia, a senior and girls wrestling captain, joined wrestling like much of the team.
"My dad introduced me to wrestling in my freshman year, and that's one of the main reasons why I attended Bellaire – because they have a women's wrestling program," Mejia said. "I stayed because I won."
Mejia placed third in regionals last year, an achievement she's proud of. But she feels she can do even better.
"I know I can do better and that's what I plan on doing this season," Mejia said.
Mejia hopes to win first place this year, and is finding every way to push forward to achieve that goal, from training after school to waking up early.
"I never lay on my back at tournaments because I think it's bad luck," Mejia said – since wrestlers lose when on their back.
Mejia not only stays true to her beliefs, but also goes above and beyond by practicing outside of school.
"I started going to a club called Paradigm and I've been training three times a week. Last year I had no prior club experience," Mejia said. "I've wrestled mostly guys and that provides an advantage because they're stronger. I get to work on being faster and using their strength against them."
Despite all the hardships they face, these varsity players demonstrate a key awareness of not only the experience of wrestling, but also the mindset needed to stay in it. All of them are looking forward to being the top of their weight class and dominating their opponents. With this season being her last until college, Mejia reflects on her role on the team.
"I work for myself mostly, but I work harder when it comes to my teammates watching because I feel like I don't want to let them down," Mejia said. "I want to keep on being their role model in the best way that I can."
Leave a Comment