[NEWS BRIEF] Vietnamese Student Association partners with Sunflower Mission
The Vietnamese Student Association collaborated with Sunflower Mission, an organization promoting education in Vietnam, at the Houston Food Bank last Saturday.
Seed members from Sunflower Mission and VSA members worked together for three hours making, packing, taping and breaking down boxes. The VSA group worked to collapse boxes and sort plastic from paper. By the end of their shift, the group made 630 boxes which totaled 16,538 meals.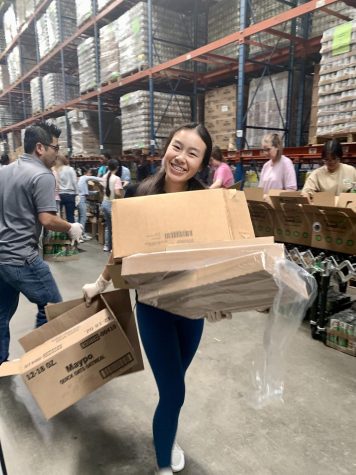 "Working as the recycling crew was the best," freshman McKenzie Le said. "I never knew breaking down boxes for recycling could be that enjoyable when you are doing it with people you love. I had a lot of fun compressing the materials by folding or even just jumping into the bin."
Le's cousin, junior Caden Nguyen, said he enjoyed working with his friends and family. He even got to see his other cousin Bryanna Le.
"Volunteering with the Sunflower Mission was fun because I got to work with the Seeds, friends and family, while also helping to make boxes of food for low-income communities in Houston," Nguyen said. "My favorite part was volunteering to help others in the community and also being together at the Houston Food Bank and Teapresso."
Sunflower Mission also offered a complementary bubble tea social at Teapresso to all that volunteered.
"I thought that the complementary boba was a great incentive for everyone to make sure they worked their best," Le said.
This was VSA's first time partnering with Sunflower Mission for their service project of the year. Sophomore Sophie Hall said even though she didn't talk a whole lot, she enjoyed meeting the Sunflower Seed members.
"I thought all the other SEEDS members would be in high school, but I was surprised to see that there were some who were in medical school, college, middle school or below," Hall said. "One of the members that I talked to was actually the president of Sunflower Mission, and I was able to learn more about the organization and its work, which includes granting scholarships and building schools for children in Vietnam."
VSA is working to get matching T-shirts and planning their next service project.
"I really liked our first service project," Hall said. "I was excited to be back at the food bank because the last time I was there was when I was in 7th grade. It was a good opportunity to help out others, and I also liked meeting other members of VSA and the Sunflower Mission."
VSA meets on Friday during the first half of lunch in room 2603. For more information, join VSA's Remind @bhsvsa.
Leave a Comment