Aquatic Science Department hosts first-ever Crawfish Boil
Cracked shells, manipulated limbs and orange-stained fingers.
Students and faculty lined up on Main Street to collect bags of fresh Louisiana crawfish, including halved cobs of corn and potatoes all from Hap's Cajun Meats & Market, served by the Aquatic Science Department who orchestrated Bellaire's first-ever Crawfish Boil.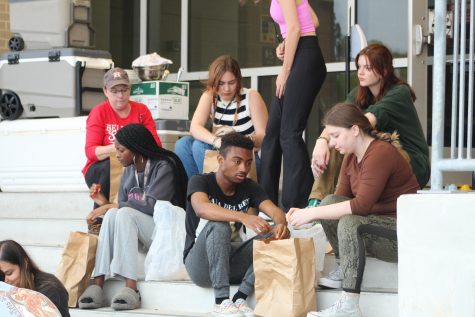 Those interested in acquiring a batch of crawfish, corn and potatoes paid with cash or through Cash App. Pre-ordered crawfish were priced at $10 per pound or $15 per pound for those who purchased on the day of, April 6.
Directing the entire event, aquatic science teachers Stephanie Clayton and Jane Baker provided additional refreshments for $1 each, such as chips, water, Coke and Sprite.
Student volunteers helped operate the snack table and hand out brown pouches of crawfish and sides. Courtesy of Clayton and Baker, helping hands were offered a pound of crawfish, free of charge.
The Crawfish Boil started as a fundraising idea when aquatic science students dissected crawfish as crawfish season started.
Senior Odalis Santacruz played an active role in the entire process of the Crawfish Boil, selling tickets, grabbing bags for respectable students and teachers and working the refreshments stand. She wanted to help out so she could give back to a class she enjoys taking.
Planning for over a month, Clayton, Baker and about 10 of their aquatic science students held meetings to establish prices, the distributing location and what sides would appropriately complement crawfish. They supplied the crawfish, potatoes, corn and the bags to put the finished product in.
The group initially thought about renting a boiler and obtaining the crawfish from H-E-B, where a pot connects to a propane tank. The pot is then filled with water and spices, brought to a boil, then live crawfish is poured in and boiled.
But Baker had family new to the crawfish business and offered to cook for the fundraising event. Hap's Cajun Meats & Market brought the food in large coolers.
Camping out a table in the main hallway March 27 to April 5, volunteers pre-sold during lunch. The students handed the tickets while Clayton or Baker cited customers' names, ID numbers, their payment methods and amount of pounds requested.
"When the crawfish got here, we started separating the bags we were going to put the crawfish in and measured the amount of pounds appropriate for each bag," Santacruz said. "We would each have our own task and work as a team together."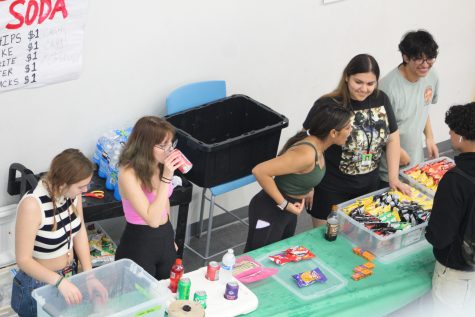 Distribution took numerous tables set up side-by-side, dividing those picking up their pre-orders or buying on the spot.
"The [sale] went pretty well, and [students] had a fun time helping out with the fundraiser," Santacruz said.
Class fees inspired the Crawfish Boil. The proceeds will be directed to the aquatics program, such as ordering dissection supplies and organisms for tanks.
However, Clayton's and Baker's intentions to cushion their budget hit a roadblock when they over-ordered 300 pounds of crawfish.
The AQS Department sold around 100 pre-ordered pounds of crawfish near Thursday, meaning the fundraiser would attract a deficit in proceeds, but on the day of, students purchased pounds on the spot.
"We were all stressed going into it and being able to sell all 300 pounds," Clayton said. "We had a lot of support from staff, [Ms. Campbell] and PTO parents that really pulled through in the end to help us sell out."
Spanish teacher Trevor Boffone helped support the event, posting TikToks on his page @official_dr_boffone to help spread the word as well.
"We are so thankful that we have a school that supports our program and [that] we are able to think outside of the box for funding," Clayton said.
Clayton and Baker can get all the help they can get as they fund the AQS Department through grants, writing lab fees and donations.
Senior and crawfish enthusiast Mackenzie LaCroix ordered two pounds of crawfish with a side of two corn on the cobs and two potatoes for $20.
"I got that Louisiana blood, so crawfish is my go-to meal when in session," LaCroix said.
Although the crawfish satiated LaCroix's taste buds, she argued her meal could have had "a little bit more of a kick to it" but accredits how generously-sized and well-seasoned the crustaceans were.
"Boiled crawfish is a bit chewier than cooked fish and has more of a kick and seasoned taste to it," LaCroix said.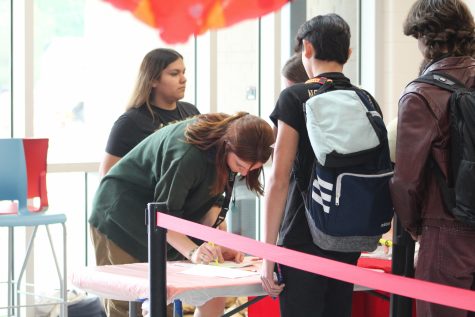 "They're smaller and take a little practice to peel. The whole cultural experience of eating boiled crawfish is what makes me love it even more."
To eat crawfish, you first twist and rip the tail off. Your meat will mostly be in the tail and the claws. Then, you can carefully peel the shell off the tail by taking the two ends and bending until it breaks. Lastly, you can remove the meat from the shell once you peel it back.
View Comments (2)