Music and Memories: Band members' Spring concert and banquet
Music, from UIL pieces to Disney songs, and memories accompanied the band members during their final concert of the year.
On May 5, the band gathered in the auditorium for their Spring concert and played songs performed by the wind ensemble and the symphonic, jazz and rock bands.
For senior Owen Bell, performing with the jazz band was his favorite part of the concert.
"I just love jazz so much," Bell said. "Because I'm a senior, it's my last year playing with the boys, and we have such a good group. I'm so proud of everyone in jazz; we have had some serious improvement in talent and skill this year."
One song the wind ensemble performed was "Hutchinson Fields." Sophomore and wind ensemble member Anand Thiagarajan enjoyed performing songs for the audience.
"My favorite part of the concert was playing 'Stillwater' with the other euphonium player, Jacob, because we had been practicing our duet for a long time, and I felt like our performance at UIL wasn't as good as we could have done," Thiagarajan said. "Being relaxed helped us elevate the piece and strengthen our performance."
After the concert, the band headed to Main Street for its annual end of the year banquet. Band members ate Mexican food, took pictures, danced and celebrated the seniors by watching a slideshow of them growing up.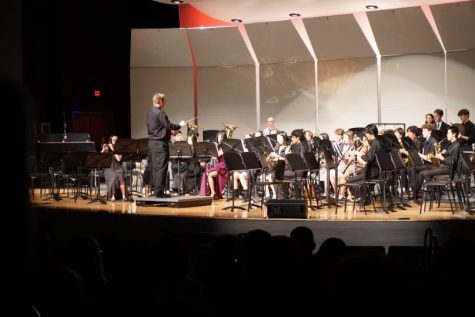 Many people hit the dance floor during the song "Roxanne," a report duty tradition in a band. Members do high knees until they hear the song say "Roxanne," at which point they must do a burpee.
"I was about to take pictures with some people, but then I heard 'Roxanne' on the DJ," Bell said. "I got so excited and ran over to the empty dance floor. A lot of people were confused, but some who knew what was up joined me. [I have] so many good memories from freshman year with that song."
Memories were a big part of the night for seniors, as it was their last concert and banquet.
"To be honest, my last concert just kind of felt like it was another one in the books," Bell said. "It still hasn't really hit me. Maybe [it will] after the talent show because that will truly be my last performance."
For Thiagarajan, this was the last band event he would get to experience with the seniors.
"I didn't really think about this being the seniors' last concert until after we finished," Thiagarajan said. "At that point, it hit me that this was my last performance with my senior friends, and I was kind of sad."
Despite the bittersweet atmosphere, the banquet was still thoroughly enjoyed by the band members.
"It's nice for the seniors to be acknowledged and have their moments," Bell said. "You get to take good pictures. And you get reminded of what an amazing group of people you are surrounded with and get to appreciate. [There are] truly some of the best people in band even if they are considered 'band kids.' For me personally, it's a nice closure to my band saga."