Semifinalists of the Bread Club's baguette tournament are freshman Rajan Vyas, Jackson Hill, Ethan Gonzales and senior Eric Stevenson. There are no top results for winners, as the meeting had to conclude due to the end of lunch bell.
In LGI 2, on Nov. 9, the Bread Club hosted its first ever baguette tournament during the second half of lunch. The idea of baguette battling was created by senior President Roy Choy around the beginning of the second week of November.
"I thought the school needed something exciting to look forward to and baguette fighting was something thrilling that could appeal to many people," Choy said. "I hope to get people to participate in something very low stakes but stimulating at school and baguettes are cool."
When battling, the fighter must tap the other opponent with the baguette before clashing baguette swords until one breaks. The one that breaks deems the loser. Hill, one of the four semifinalist winners of around 40 attendees, has been a member of the bread club since the beginning of the year.
Story continues below advertisement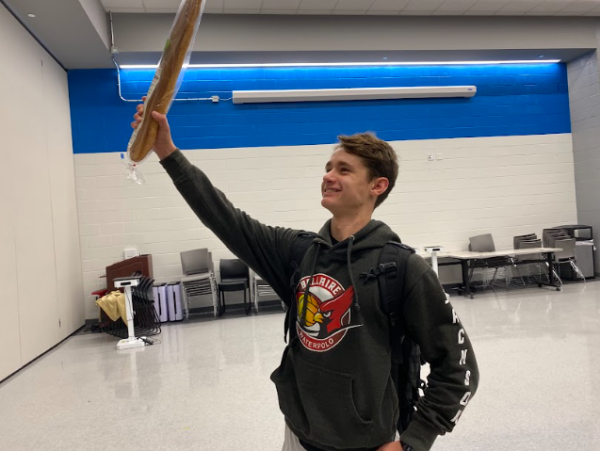 "I won, I don't know how that happened," Hill said. "No doubt I would come to these kinds of events again."
In the first period, sponsor Gary Johnson told the officers that he was concerned about the safety of students. He was concerned that the admins would disapprove of the meeting because baguettes were rather hard, they could be used as "weapons."
"It was really all for fun, we meant no harm," senior historian Justin Lee said. "This morning we were able to get clearance and continue with the meeting."
Even with seemingly silly events, Lee says that the Bread Club's main purpose is to educate people about cultures around the world and bring people together all the while.
"I think it's really interesting, insightful and that more people should join," Lee said.
To attend future meetings or find more information join the Bread Club on its Remind by texting @bhsbread to 81010.
Johanna Wen