On Thursday Nov. 9, around 10 Art Club members created intricate dye patterns of blues, greens, reds and purples on custom tie-dye T-shirts during a Cardinal Hour meeting. Some members reused last year's Art Club tie-dye shirts, and others brought their own white T-shirts as dye canvases.
Freshman Leonardo Ramos, who joined Art Club at the beginning of the year, said that the club's atmosphere was calming for him.
"I was a little tired and bored of school because I just finished a math quiz," Ramos said. "But [the Art Club meeting] kind of made me forget about it, and it [let] me have fun."
By the end of the hour, bundled-up multi-colored tie-dye shirts lined the art room's drying rack in Room 2303.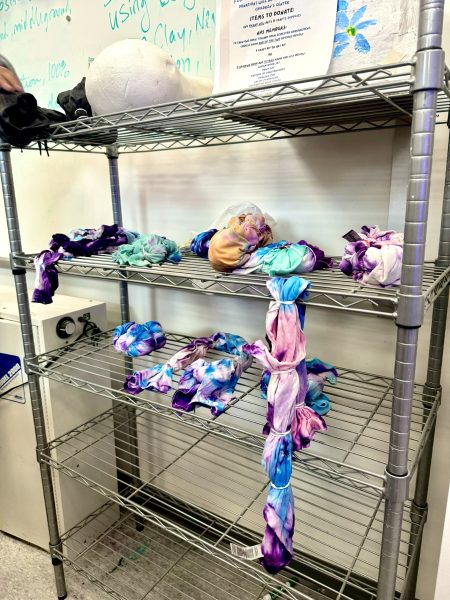 "I think this tie-dye event is probably the best meeting we'll have all year in terms of what our members will remember," junior and club Vice President Luke Wang said. "[The members] look like they're having fun. I think that's a huge success for our club. That's what we're really looking for."
Part of the Art Club mission with this year's tie-dye event is to create a safe space to create art.
"We don't want to hound people and be strict," Wang said. "The environment we try to encourage is that a mistake is not a mistake. It's the process to be part of the final product. Mistakes should be made."
Following the annual tradition, the members will wear their personal[ized patterns as official club shirts for club picture day.
"We make our club shirts," Wang said. "'This is how we're going to represent ourselves to other people."
To be updated on upcoming plans, follow Art Club's Instagram @bellaireartclub or join the Remind @artclub234.
Story continues below advertisement